India is famous throughout the world for its street food and it's a proven paradise when it comes to eating on the go, just for the sheer variety on offer. Just the mere mention of 'street food' brings out the foodie in all of us, sending our taste buds into overdrive. We have to agree that no glamorous fine dining experience can ever match the comforting taste of casual street food. From Jammu and Kashmir to Tamil Nadu, Gujarat to Arunachal Pradesh, every nook, and corner of India has some unique food to offer and no matter where you set your foot, you'll always find a delicious meal.
Here's a rundown of some of the most popular Indian street food from every state:
Thukpa, Arunachal Pradesh
Thukpa is essentially a Tibetan noodle soup made with noodles, vegetables and protein like chicken, fish or Soya. It's healthy, tasty and filling (what more can we ask for?). A little spicy, a little hot, makes this delicacy perfect for a cold day! Generally eaten to beat the freezing winter of Arunachal Pradesh, it's the ideal comfort food.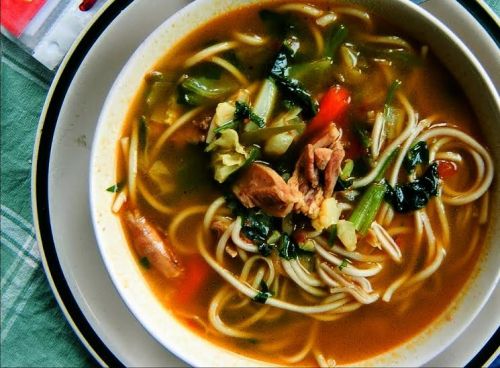 Masoor Tenga, Assam
Among the many traditional recipes of Assam, a signature street food is Masoor Tenga. Ask any Assamese about this and see them getting home-sick just by the mention of it. It is basically a fish curry which is made with everything sour and is surprisingly refreshing. It is a tangy dish, commonly made with tomatoes and lemon and served with steamed rice. The use of a special mix called 'Panch Phoran' (Cumin seeds, mustard seeds, fenugreek seeds, fennel seeds and onion seeds) is the secret ingredient that gives this dish the delicious flavor! Click here for a vegetarian version of the dish.
Punugulu, Andhra Pradesh
Walk around the streets of Andhra and you'll see this crunchy snack on every next Tapri (road-side stall). It is basically a smaller version of dosa, made with dosa better, coriander leaves, onions and deep fried until golden. It is served with an assortment of chutneys and goes perfectly with a cup of filter coffee. Next time, when you're craving a snack during rainy evenings, try the crunchy crispy Punugulu and you won't regret it!
4. Litti Chokha, Bihar
This is a traditional roadside dish and comfort food for the people of Bihar. It's the Bihari version of dal-batti from Rajasthan and is one of the most important dishes of Bihari cuisine, making its presence known throughout the country. The interesting part is you'll find this at the street side stalls as well as fine dining restaurants. Litti is a dough ball stuffed with sattu (roasted gram powder) and chokha is made from aubergines (brinjal), tomatoes, potatoes and lots of spices. It is best enjoyed with a spoonful of ghee and is completely healthy because there is no frying involved (minus the ghee, of course).
Fara/Phara, Chhattisgarh
Chhattisgarh produces staple food in abundance and it is not surprising that the food culture consists of staple crops such as rice and bajra. Faraa is desi styled momos made from rice in the form of dumplings. It is very similar to the steamed dumplings in the north eastern region, the only difference being that faraa is made out of rice. A simple yet interesting street food which tastes best with a generous amount of mint chutney!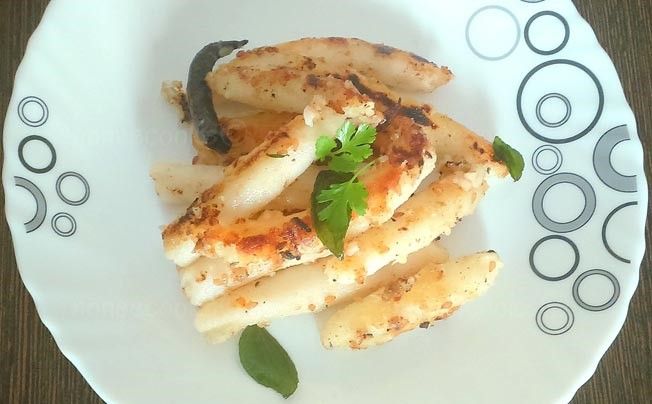 Charizo Pao, Goa
Believe it or not, Goa has much more to offer than its beachside shacks and cheap alcohol. Apart from serving the best seafood, Goa has a lot of other street food as well, Charizo pao being one of the most popular ones. It is a spicy pork sausage made using pork, wine, paprika, garlic, salt all rolled into a warm pao (bun) and served with seasoning. A Portuguese inspired dish, next time you're in Goa, don't forget to gorge on this yummy dish!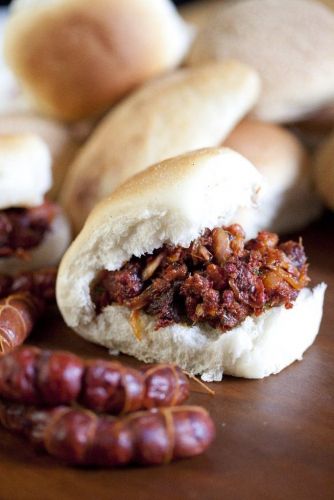 Dabeli, Gujarat
You're probably lying if you say you have never stuffed your bags with Thepla and Khakra in big shiny steel containers while traveling with your family. Gujarat is a food heaven and all of us are familiar with its famous snacks but a popular evening snack – Dabeli, has gradually become a famous street food now not only in Gujarat but all of western India. It is like vada pao made using sweet and spicy potato mixture filled in a bun and topped with onion, pomegranate, chutney, sev and peanuts. What's not to love? Let's just say it's a desi version of a burger (Okay yes! Definitely a better version too).
Click here for a Chinese version of this popular snack.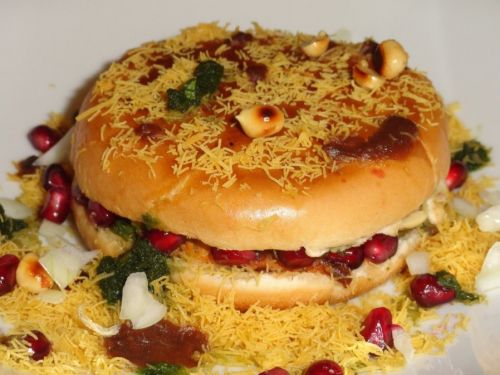 Sidu, Himachal Pradesh
Apart from picturesque views, lush green valleys and captivating natural beauty, Himachal Pradesh also offers some great Pahari food. Without tasting that, the Himachal tour is incomplete. One of the most popular street food that you'll find here is Sidu which is a type of bread made from wheat flour. The flour is kneaded with yeast and stuffed with fat before roasting and steaming. This unique bread is enjoyed with ghee, mutton or dal.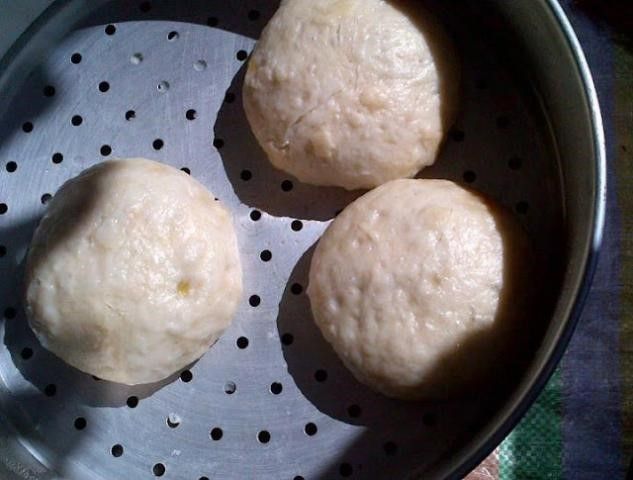 Dahi Samosa, Haryana
This tangy chaat consists of golden crisp samosas fried to perfection, stuffed with spicy potato mixture broken down into small chunks and topped with generous amount of curd, tamarind and green chutney (Do you need any more of an invitation!). A combination that makes for a delightful and popular roadside snack of Haryana! Click here for a healthier baked version.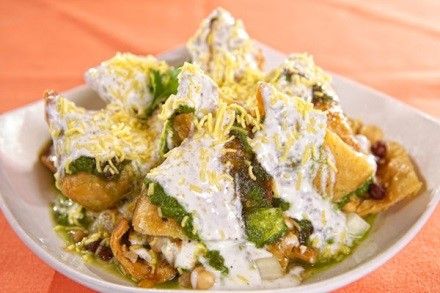 10. Kaladi Kulcha, Jammu & Kashmir
When in Jammu, you can't miss the Kaladi Kulcha. It is a fermented cheese product (YES! CHEESE)  made from Kaladi or Maish Krej cheese which is a traditional ripened cheese unique to J&K and gives some serious competition to mozzarella! It is fried until it gets a brown crispy layer outside while it is super soft from inside. Some say it's probably Kashmir's best-kept secret!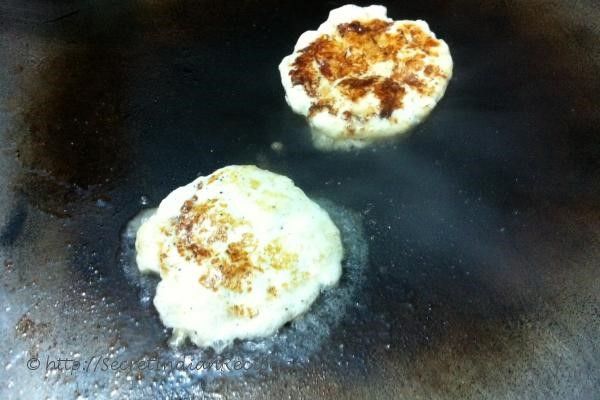 11. Dhuska, Jharkhand
Not a lot of people relate Jharkhand with delicious food but like all other states, Jharkhand also has its specialties even though the food here is very similar to its neighboring state, Bihar. Dhuska is a traditional recipe from Jharkhand which is made using rice and lentil batter and served with a spicy chickpea curry called Ghugni, usually consumed as a breakfast item!
Banana Buns, Karnataka
The idli and dosa are very much part of the Karnataka street food but there is something more interesting called the banana buns or Mangalore buns/pooris. The only ingredients used are banana and flour. These buns are tender, fluffy, and soft and go perfectly with coconut chutney or sambhar. Most street vendors, as well as restaurants, serve these buns as a breakfast item. Sounds delicious, doesn't it? Well, go ahead and try it!
Parippu Vadu, Kerala
Kerala is a food heaven for your taste buds. You'll find a variety of street food here. Parippu vada or simply dal vada is a common street food which is made using toor dal. It's crunchy and yummy. The popular saying is that the affinity towards dal vada runs through a Malayali's blood and a combination of tea and dal vada is a match made in heaven!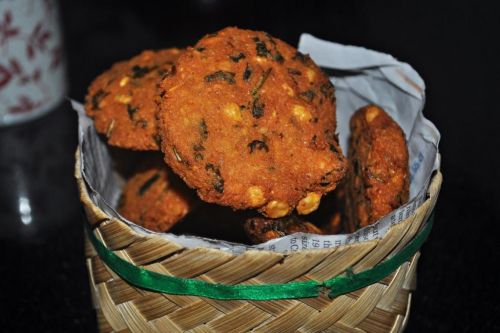 Poha Jalebi, Madhya Pradesh
Madhya Pradesh lies in the heart of India and it has everything to satisfy your traveler and foodie soul – starting from nature, rich culture to great food.  While this poha–jalebi combination may sound a little bizarre at first, but you need to taste it to believe that it is one of the most exquisite combinations EVER and is counted among the best breakfasts in the country.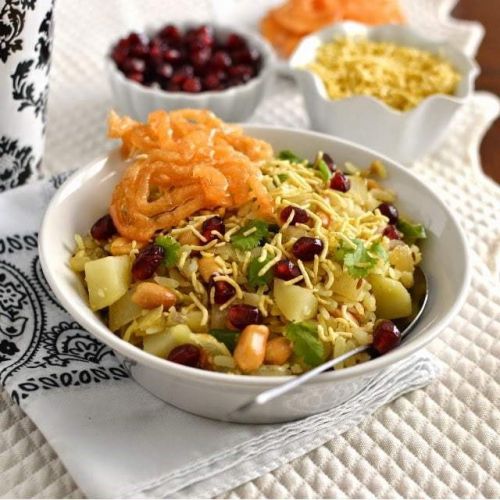 Vada pav, Maharashtra
It's an established fact that vada pav has an iconic status in India. It's not JUST food anymore, it's the quintessential Indian snack. Everyone, from students to businessmen, enjoys this eat-on-the-go snack. Vada, is basically made of spicy potato filling, which is fried and sandwiched between pav and served along with spicy green chutney. It is an extremely humble dish, easy to make yet so tasty and packed with so much flavor. Click here to learn how to enjoy this at home.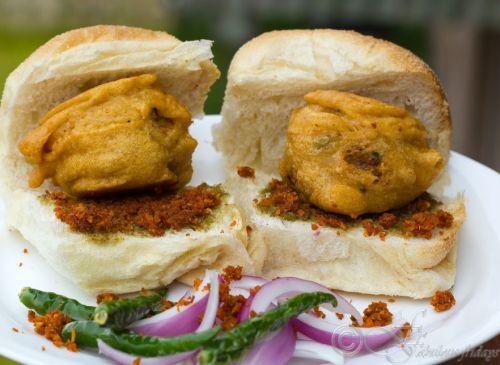 Kelli Chana, Manipur
Order anything from a north-eastern eatery and chances are it will be packed with truckloads of flavour. Kelli chana is a herb-flavoured spicy chickpeas snack, served on a lotus leaf which adds to the taste of this scrumptious dish. It is said that an old lady named Kelli used to sell this addictive spicy snack under a tree and people from all over Manipur came around the tree to buy it. It's very famous among the people of Manipur.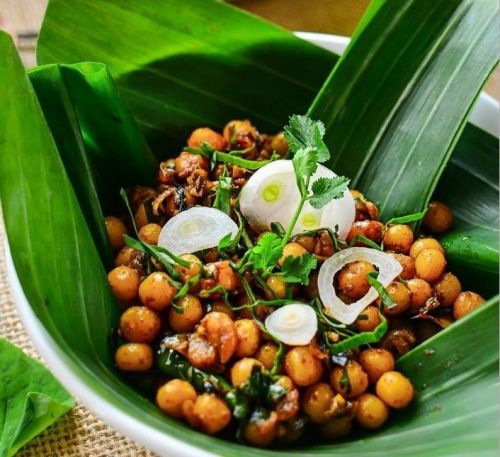 Jadoh, Meghalaya
Jadoh is a rice and pork based dish introduced by the 'Khasi' community of Meghalaya, famous for its aromatic taste, unique color and minimum use of oil. It's like a Khasi version of Biryani. When in Meghalaya, make sure you ask for the 'tourist version' of this dish which is cooked in pork fat but if you are feeling adventurous, ask for the traditional version which involves cooking it in pork blood.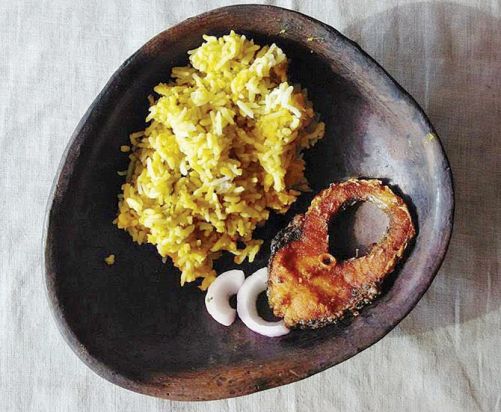 Sanpiau, Mizoram
Mizoram is not very well explored yet, but the food is generally a mixture of North Indian and Chinese. Contrary to popular beliefs, north east food is way more varied than just momos. Sanpiau is a popular Mizo snack which is a type of rice porridge served with coriander paste, black pepper, and fish sauce topped with sizzling onions. It is a simple yet mouth-watering dish.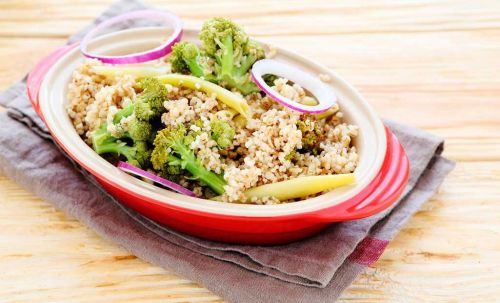 Kinalas, Nagaland
Kinalas is Nagaland's home-grown version of noodles. Nagaland is famous for its pork dishes and this dish, in particular, is made using the pork head (Yes!!!) along with garlic and scallions. It is served with a brown sauce and it's not your typical noodle dish. It's prepared with some incredible innovation from the roadside vendors.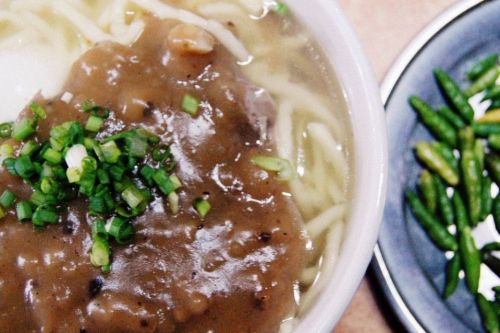 Chenna Poda, Orissa
We've had our own cheesecake all along and we've been completely unaware! Chenna Poda literally translates to burnt cheese. Also known as Lord Jagannath's favourite sweet, the unique taste of burnt cheese along with sugar syrup will blow your mind. To add on to the flavour, dry fruits are also mixed during the preparation and it's baked for hours till it browns completely and the aroma fills the air. It's sold in every nook and corner of Orissa and you just CAN'T miss it. Click here for the detailed recipe.
Chole Bhature, Punjab
I think it's safe to say that Chole Bhature not only has a fan following in Punjab or India but worldwide too. It's a staple Sunday breakfast in the majority of households and one of the very few dishes which is enjoyed by vegetarians and non-vegetarians alike. It's basically chickpeas cooked in traditional spices along with fried flat bread. People swear by it (after butter chicken obviously 😊) and restaurants brag about serving the best chole bhature. It's easily available throughout India now but if you wish to get the real deal, a trip to Punjab is a must. Click here for a step by step photo recipe.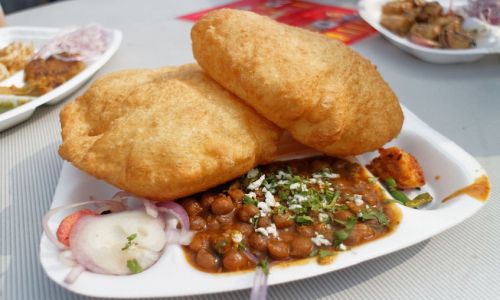 Pyaz Kachori, Rajasthan
Rajasthani's love for food can be seen in their preparation of food. They've given us some of the most delicious dishes like Laal Maas and Dal Bati, but their most popular street food is undoubtedly the yummy Pyaz Kachori filled with onions, potatoes, and spices, topped with sweet and sour tamarind chutney. It's a sell out at every namkeen shop and you'll see it at almost every wedding across the country!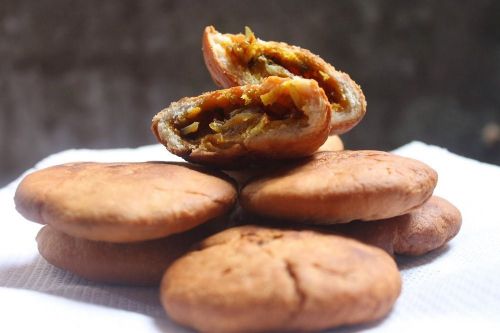 Momos, Sikkim
When it comes to street food, Momos are the king and I think we'll all agree to that. They are Himalayan dumplings, hailing from Tibet and Nepal originally and are served piping hot along with chilli sauce. While Sikkim is famous for its momos, today it's placed in restaurants all across the country. Its status has escalated from roadside stalls to top notch malls. Momos are hands down unbeatable when it comes to food from the seven sisters and we have to admit that it's hard to resist while walking past a momo stall on the road. Click here for the authentic recipe shared by an Executive Chef.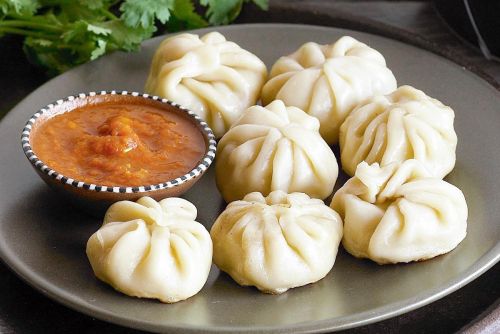 Kotthu porrota/paratha, Tamil Nadu
Apart from Idli and dosa, this is the only dish which is available at every roadside stall as well as in reputed restaurants in Tamil Nadu. There are a lot of porrota variations like mixed vegetable parrota, chicken parrota and scrambled eggs parrota. It finds its origin in Sri Lanka where it is called Kothu roti and is very popular. If you're ever in Tamil Nadu, this should go on the must eat list.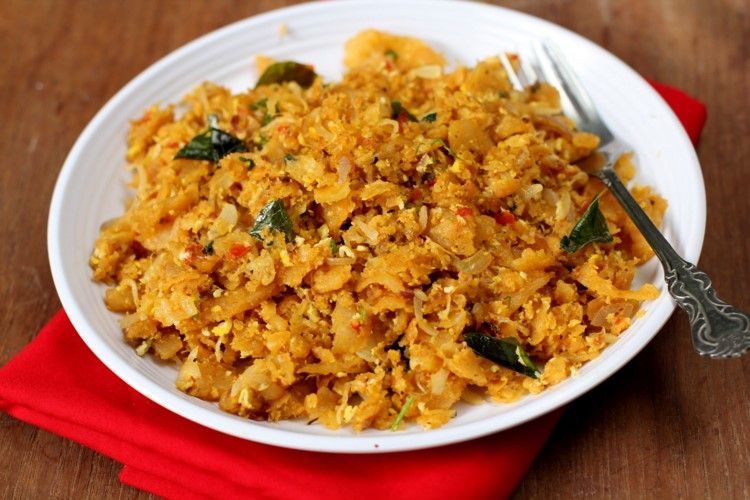 Chintapandu pulihora, Telangana
Telangana food is typically spicy and ingredients such as Tamarind and chillies are widely used and it takes time to get used to the unusual sourness and chilly in every dish. Made from Pulihora pulusu (tamarind paste), Chintapandu pulihora is a traditional Telangana/Andhra recipe which is basically tamarind and chilly rice topped with peanuts and has an acquired taste. It is an important part of their festivals too.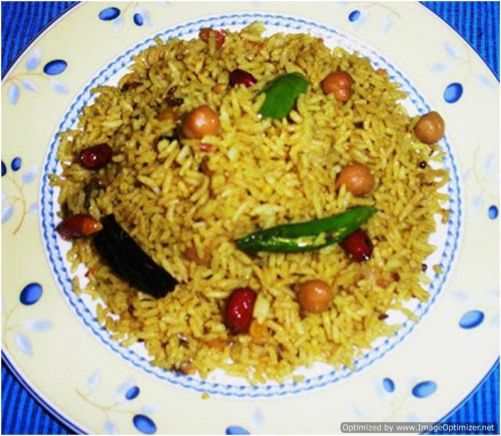 Chakwi, Tripura
Most of the food in Tripura comprises of pork. Chakwi is one of the popular dishes in Tripura which is a stir fry of bamboo shoots and pork. Other ingredients are papaya leaves, jack fruit seeds, fresh lime leaves and lots of spices. It's served with rice and if you are a meat lover, this dish is a must have.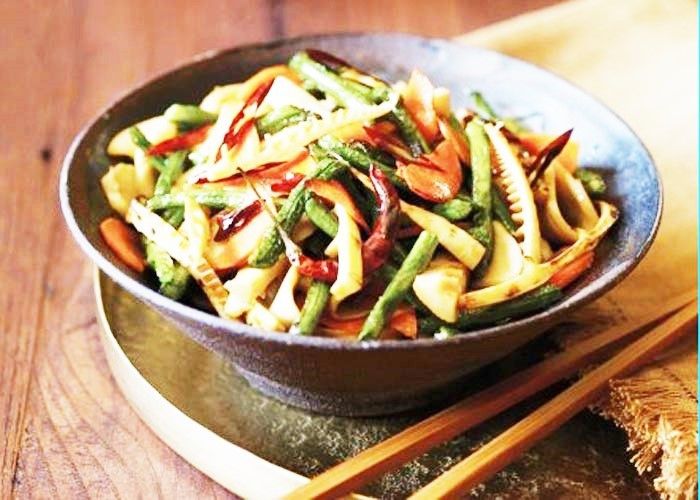 Aloo Tikki Chaat, Uttar Pradesh
One of the most mouth-watering street dishes of India, the epic aloo tikka chaat is the delicacy from Uttar Pradesh even though it might seem like it belongs to New Delhi because of the gazillion chaat corners in the capital. Hot crispy aloo Tikki, straight off the pan along with a generous amount of tamarind, green chutney and onions is like soul food on a rainy or cold day, or for that matter ANY DAY! Click here for a healthier quinoa based version.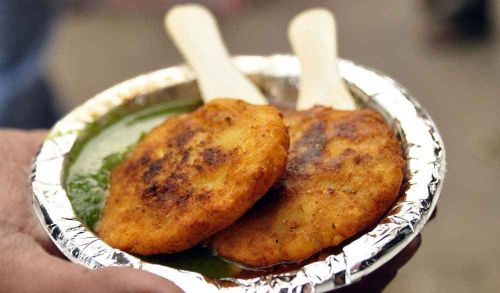 Aloo Moong Dal Pakoda, Uttarakhand
Aloo Moong dal pakode is a popular Kumauni dish which is tasty and extremely healthy. Kamaoni dishes are usually simple but very nutritious. This is served with chutney or ketchup and it's a perfect evening tea time snack. Click here for a mouth-watering recipe.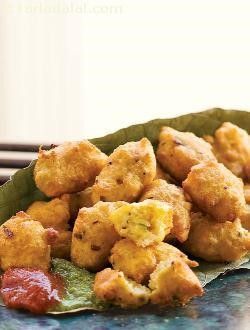 29. Puchka/Pani Puri, West Bengal
Kolkata offers a variety of tasty street food and the one thing you just can't miss while you are in Bengal is Puchka. For those of you who made the mistake of missing it, take note for next time. Also known as Golgappa, it is filled with potatoes, spice and tamarind water. It's very easy to spot a phuchka stall because they are present almost everywhere. Now, they also have a variation called charmur for those who don't like messy (but oh! so tasty) water phuchkas which uses the same ingredients, crushed and served in paper packets (product diversification at its best!).
Click here for a homemade recipe.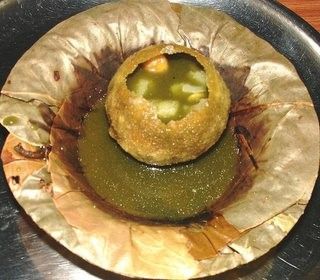 Phew! 29 dishes and that was just the tip of the iceberg! The cultural pot pouri of a country that is India has lots more to offer in terms of street food. Let us know which is your favourite street food from the galis and nukkars of India in the comments section below. And you can do one better, by sharing a recipe of that hidden gem from the streets of your own state, in the recipes section.