Varanasi, Banaras, Kashi is known as the land for eating delicious and cheap street food(Every food is literally on streets) along with its recognition as one of the oldest cities in the world with thousands of big and small temples across the city. From famous Banarasi chaat, Banarasi lassi and Banarasi paan to hot kachori and Dahi wale gol-gappe or pani-puri; everything has a unique taste which you cannot get anywhere else in the world. Roadside food has to be tried – ignoring the dirt and dust, as there is a lot of dust and it is definitely not the cleanest city even though it is one of the holiest cities.
Snacks and food, in general, is available round the clock and you will probably have to debunk the concept of three full meals in order to fully experience the varieties of items on offer.
Here are 11 must have food to be tried while in Varanasi – Let's begin with what the temple city has to offer
Prasad (offering/ Temple food) – Being a temple city, there is a variety of Prasad available in the myriad temples across the city. Not really sure if God can eat so much of the offering that the beelines of shops outside the temples have to offer. But of course, we can enjoy them. The besan laddoo is completely different in shape size and look and the palm-sized "peda "made from over churning of milk is like a milk fudge loaded with sugar. This can be found in the Sankat Mochan temple near Durgakund. Don't forget to pack some back home for your friends and family as this can last for a month.
Tip: Visit temples on the day when it is not one of the days dedicated to the presiding God of the temple, as in India each day is dedicated to a particular God. For example, Hanuman (the monkey God), the presiding God of Sankat Mochan temple, has Tuesdays and Saturdays dedicated to him when hundreds of devotees throng to the temple. So, the best time to visit Sankat Mochan would be a Monday evening unless you love being in the crowd and enjoy the push.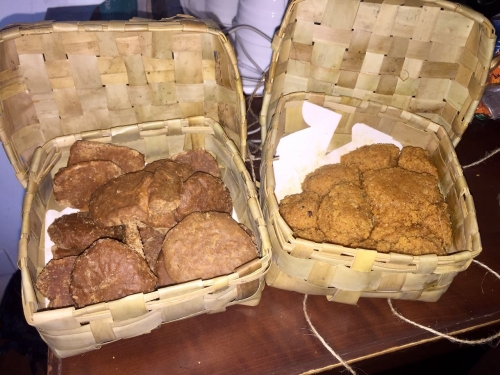 Samosa – Samosa are deep -fried potato filled savory, like God in the city, is omnipresent. Have piping-hot freshly-fried samosas anywhere, anytime. Look at any Samosa shop in Varanasi and you will always find a decent sized crowd outside the shop waiting eagerly for a fresh batch of samosas to be removed from the oil, ready to gorge on the delicacy without even waiting for the extra oil to drip off. One of the cheapest food item in the city, Samosas can be found in every nook and corner of the city and the quality and taste of all of them are surprisingly similar. Samosas are generally accompanied with kullad wali chai (over-boiled tea served in a clay pot).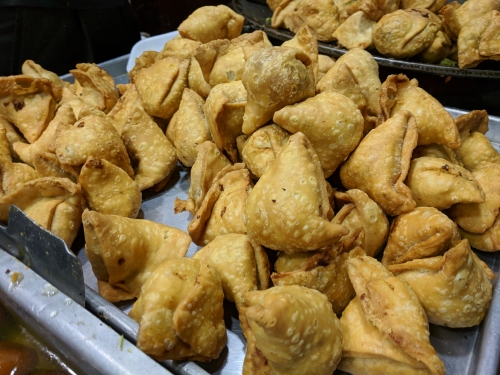 Litti Bati:  The preparation will hit you at the end of each morsel. When you begin to eat it, you will feel as if you are eating another bread and curry but by the time the morsel gets over the aroma and spice along with the hitting taste of mustard oil in which the Litti (Curry made from potatoes, tomatoes and roasted eggplant ) is made will push you to order one more. Bati ( Hard wheat bread)  which is served with litti is dipped in pure desi ghee before serving.
If you are in Banaras and you miss to eat this, Banarasi people will be offended and never ever call it Chokha-Bati, because Chokha-bati is from Bihar and Litti Bati is from UP, so give due respect to the UP delicacy and these two states are the most "Dabangg" States of India, So never mess up!! Experience speaks, I am from Kanpur, UP and meet me if you want to understand the meaning of  Dabangg.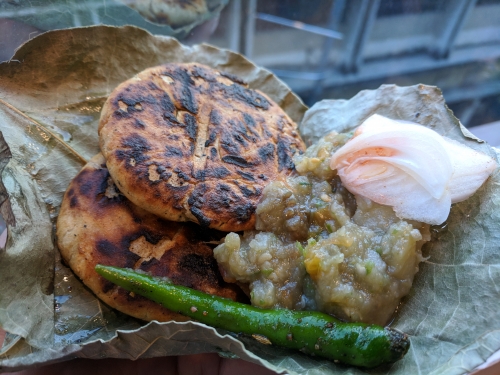 4. Pickle and Papad – Pickle shops are lined up near Kachori Gali (Dashwamedh ghat road). You can find pickles of any vegetable or fruit that you can think of. Wood Apple (Bel), jackfruit( kathal ), Green Chilli (Hari mirch) , Dry Red chilli (sukha lal mirch ) are some of the popular ones available. With Pickle, Papad /Papadum is a must have and hence shops selling papad were in abundance.
One peculiar thing which I noticed was that all the pickle and papad shops were run by Sikh( One of the sects in India) and I guess the reason is – making papad and pickle is a free-time activity for the ladies of the house and hence every house of Sikh community is working for woman empowerment at the root level by making woman financially independent as they earn by making papad and pickles. One of the best examples of employment and empowerment. Don't forget to pick few.
Poori Chole: People eat this a lot, Breakfast, lunch, and dinner, any meal can be Poori Chole. It's a ritual to eat this just like its a ritual to visit the temple every day. The sight of dancing Poori (Wheat flour Indian bread) in the hot oil is an invitation and if you stand for few minutes in front of that Wok ( it's prepared in open on the roadside) you will order it. Despite being deep-fried, You cannot say No. Not even the person who is on the most strict diet.
Please don't ask for less oily poori or tissue paper to remove the extra oil, the shopkeeper will give you the dirtiest look on the earth. Enjoy this poori with Chole (Chickpeas) gravy and onions as the side.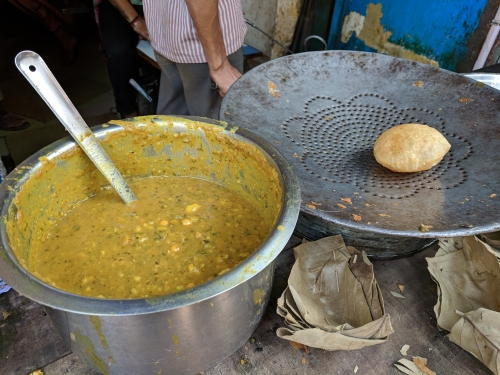 Lentil Fritters: – Also known as Mongodi, Well this was really something which was not expected to be so good. The "Mongodi or Lentil fritters" filled with potatoes are served piping hot, straight from the wok, with a ladle full of Kala Chana (Black gram) Curry and a dash of spicy and tangy green mint and coriander chutney topped with julienne cut onions. This is a must-have delicacy which I guess is not promoted much but it was the best thing which I had due to its spiciness.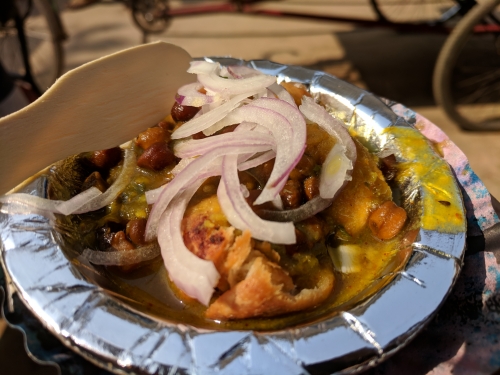 Banarasi Aloo – A potato curry with thick tomato gravy when eaten with Phulka or tandoori roti is an authentic and local experience. With potatoes perfectly cooked and the thick spicy gravy is a must have simple delicacy. Have it at "The Keshari" on Dashwamedha Ghat road – one of the oldest and most hygienic restaurants in town. You can also try the seasonal Aloo-gobhi-matar (Potato-cauliflower-peas) dry curry along with this.
Banarasi Paan: Walk in the city and you see red marks on the wall. What will happen to "Swachh Bharat Abhiyaan".  Banaras is known for its extra soft beetal leaves and Paan made from it. Just like every meal ends with sweet, Having paan is a most important task in the life of the people and not just this, There is a language which only Banarasi people can understand and I call it – BPL -Banarasi Paan Language, This is spoken when people chew the paan completely and speak. An outsider would not be able to understand the language but locals do. We had a hard time interacting with BPL speaking people but fortunately, it was easy to understand because My travel gang had one guy from Banaras – My father in law who was interacting with all the locals in the same way!!!
Go to any Paan Shop and say – Misraji, Paan nahi khilayiyega" and the shopkeeper will so elated that he will make it immediately, You need to check out the efficiency with which he will make 20 paans in a jiffy of seconds.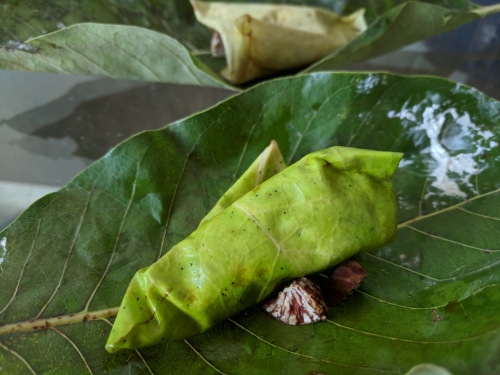 Kachori – One of the lanes is called as Kachori-wali gali and I thought to eat lots of Kachori but to the disappointment, there was no kachori shop in that lane. Desperate and disappointed, I went from one bylane to another and but could not find any. The locals told that now there is no shop in this Gali which serves Kachori and I was completely dishearted. But nevertheless, I managed to find one shop at least in the city.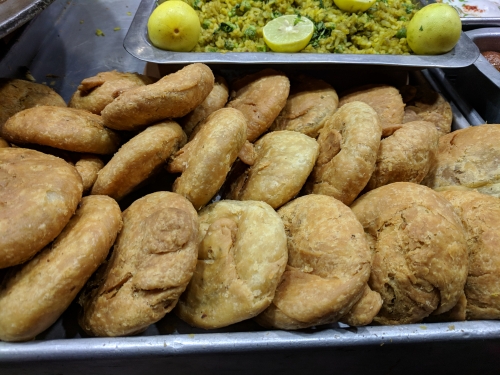 Sweets oh so Sweet!! – Well, there is no one particular famous sweet in bananas but looks like people here do not care about diabetes. There is no particular time of eating sweets as Locals love to relish sugary and fried sweets any time of the day. With every meal ending with "Kuch Mita hojaaye" (Let's have something sweet), Most of the shops are loaded with sweets like Imarti served with rabbi, Jalebi, Gulab jamun, Gajar ka Halwa and they(people of Banaras) thought that this is not enough so there is a "sweet samosa" too.
Enjoy it at any shop, anytime and yes with the Tea. I heard someone – "Ek Kullad wali chai, and 2 plate Imarti" Really?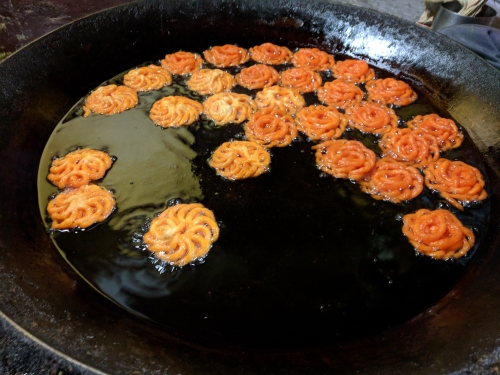 Banarasi Lassi – You would probably have decided to come here just to have this. World-Class Banarasi Lassi, A thick, extra thick yogurt preparation which is churned for almost 20 minutes before it's served in Clay-pot.
I would not write about it at-all as you got to see it.
Few more pictures to show the essence of the city –
The bylanes of Varanasi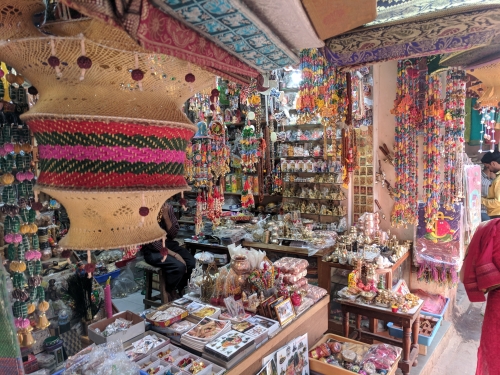 If you are not picking the Banarasi Sari for your girl. Then please book a return flight to the city.  From Aishwarya Rai Bachchan (BollyWood Diva) to latest Anushka Sharma (Bollywood Actress) all have worn Banasari sari on their wedding day. Must-Buy
Misra ji busy making "Banarasi Paan"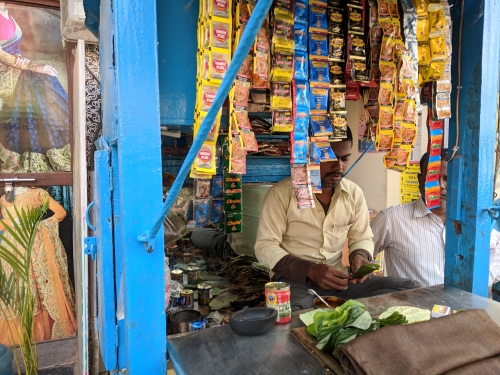 The City of Temples, The city of Ghaats, the City of Ganga and the City of the eternal truth that – death is the most important part of life.