Street Food is considered unhygienic and shunned by a lot of people on this planet, but then there is this large percentage who loves it more than the cuisines served at the classiest of restaurants. Street Food is fresh, cooked before your eyes and gives us the real taste of that particular area. In India, Street Food can itself be considered as a separate cuisine. Here's presenting a list of my favorite Indian Street Food that can give any restaurant a run for its money.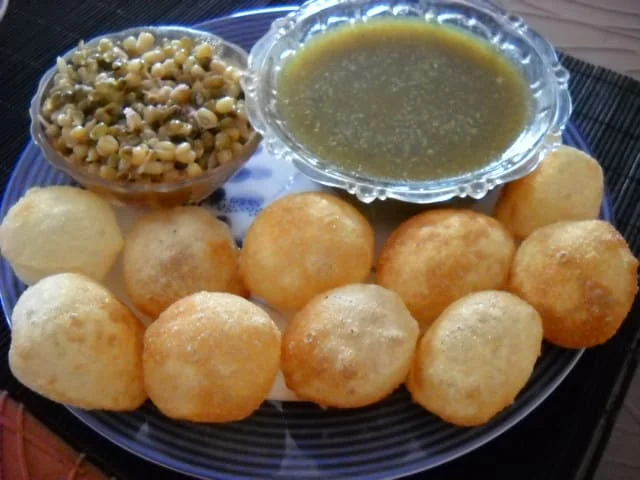 Golgappa/ Puchka/ Panipuri: It is a hollow sphere usually made by wheat or semolina and is served with filling. The fillings differs region to region. It can be spicy Tamarind water, or a mixture of boiled potatoes with spices and tamarind, or even boiled black gram. You have to eat the entire golgappa at one go to enjoy the real taste. It is considered as the KING of all street foods across India.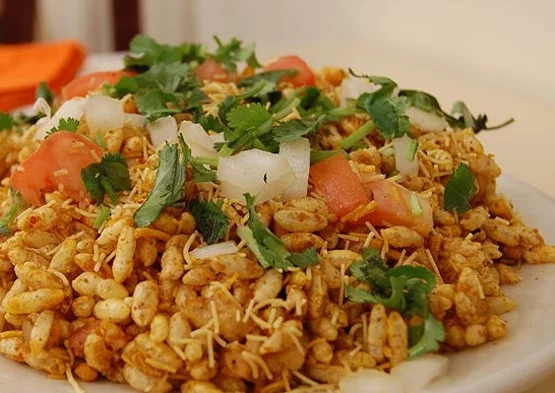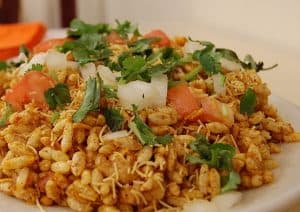 Bhelpuri: Bhelpuri's key ingredients are puffed rice and sev (very thin fried noodles made of gram flour) along with finely chopped onions, green chilies, potatoes and tomatoes. Like most other street food in India, Chutney (sauce) is added as a base. It can be tamarind or mint chutney mixed with the best Indian spices. Usually served in a cone with papdi (fried wheat or semolina wafer).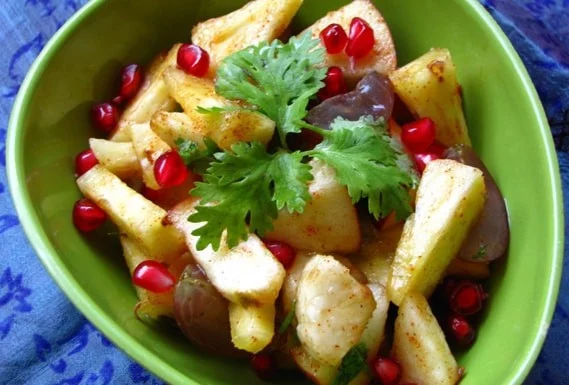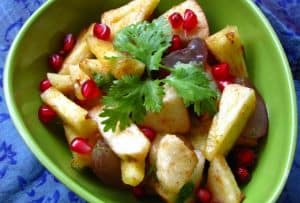 Fruit Chat & Aloo Chat: Fruit Chat is prepared by mixing choice of diced fruits in Chutney or lemon juice and Chat Masala. In Aloo Chat, fruits are replaced by boiled potatoes, onions, coriander and boiled Kabuli chana (chickpea). It is very healthy too along with filling.
Vada Pav: Vada pav is the most famous street food in West India. I personally relish the vada pav sold by vendors in trains or railway stations across Maharashtra. A sort of Indian burger, it is made up Vada, which is made by deep frying balls of mashed potatoes with finely chopped ginger and chili. The pav is plain bread or bun. It is served with coconut and tamarind chutney along with fried green chili.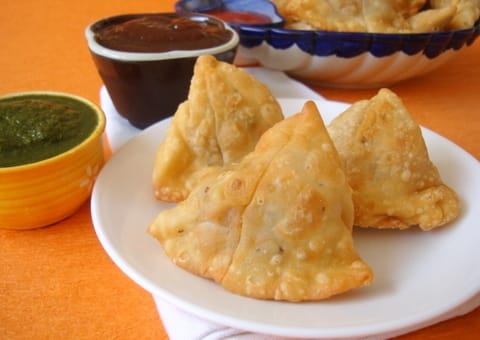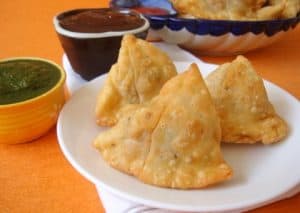 Samosa: Samosa is every Indian party's must have. Chai Samosa is the most common snack in Indian offices. Samosa is a triangular shaped fried or baked snack. The outer shell is made up of Maida (refined wheat flour) and the filling is made of boiled potatoes, spices, coriander seeds, peas and onion. Served with Chutney.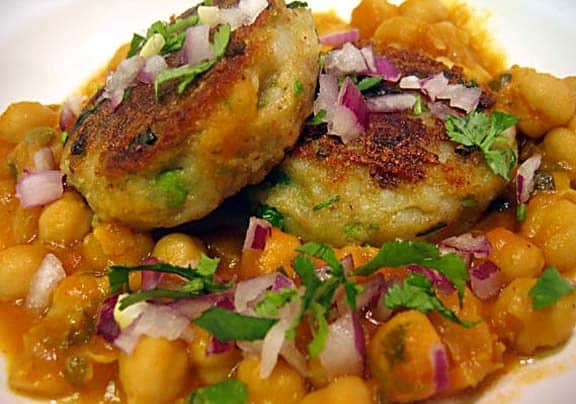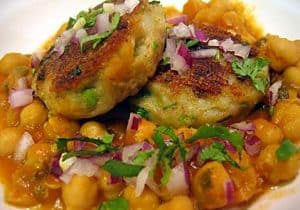 Tikki: Another delicacy from the fried food category. Tikki is simply deep fried boiled and mashed potatoes mixed with finely chopped onion, coriander, green chilli, boiled split gram and spices. Best enjoyed with cooked kabuli chana (chickpea) and chutney. Tikki's can take your taste buds to a very satisfying journey.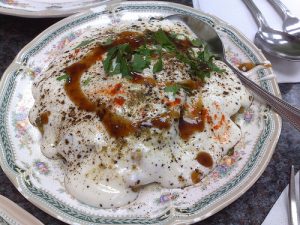 Dahi Bhalla/Dahi Wada: Who would say no to this street wonder! Dahi is Curd and Bhalla is made by grinding and frying split black gram. The Bhalla is soaked in water to remove excess oil and increase the softness. Curd mixed with spices is poured over the bhalla and topped with finely chopped coriander.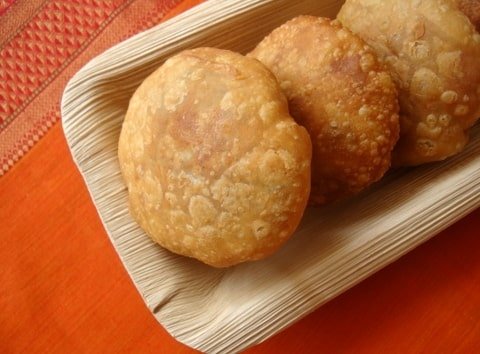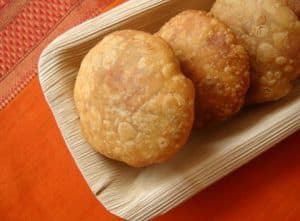 Kachori: How can street food list be complete without this mouthwatering North Indian snack! It is something loved by generations of Indians.  Kachori again is a fried snack made of reined flour and filled with ground black gram.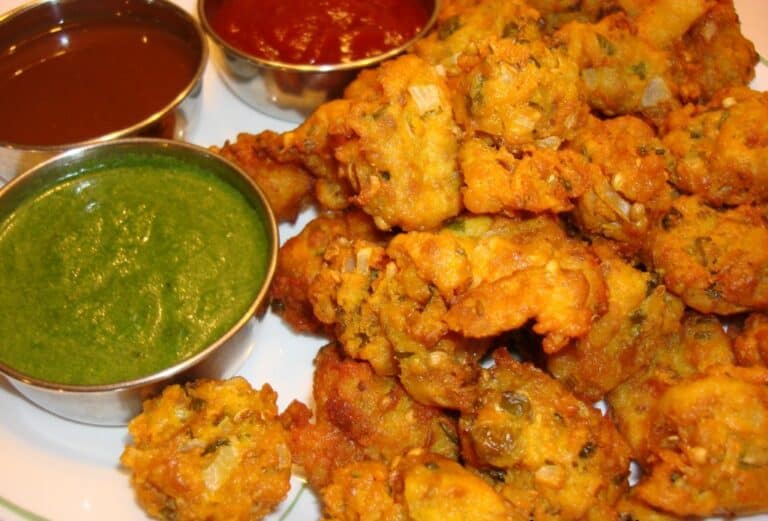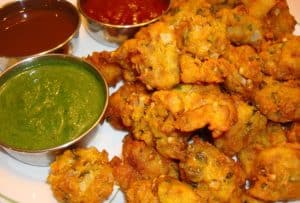 Pakora: Pakoras are vegetables fried in a thick batter of besan (chickpea flour) and spices. Pakoras with a large cup of tea on a rainy day with friends/family! Even the thought of it make millions smile.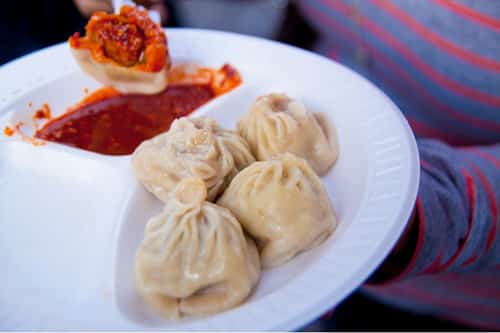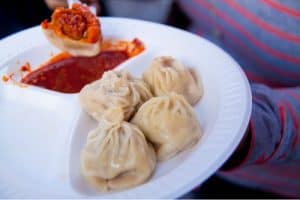 Momo: Okay, Momo's aren't of an Indian origin, but off late they have made inroad into the Indian Street Food market. They are as common as Samosa and Vada Pav now. Momo or Dumplings are made of Maida with any kind of vegetarian or non vegetarian filling. They are usually steamed, but a fried version is also available. Served with mint chutney, mayonnaise sauce and a red sauce made of red chillies.
The best and the only way to truly enjoy these street food delicacies is by actually hitting the streets in India and trying the local vendors who sell via their "thela's" (Handcart). Do not eat them at fancy places. They ruin the taste! Indian street food not only serves the purpose of people who wish to snack with mouth watering delicacies, but also gives millions across the country a decent employment. Also, these are just ten of the most famous street snacks. The list can be expanded. We would love if you share your favorite snack as well!