When you think of Indian food, Indian desserts menu would always strike you in first go. Apart from their mouth-watering taste, a unique aspect of these sweets and desserts is that most of them take surprisingly very less time to prepare! Plattershare's community member and home chef, Shikha Gupta who can be aptly called as South Asian Sweets Queen, has most of her recipes hovering around Indian desserts or "Mithai". Since desserts are favorite dishes of almost all the kids throughout the world and no meal is complete without dessert, this List of Indian sweets and Desserts is surely going to impress you, during the festive season. So here are 11 best easy Indian desserts to make at home for the Dinner parties during the festive season.
Jalebi: Nothing beats mornings with hot and crispy, crunchy Jalebi as most of the North India wakes up with this dessert. From Poha-Jalebi in MP to Fafda- Jalebi in Gujarat, This dessert has found many companions in each state of India. Its popularity is so much that there is a proverb in Hindi "Jalebi ki Tarah seedha" which literary means as straight as Jabeli but actually is a sarcasm for a person who is actually very cunning and clever but pretends to be simple and sober. Well, if you are one of those jalebis- guys then you must enjoy this sugary-dipped dessert. Click for the Jalebi Recipe
Gujiya:  Gujiya is stuffed with various dry fruits and 'Mawa', which is then fried and soaked in sugar syrup (called Chashni). It is one of those dishes which are sure to be found in every Indian family during the festive season. Click for the Gujiya Recipe
Rasgulla: Chena Dumplings soaked in sugar syrup: Just like Gujiya, Rasgulla is also a peculiar dessert to Indian culture. Chena (Cottage Cheese) dumplings are made from milk and then soaked in sugar syrup for a while, following which they can be eaten in a jiffy. Homechef Shikha Gupta in this rasgulla recipe has demonstrated that how easy it is to prepare rasgullas; just as easy as eating them is! So follow her recipe steps to get a hold on making 'rasgullas'. Click for the Rasgulla – Chena Dumplings soaked in sugar syrup Recipe
Rabri Ghevar: Ghevar is a round disc-like cake, which is prepared on festive occasions in many states in India. However, you should not wait for any such occasion for trying this dish out since its mouth-watering taste can make anyone fond of this dessert. Ghevar is an Indian dessert with milk and derives its various names like Rabri ghevar, Malai ghevar depending on the spreading on top of it. Click for the Rabri Ghevar Recipe
SPONSORED: Top On Stretchy Silicone Lids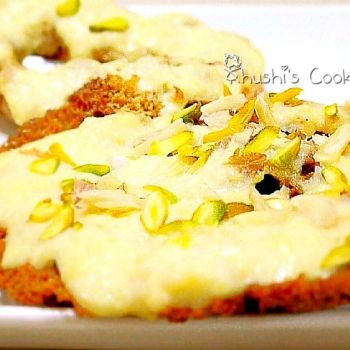 Boondi Ladoo: Boondi Ladoo served as one of the most popular offerings to Indian Gods and goddessess, owns its origins way back to ancient times. Besides being served on festive occasions, this dessert reaches the mouth of masses on the days of national importance like Independence Day and Republic Day. Shikha's recipe on Ladoos will certainly provide you with a planned set of activities for preparing this dessert. Click for the Boondi Ladoo Recipe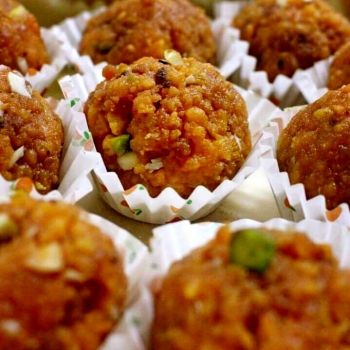 Dry Fruit Chikki: Chikki has been a common Indian dessert, a healthy snack for kids and adults and for those who are Vegan and looking for desserts without condensed milk. Dry fruits are first roasted and then combined with jaggery which is the most natural and simple form of sugar. It is one the healthy Indian Dessert which can be eaten guilt-free even when you are on diet. Apart from being immensely nutritious, the low cooking and preparation time (10-15 minutes) makes dry fruit Chikki as a yummy easy to make desserts and must be tried at home. Click for the Dry Fruit Chikki Recipe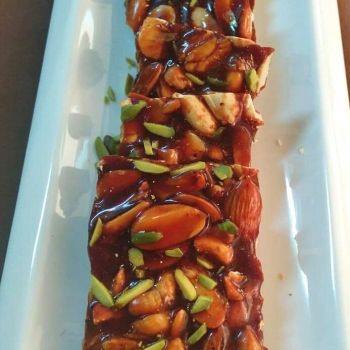 Mango Kalakand: When it comes to Indian sweets, Kalakand has always been one of the most coveted recipes. Kalakand is an easy dessert recipe with condensed milk and paneer and which also earns it the name of 'Milk Cake'. In this recipe, Plattershare Homechef Shikha has applied her inherent cooking wisdom by adding mango's flavor to this cuisine. As a result of its unique taste, this recipe should be tried out by you. Click for the Mango Kalakand Recipe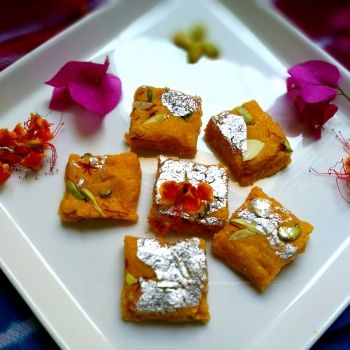 Malpua: Malpua is one of those dishes which despite having a unique sweet flavor have not been as popular as other Indian desserts have been!  Preparing Malpua requires adding flour, milk to crushed ripe bananas and coconut milk. Though preparing this dish requires some hard work, the exquisite taste that you get out of it is totally worth it. So go for it without waiting for any occasion. Click for the Malpua Recipe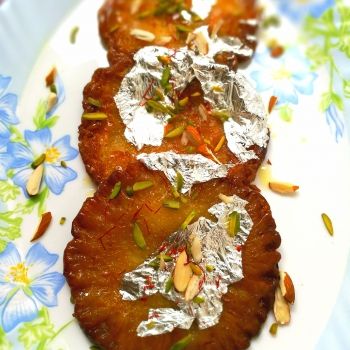 Dharwad Peda: Peda, a small-sized biscuit shaped dessert has been very famous in Indian culture. Ranging from being served as offering to deities to being served as an after-dinner dessert, Peda has ever occupied a special place in the heart of every Indian. Made with 'Khoya' and some other flavoring ingredients, one has to have Peda ready for serving even in non-festive times. Click for the Dharwad Peda Recipe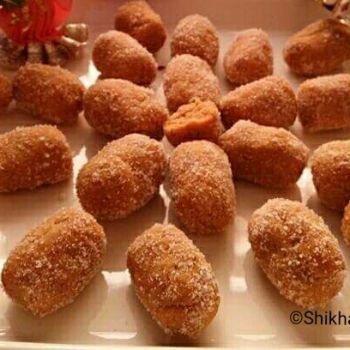 Mysore Pak: Mysore Pak is another simple yet multi-occasional dish suitable for most of the Indian festivals. This dish originated in Mysore and was so-called 'Mysore Pak' since it means sweet flavor in the local dialect. This is a roasted chickpea flour dessert loaded with lots of Ghee (Clarified Butter). To know the complete recipe of Mysore Pak, Click for the Mysore Pak Recipe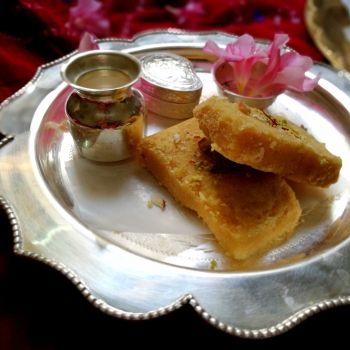 Kozhikode Halwa: Last but not least, This Halwa Indian dessert is a dish peculiar to Kozhikode and as such all those who have been to this beautiful place must have tasted this amazing dessert at least once. Though all of the ingredients of this dish are easily available in the market, its exquisite flavor and rubbery texture are what creates a special connection with those who taste it. Homechef Shikha has explained the process of making Kozhikode Halwa Indian dessert recipe in a very simple manner and you must try the recipe out. Click for the Kozhikode Halwa Recipe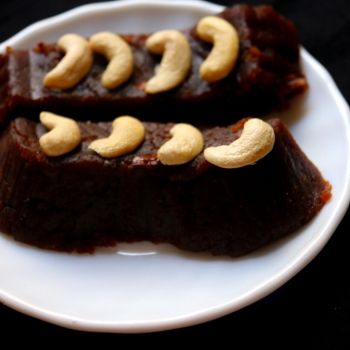 If your mouth has started watering after reading the above list of desserts then it's time to hit the kitchen door and try few of these  best easy desserts to make at home.
About the Author – Plattershare, Thanks, Shikha Gupta for sharing yummy easy to make desserts at home. Shikha's  culinary journey started when she experimented in her kitchen to feed her 2 kids with great homemade dishes. Shikha is a self-taught baker who found her love in creating new recipes, presenting the dishes and clicking the drooling pictures of the food.  Even though she did her masters in commerce but now she plays with the measurement of the ingredients. She is aptly called as "Queen of Indian sweets" by her friends and family as she has tried her hands in making Indian sweets and desserts from every state of Indian. Follow Shikha for her upcoming recipes on Plattershare and Facebook.