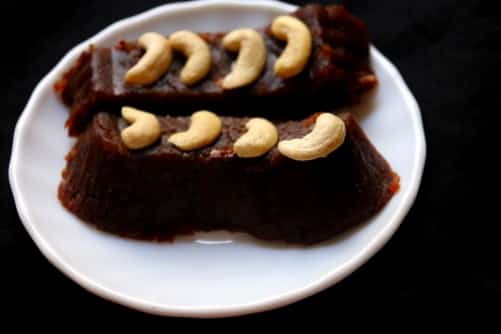 Kozhikode Halwa
Kozhikode halwa has such a price of place among food connoisseurs. People who visited Kozhikode dont go back without testing this unique sweet. The busy street shopping destination in Kozhikode, SM street( Sweet Meat street) is names after this halwa. The original version is black halwa , made from refined flour, paon sugar, sugar and cooker in kerala special coconut oil. This is available in other variations such as yellow banana, orange carrot, green pistachio and white tender coconut halwa. I made this halwa as Onam special to gift to my friends. A soft rubbery texture sweet that is very popular through out the country.. Description content courtsey. Google wikipedia
Ingredients
Water 3 liter

Refined flour 250 gm.

Jaggery 750 gm.

Coconut milk 6 cups i used store bought coconut milk

Ghee 250 gm.

Sugar 1/4 cup

Cardamon powder 1/2 tsp.

Cashewnuts sliver 100 gm.
Instructions
Using 1 cup water to knead the flour to make a soft dough. Reserve 2 cups of water and add the rest a little at a time to the dough to make a thin batter. Let it fermantation over night. Or keep it aside for some hours.

Strain the flour batterthrough a seiver or muslin cloth so that no lumps will there. Melt the jaggery in 6 cups of water and strain it. Mix the flour batter, jaggery syrup, and coconut milk in a heavy bottom pan or vessel

Consistency should be like milk. Bring to boil . Stirring constantly till quite thick. Add ghee in small quantities and keep stirring all the time. Till the mixture forms a soft ball.
Notes
I used store bought coconut milk. Coconut milk can extract from fresh coconut too. Instead of jaggery can used sugar. Add little coconut oil for great lecture.