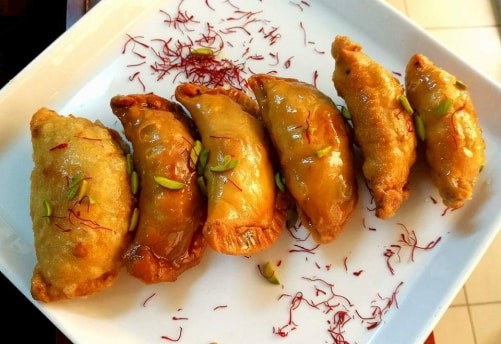 Gujia/Karanji/Purukiya
Gujia is a sweet dumplings made with suji/ maida/wheat flour and stuffed with different stuffing like khoya/ Mawa, coconut, dry fruits. It is popular in North India, particularly in Bihar, Uttar Pradesh, Madhya Pradesh and Rajasthan. It is very much look alike that of a samosa, how ever the gujia has a very distinct shape. The gujia is filled with a mixture of grated and roasted dry fruits, khoya, coconut and to add a grainy texture, a little suji. Gujias are called Purukiya in Bihar. Purukiya are very popular in Bihar and are relished by everyone. Mostly two types of gujias are popular one is filled with khoya/Mawa and other one is coconut and Rawa. In suji gujia,suji is roasted in ghee with sugar, cashew, grated coconut, cardamom, raisins, and other dry fruits and lastly deep fried in ghee/oil . In khoya gujia, pure khoya is mixed with nuts and sugar than deep fried.. Gujia has many names in different states like Ghughra(Gujarati) in Gujarat, karanji(Marathi) in Maharashtra, karachika(Tamil) in Tamil nadu, karjikayi(Kannada and Telugu) in Karanataka and Andhra Pradesh are all fried sweet dumplings made of wheat flour and stuffed with dry or moist coconut delicacies. In Goa Goan Hindus prepared it on the occasion of Ganesh Chaturthi and call it Negri..
Ingredients
All purpose flour 2 cups/ 500 gm.

Ghee or oil for moyan 8 tbsp or 1/4 cup

Lukewarm water to knead the dough

For stuffing

Khoya/Mawa 250 gm. Or 1cup

Cardamom powder 1tsp

Ghee 1tbsp

Powdered sugar or tagaar 3/4 cup

Mixed nuts chopped 1/4 cup I used cashew nuts

almonds, raisins, pistachios

Milk 1 tbsp for soaking Kesar

12-15

saffron strands

Ghee or oil for frying

For sugar syrup

Sugar 2 cups

3/4

cup

water

For garnish

Kesar

Sliced pistachios and almonds
Instructions
In a big bowl seive all purpose flour add ghee. Rub it with your hands. Add lukewarm water and make stiff dough. Cover it with demp kitchen cloth and keep it aside. Now we will make stuffing.

When it's hot enough add Mawa and saute it till brown in colour. Make sure keep stirring else it will stuck to the pan. Switch off the flame. Keep Mawa out in another bowl and let it cool. Add powdered sugar/tagaar add cardamom powder. Mix well.

Add chopped dry nuts mix all together. Add Kesar milk Keep it aside. For sugar glaze gujia we will make sugar syrup. Heat a pan add water and sugar mix well let it boil till it becomes thick and two string consistency.

Divide the dough in small equal balls. Roll it with help of rolling pin. Fill stuffing with spoon and cover it with all sides with help of water at its edges.give your desire gujia shape. You can use gujia maker.

Heat ghee or oil in a pan. When it's hot enough fry these gujia on low medium flame till golden brown in colour from both sides. I made some gujias with sugar glaze.if you don't want sugar glaze than let all gujia fried and cool down.

Keep these gujias in air tight container.now for sugar coated gujia keep these hot gujia in sugar syrup for 30 seconds. Flip it and again keep them in 30 seconds.
Notes
I used ghee for moyan and frying but if you wish can use oil.
For stuffing you can use d

escinated coconut, roasted suji.
Moyan makes gujias khasta and soft. So don't skip it.
I made both types of gujias sugar coated and without it.