We all know Holi as the festival of colors, but it's also an excuse to eat foods that awaken the senses and keep your spirits high! It is the perfect time to immerse yourself into the festive zeal with playful moments and adoring meals. This Holi, eat to your heart's content! Here are some of India's favorite holi foods, and not just any, we've handpicked the best makers for each of them in the country. And guess what you can actually get your hands on these by ordering on www.delightfoods.com!
Gujiya, Bhikaram Chandmal, Delhi 
Think Holi and the first thing that comes to mind after colours is Gujiyas! Native to Rajashthan, these are sweet dumplings filled with khoya and nuts! But we are not talking of any Gujiya's – we are talking about the ones made in the most authentic way. Bhikaram Chandmal comes from Bikaneri roots and is the father of the famous Bikaneri Bhujia! Take a bite of their Gujiya this holi and you'll picture yourself on a camel back in the Thar desert! And whats more, to make it even more delightful for the health freaks, they also make a Diet Gujiya, a wish come true we say!!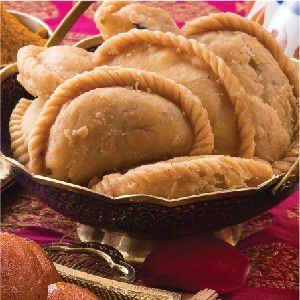 Paneer Ghevar, Lakshmi Mishthan Bhandar, Jaipur 
You can get ghevar anywhere in Rajasthan, but the one made by LMB (short and sweet for Laxmi Misthan Bhandar) in Jaipur's Johari Bazar is something else. Lakshmi Misthan Bhandar's – popularly known as just LMB, itself has become a popular tourist attraction in Jaipur. Making a ghevar is an elaborate process and requires immense patience!  At LMB, it is made fresh everyday and sold out within a few hours!  The paneer version is something to try and a perfect dessert to serve up this holi!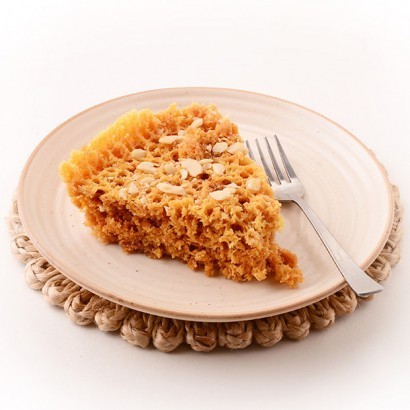 Moong Bhajiya, Agarwal420, Indore 
In 1962, Hukum Chand Agrawal had 150 rupees , 5 kilos of moong dal and a strong desire to sell high quality pappad. And that's how he began his enterprise. Inspired by the Raj Kapoor film 'Shri 420', he called the papads "420". This Moong Bhajiya mix is a gem from their arsenal and a perfect accompaniment with holi celebrations! No more soaking and grinding of Dal; just add water to this mix, and a smooth batter is ready! The perfect blend of asafoetida, aniseed, coriander and chilli is sure to make those hot Bhajiya lipsmackingly delicious!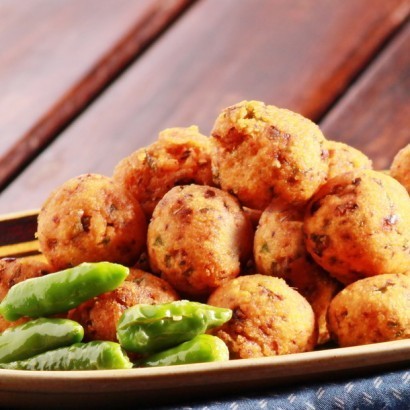 Badaam Thandai, Nonad Bhai Bhola Nath, Delhi 
Holi is not Holi without a lipsmacking glass of Thandai to go along! This soothing drink keeps the body temperature cool and the "spirits" high! Bholanath Ji, the founder, prepared this Thandai Masala 90 years back and the tradition has been carried forward by his sons, grandsons and great grandsons. Just try it to experience the magical taste. It's a simple hassle free mix and drink product to keep it simple for you this Holi!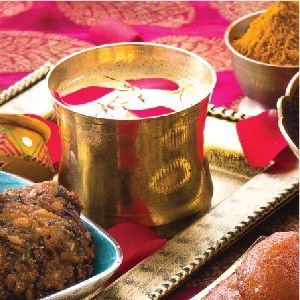 Namak Paara, Almond House, Hyderabad 
Namak Para, Nimiki, Namak paare, or diamond cuts is a popular snack or namkeen recipe during all festivals in India! So if your Holi parties continues until tea time, these little bites are what you need. Made by  Almond House in Hyderabad, they are infused with a special flavor. Hints of black pepper & sesame seeds along with ajwain makes this Namak Paara really special!
So this year, let holi be all about food, fun and colours! You have the fun, and leave the food preparation to these experts and surprise your friends! 
About Delight Foods: 
Delight Foods (www.delightfoods.com), a Bengaluru-based online service, presents a range of selected, celebrated foods from all over India. From the authentic Lonavala Chikkis and Agra Pethas to banana chips from Cochin and Indore's popular Lahsun Sev, this is an opportunity for us not only to access, but also to discover, India's most desired munchies and masalas. 
On offer are five categories of food items – sweets, savouries, bakery items, papads/pickles and masalas/mixes – from India's most famous food brands. The brands are chosen for their appeal and researched for the quality, taste and authenticity of their products. A panel of chefs taste and cook with the items and confirm that they are indeed special. The selection is, certainly, very different from off-the-shelf products available in any supermarket. 
The premise is that an online food platform that attends to diverse palates is just what a cosmopolitan city like Bengaluru needs. The food market in the city has evolved largely over the past few decades owing to continuous influx from across India and the globe. Today, Bengaluru is home to a wide range of ethnically diverse people with varied food choices, and Delight Foods caters to such people. Whether it is traditional South Indian food or the popular delicacies of the North, there is an answer to everyone's craving. "We want to Delight the world, one bite at a time", says Ramesh Krishnamurthy, CEO of Delight Foods, and an IIT/IIM alumnus.