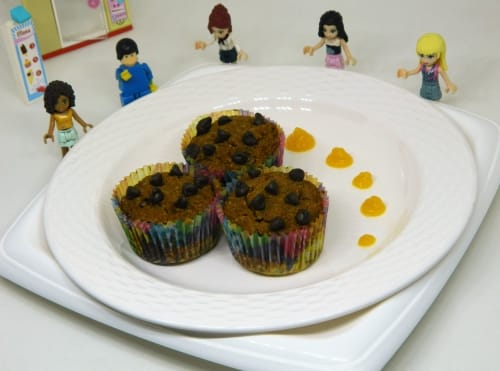 Vegan & Gluten Free Pumpkin Spice Morning Muffins
Almond rich pumpkin spice morning muffin is a healthy breakfast meal and snack option for kids. Sneaking a vegetable in these muffins makes it even healthier. This muffin is gluten free and vegan as it is baked using almond flour, coconut flour, sorghum flour and fresh homemade pumpkin puree. No refined sugar is used; instead coconut sugar is used as the healthy sweetener which makes it an ideal and healthy muffin. Coconut flour, gluten free flour is rich in fiber, protein and healthy fats. Sorghum flour, gluten free flour is rich in fiber and a good source of antioxidants. Almonds are rich in protein, vitamins and minerals and are associated with many health benefits. The rich source of these nutrients is helpful for kid's growth and development. Presence of Riboflavin and L-Carnitine helps in proper development of brain in kids. Almond flour, gluten free flour is high in protein, low in carbohydrates. Pumpkin is loaded with beta carotene and helps in boosting the immune system of the body.
Ingredients
1

cup

Sorghum flour

½ cup Almond flour

¼ cup Coconut flour

1

teaspoon

baking powder

1

teaspoon

baking soda

¼ teaspoon salt

½ teaspoon cinnamon powder

¼ teaspoon nutmeg powder

¼ teaspoon ginger powder

2

tbsp

flax seed powder

6

tbsp

water

¾ cup coconut sugar

1

cup

pumpkin puree

1

teaspoon

vanilla extract

½ cup oil

olive oil / melted coconut oil

¾ cup chocolate chips

dark / milk
Instructions
Sieve sorghum flour, baking powder, baking soda, salt, spices together; set aside in a large bowl.

Sieve almond flour and coconut flour; mix into the sorghum flour mixture. This is the dry mixture.

Mix two tablespoons of flax seed powder with six tablespoons of water. Set it aside for a while until it turns into a gooey liquid.

Making the pumpkin puree: ---------------------------------------------- Take a medium sized pumpkin, wash, cut into halves and deseed.

Cut into big chunks keeping the skin intact, place them in a bowl.

Pressure cook for 3 whistles.

Strain the water and allow the cooked pumpkin pieces to completely cool down.

In another mixing bowl, add coconut sugar followed by pumpkin puree.

Mix until the sugar is completely dissolved.

Add the flax seed mixture and whisk well.

Add vanilla extract and mix well.

Add oil and whisk until it turns smooth and all the ingredients are well incorporated. This is the wet mixture.

Now mix the dry mixture in batches into the wet mixture. The batter should be lump free and do not over mix the batter.

Preheat oven at 160 c.

Align muffin paper liners in muffin tray.

Mix chocolate chips into the batter.

Scoop out the batter and fill a little more than ¾ levels in each muffin cups. Sprinkle some chocolate chips.

Bake for 20 to 25 minutes at 160 c or until a cake tester come outs clean.

Allow the muffins to cool on a cooling rack.
Notes
Do not add water while making pumpkin puree.
Oven timings and temperature differs from oven to another, hence adjust the settings according to your oven.