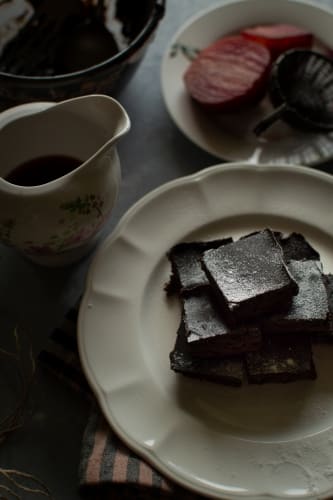 Vegan Beetroot Brownies ( Gluten Free And Eggless )
7 July, 2018
Gooey and fudgy, brownies are one of those desserts that make us go weak on the knees. Sadly, they also make us go wide around the waistline. Introducing these guilt free , gluten free, egg free and (bad) fatfree brownies made with naturally sweet beetroots. If at all these are high on something, its just great taste. Yes, you will never look at desserts( and even beets) the same way again .
Ingredients  
1/3

cup

gluten free flour

oats and millets

1/4

cup

cocoa powder

1/3

cup

palm jaggery

1/2

teaspoon

baking powder

a pinch of baking soda

a pinch of salt

2

tsp

of coconut butter / olive oil / nut butter

1

teaspoon

vanilla essense

1/3

cup

beetroot puree

few teaspoons of beet water

for the topping - 50 grams of dark chocolate

vegan

2-3

tsp

of coconut butter

5-6

tablespoons

of beet water

1/2

teaspoon

vanilla essense
Instructions 
Take all the dry ingredients for the brownie in a mixing bowl.

Give it good stir .

Pour the wet ingredients into the same bowl. Whisk it up to get a homogeneous mixture. It should get to a easy flowing consistency. If it seems too thick, add a few more teaspoons of the beet water.

Line a 8" X 8" inch square baking tray with a baking sheet.

Place the baking tray in a preheated oven (180 degrees celsius). Bake at the same temperature for 15 mins.

At the same time, take the dark chocolate, vanilla essence, coconut butter and beet water in a double boiler. The water should be hot and not boiling.

Slowly melt the chocolate. When it is halfway melted, remove it from the double boiler, and give it a stir which allows it to melt completely.

Once the brownies are just about warm to touch, pour the melted chocolate over them .

Place in the fridge for 2 hours to cool down.

Remove and cut into 2" X 2" squares ( total 16 nos ). Serve.
Notes
For making beetroot puree, i peel and cut each beet into two. Place in a pressure cooker with 1 cup water . Cook for 2-3 whistles. 
Allow steam to escape before opening lid. Let it cool down completely.
Chop and put the cooked beets in a blender along with a few teaspoons of water. Blend into a smooth puree.