Top 10 Pumpkin Squash Recipes: In the third and last part in the series of informative articles on 'Squash', we bring at your dispense 'Delicious Squash Recipes'. If you have not checked our previous articles on squash read to know something interesting about squash – Is Squash or pumpkin a fruit or a vegetable
Also, Learn How to cut boil and preserve squash. Though an uncountable number of recipes can be made using squash, we have here categorized them into 10 must-make squash recipes which will literally force you to lick your fingers when you finish the delicacy. So go on and read about them below:-
Red curry recipe using butternut squash is one of the immensely popular recipes. The process of making this dish is quite easy and the flavor that you get out of it is exotic. One needs to add diced butternut squash along with grated ginger, to already heated oil and stir till the squash's color starts to change.
Followed by this, red curry paste, coconut milk, and fish sauce are added and the ingredients are mixed together till squash pieces get completely coated with curry.
After ensuring that the dish is properly cooked, it can then be served with basmati rice and some spinach garnishing. Click for the recipe – Thai Butternut Squash Red Curry Recipe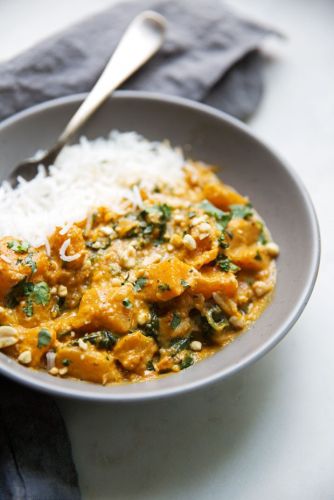 2)  Butternut Squash Soup
Most of the squashes are consumed as soup since they are very nutritious in nature. This is perhaps the simplest squash recipe which can be made at home and because of which it is highly popular too!
For soup making, Butternut squash along with other vegetables are added to the bowl having melted butter, following which flavoring spices and herbs are sprinkled over the mixture.
The vegetables are cooked until they become slightly brown in color and finally the mixture is blended using a blender for ensuring a uniform soup texture and then served after pepper seasoning. Click for the recipe – Roasted-butternut-squash-soup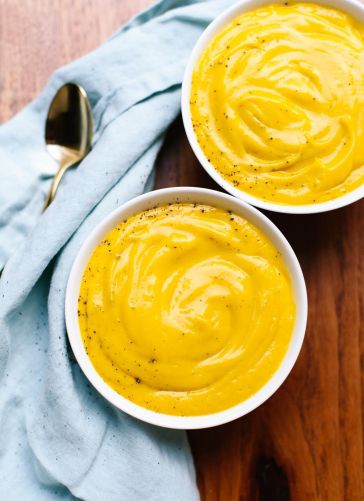 3) Caramelized Butternut Squash
When guest appear without notice, In such times, caramelized squash is the best recipe that can click your mind. You just need to have butternut squash, cut them in the desired shape you want and place it for roasting after adding an adequate amount of butter and spices.
This is the time when you can switch back for attending your guests J.Roasting generally takes around 40 minutes after which the dish can be presented after adding adequate seasonings for enhanced flavor. Click for the recipe – Caramelized-butternut-squash-recipe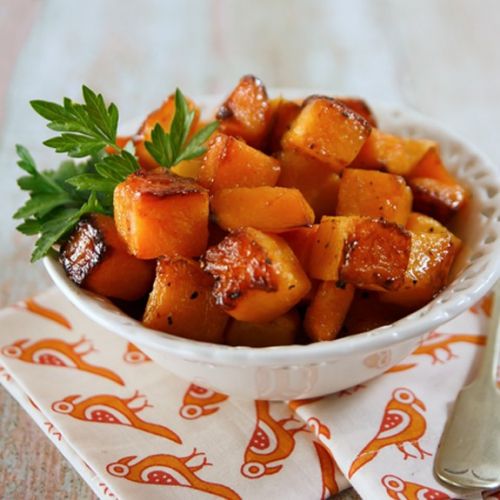 4)  Pumpkin Cake Roll
This is an amazing squash recipe which guarantees unbeatable taste along with incomparable dish presentation. Just imagine your favorite squash dished into a rolled cake form! For making this dish, you just need pumpkin squash pieces which are mixed with beaten egg and sugar.
In another bowl, add all the cake making ingredients namely, baking powder, flour, cinnamon and nutmeg powder. Following this, the ingredients of both the bowls are mixed and then rolled along the surface of a greased paper and baked. Click for the recipe – Pumpkin-roll-cake
5) Chicken and Broccoli stuffed Spaghetti squash
This is a perfect dish for those non-vegetarians who want to satiate their taste buds with a unique combination of chicken and squash. This dish is a time taking one and there are three different steps involved in its making.
The first and the foremost step involved is to bake spaghetti squash (which has been cut into two equal parts and the seeds have been scooped out) in an oven. After this, scoop out the long strands of the Spaghetti squash following which the chicken pieces are broiled.
The next step is to cook broccoli pieces wherein minced ginger, chili flakes and broccoli pieces are added to olive oil in a frying pan. When the contents are about to get cooked make sure you put in all the previously cooked chicken pieces to the frying pan. The final step is easy, you just need to pour this filling onto the hollow part of the squash pieces and you are done. Click for the recipe – Cheesy-chicken-broccoli-stuffed-spaghetti-squash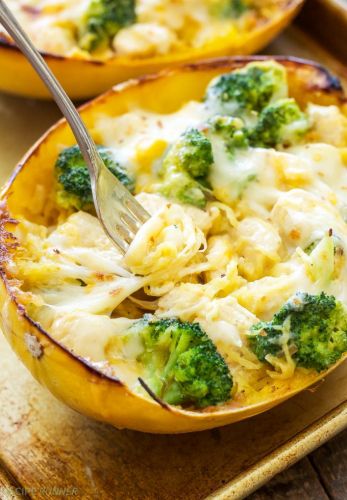 6) Turkey Sausage and Spinach Spaghetti squash lasagna
An especially collaborated dish which has exquisite flavors of turkey sausage, spinach, and spaghetti squash. Firstly, spaghetti squash is being cut into two parts and baked in an oven just like we have done in the above recipe.
Secondly, cooking of turkey sausage along with defrosted spinach is being done and the cooking is done until and unless all the ingredients become a bit cooked since complete cooking is done after adding squash pieces. Subsequently, the squash pieces are added to the ingredients and the contents are cooked until and unless the squash pieces get completely coated with the mixture.
The final step is to broil the contents after adding cheese and seasonings unless squash pieces turn golden in color and the cheese melts completely. The only problem with the dish is that sometimes it is difficult to find turkey sausage in the market but in that case another kind of sausages like chicken sausages etc. would be a perfect substitute. Click for the recipe – Turkey-spinach-spaghetti-squash-lasagna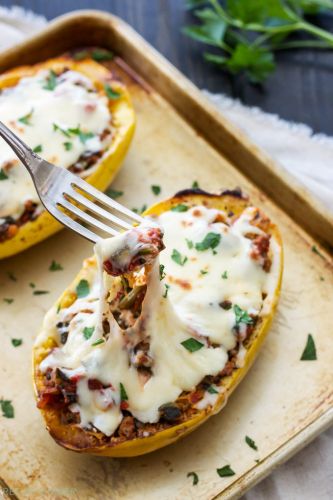 7) Shrimp, Parmesan + Mozzarella with Spaghetti squash
One of the unique squash dishes is to fill in some stuff like fish pieces/shrimp pieces in the hollow portion of the spaghetti squash. For making this dish, squash half portions are being put in the preheated oven after adding an adequate amount of mozzarella cheese into it.
While the cheese melts in the oven, you should start frying fish/shrimp pieces in a frying pan which is popularly called skillet.  Along with fish pieces, you may also add some minced ginger and other seasonings just to enhance the taste even further.
The final step involved is to pour these contents into the squash pieces and some more toppings if you want to. The dish is now ready and can be served after adding parmesan cheese! Click for the recipe – Skinny-shrimp-parmesan-spaghetti-squash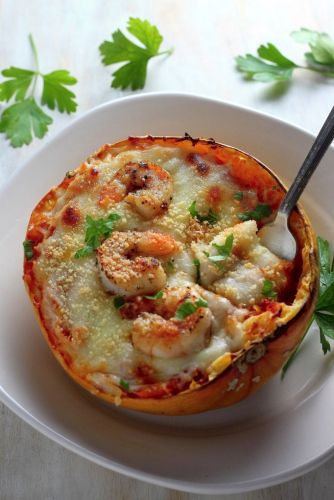 8) Zucchini squash with garlic yogurt
This is one of the immensely popular dishes related to Zucchini squash. In this dish, we combine the flavors of zucchini, bacon and garlic yogurt all in one. The foremost step of this cuisine just like in the above recipes deals with squash, wherein Zucchini squash is being cut into pieces after soaking up the extra moisture present if any.
Following this, the squash pieces are combined with bacon/fish pieces, flour, and egg and mixed thoroughly in a bowl. The mixture is cooked in a frying pan until the squash pieces turn crispy and golden in color. Meanwhile, the garlic paste is prepared in yogurt and is used in the dish after the squash mixture gets cooked thoroughly.
Finally, squash and bacon/fish mixture is served alongside garlic yogurt after seasoning with salt and pepper.  Click for the recipe – Zucchini squash with garlic yogurt
9) Butternut Squash and couscous with chutney
One of the easiest dishes you can imagine with Butternut squash and that too with mouthwatering taste. You just need to boil oil in a skillet and add squash pieces, onion, garlic and broth and cook until most of the liquid is evaporated and squash gets completely cooked. Meanwhile, add boiled water (with a half teaspoon of salt) to couscous (a kind of pasta) and allow it to absorb water.
Serve this couscous hot with squash topping and chutney. Click for the recipe – Butternut Squash and couscous with chutney
10) Chayote Sabzi
After so many dishes on butternut squash, it is time to explore Chayote recipe. What makes Chayote stand out among other squash varieties is its unique quality to retain its crunchiness even after getting properly cooked.
This particular Chayote dish is Indian cuisine and like other Indian dishes, this one too is spicy. The preparation process is easy, requiring chopped chayote, a few pulses, and other spices.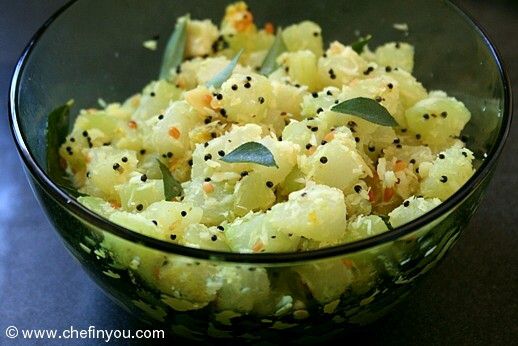 One needs to fry red chilies, asafetida, and pulses in oil till the pulses change their color. Following this, the squash pieces are added along with turmeric powder for enhanced taste. All the ingredients are cooked for around 10 minutes giving sufficient amount of time for squash pieces to become tender.
Recipe Video
Hope you liked all the three articles in the "Squash series" and please do read the other upcoming informative posts on Plattershare.
About the Author: This Article has been written, researched and shared by Shobhit Dwivedi, who is an engineer by degree, a gourmand by heart and loves to research and write about food, health and fitness to satiate his passion for them.  You can follow Shobhit on Plattershare.
Also See: