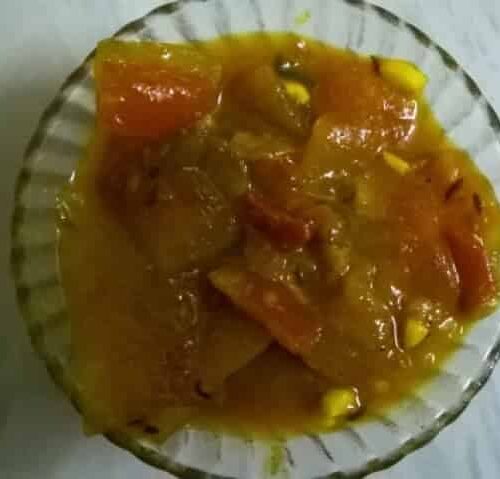 Tarbooz Ke Chilke Ki Sabzi / Watermelon Rind Curry
Watermelon the summer coolent has started showing up at every nook and corner of the city now and we are eating it regularly to beat the heat.But are we only using the inner red part of the fruit ?? Are we throwing away the entire rind of it ???...STOP...this thrown away thing is full of lycopene and beta-carotene which is very essential to maintain our eye health.So from now start jucing up your watermelon along with the rind.Also try this simple curry recipe made of rind.
Ingredients
Watermelon Rind : 250-300gm

Onion Finally Chopped : 2 tbsp

Ginger Finally Chopped 1/2 tsp

Garlic : 6-7pods[finally chopped]

Green Chillies : 2-4[finally chopped]

Tomatoes : 2 medium[finally chopped]

Cumin Seeds : 1/4 tsp

Asafoetida : a pinch

Turmeric Powder : 1/4 tsp

Coriander Powder : 1/2 tsp

Garam Masala Powder : 1/4 tsp

Red Chilli Powder : 1/4 tsp [as per taste]

Salt to taste

Mustard Oil : 1tbsp
Instructions
Thinly peel the rind and take the dark green portion off.This portion is very hard and takes too much time to cook.Chop the peeled rind into 1/2 inch pieces.

Heat a wok. Put mustard oil in it and heat.Add asafoetida and cumin seeds.Add garlic and let it cook.Once the the garlic is half done add onions and cook till it becomes golden brown.Add tomatoes, red chilli powder and salt.

After 1-2 min add remaining powder spices and ginger.Cook till this mix starts leaving the sides of wok.
Notes
Always remove the green part of rind because it takes too much time to cook.
Use fresh rinds.