"Drinking lemon juice every morning is the best way to cleanse the body" – advises your friendly neighbourhood know-it-all aunty who has undergone colonoscopy sessions in the recent past. She also tells you that she went for a 3 day detox program in one of the country's most popular (and expensive) detox centres which cost her a few lakh rupees and advises you to attend the same, because it is the trend nowadays, isn't it? And you think? Really? Do I need to Detox? Should I burn a hole in my pocket to attend one of the detox "crash-course" programs just because everyone who goes there, gives a great feedback? With all due respect to these detox centres, the honest answer is NO – read on to find out why.
We spoke to Ranjani Raman, Dietitian & Nutrition Consultant and Founder at Nutrilife about what is detoxification and why a body needs to detoxify? Is it possible to cleanse the body naturally at home? And what is the best way to cleanse the body?
In today's fast paced lifestyle, where everyone is looking for a quick fix, lots of commercial cleansing products and fancy detox programs are available and finding the right one for oneself is always a question. Ranjani Raman, who is a dietitian, a child nutritionist and certified Diabetes educator talks about this latest Fad and the reality behind it while trying to separate fact from fiction. She says it is very important to understand the basics, when it comes to nutrition, health and well-being. One should be well-aware before making any decision as any decision is directly related to your and your family's health because despite the clichéd use, Health is real Wealth!!!
Here is what we asked her-
What is detoxification?
In today's world where we are constantly ingesting harmful foreign particles into the body through chemically loaded and preserved foods, fried foods, artificial or packaged products, pollution, stress and more. As a result, a lot of toxins are formed within the body which regularly need to be flushed out so that the body can function efficiently and promote overall health. Detoxification is a systemized process of removing these toxins by eating foods and liquids that promote toxin removal such as fruits, vegetables, herbs, spices etc. Check out what our expert have to say about it.
Do we really need to detoxify the body from time to time or the body takes care on its own?
If a person regularly eats outside, unhealthy or junk foods, it's really important that there is a periodical 1 or 2-day detox process at least once in a month so that the body can be cleansed. However, if one is conscious and eats healthy food and follows a healthy lifestyle and routine regularly, detoxification can happen on a daily basis by simply including a good amount of herbal water such as lime water, Amla water, Aloe Vera water etc as they begin the day so that they cleanse the system. However, it's good to detox at least once a month. Here are few tried and tested Detox drinks which you can try – Simple and easy detox drinks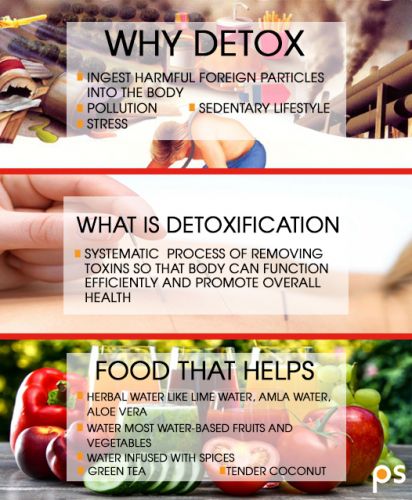 Does Detoxification help in increasing metabolism and finally help in weight loss?
Detoxification may help in removing excess water weight and bring an overall balance in the fluids and hence one may see some weight loss. However, this may not be long term loss. However, the process may help the body system perform well overall and hence there can be a spike in metabolism which in turn can help one lose weight when managed with a healthy diet after the detox process.
Can Detoxification process be done at home or it should be done with the help of practitioners?
One can follow a simple 1-day detox process by including water based fruits, vegetables/vegetable juices, herbal waters, tender coconut etc. provided they are healthy and are comfortable with such portions. Also, they need to be able to connect with the body well to understand if they are able to handle it well. People also do 2-3 days' detox process but it needs proper scientific planning to have safe and sound results. However, if one has any medical condition, then it definitely needs intervention from the practitioners so that they can do it the right way without causing any harm.
15 years back we would have never heard of detox but now everyone talks about it. Some also say that it's a marketing gimmick to promote Detoxifying plans, diets and products. What do you have to say about it?
It is true that this term has seeped into the market very loud but the fact is that we are taking in more toxins in the current situation than ever in past and hence there can be a need for detoxification. However, getting too overboard and obsessed with the term is not right. Also, detoxification need not have to include commercial products. It's totally safe and good to only rely on natural foods.
"The Ayurveda approach of detoxification is also natural and involves deeper science and hence is good as well. There is no necessity for any commercial products."
How do you know that your body needs detoxification?
When there is an overall discomfort and when one sees symptoms such as bloating, tiredness, regular headaches, constipation, stomach cramps, low stamina, indigestion, regular burping, etc, it's good to consider a detoxification. Apart from this, if one has travelled and eaten a lot of different food, or if you have had messed up eating habits and have eaten a lot of junk and unhealthy food, it's time to detox.
Are there foods which help in the process of detoxification?
Overall, anything that is natural can help flush out toxins. The idea is to only eat natural foods that can perform their function without the interference from anything unhealthy. As mentioned earlier, most water-based fruits and vegetables, herbal waters, water infused with spices, green tea, tender coconut water can be added to the detox routine.
Please share few recipes which you think should be included if you are planning to take the detoxification diet
Spinach & pomegranate juice with flax seed powder:
Ingredients:
7-8 spinach leaves
1/2 pomegranate
Roasted and powdered Flax seed powder
Method:
Crush pomegranate and strain the juice. Choose bright red pomegranate.
Soak spinach leaves for 10 mins in drinking water and then blend it with the same water and strain the juice.
Blend this mixture
To this add 1/2 tsp of roasted and powdered flax seed powder. Powder gets absorbed better than whole seeds.
Add honey and lime for added taste
Cucumber, bottle gourd, and lime juice
Ingredients:
10-12 slices of cucumber
7-8 slices of bottle gourd
½ lemon
Method:
Blend cucumber and bottle gourd a mixer to smooth mix. Do not strain or remove the fiber.
Squeeze half a lemon to this mix. You can add mint for added flavour.
Add honey or mint juice for taste if needed.
Broccoli, avocado and lettuce salad with grated almond, lemon and olive oil dressing
Ingredients:
8-10 florets of broccoli
¼ avocado
Bunch of lettuce leaves
5 almonds
½ lemon
2 tsp olive oil
Method:
Mix olive oil with lemon juice and pinch of rock salt and pepper to make a dressing.
Steam broccoli to crunchy texture.
Slice avocado into thin and small ribbons
Slightly Chop fresh lettuce leaves into medium pieces, do not chop fine.
Mix these three ingredients and toss with the lemon and olive oil dressing.
Add grated almonds on the top and toss over again
Make it stand aside for 8-10 mins and then Relish.
Beetroot, carrot and apple smoothie with chia seeds
Ingredients:
1/4th beetroot
1 medium carrot
1/2 apple
Soaked chia seeds (1 tbsp)
Method
Blend carrot, beetroot and apple together into thick mix. Add 100 ml water if needed to get a consistency of a smoothie
Soak chia seeds in water for 30-45 mins. Add this to the blended smoothie and mix well.
Relish!!!
Thin lentil soup loaded with coriander
Ingredients:
1/4th cup dhal
1tsp jeera/cumin seeds
1/4th bunch coriander leaves
Lemon, salt, pepper, asafoetida for taste.
Method:
Pressure cook dhal with cumin seeds and mash it well. Add sufficient water to get a thin consistency.
Add lemon, pepper and a pinch of asafoetida for taste.
Fine chop the fresh coriander leaves and generously add to this soup.
Serve hot!!!
Strawberry, kiwi and sweet lime juice with jeera water
Ingredients
2 strawberries
1/2 kiwi
1/2 sweet lime
1tsp jeera/cumin seeds
Method
Add 1tsp jeera in 200ml water and boil it down to 100ml. Leave it for cooling
Blend kiwi, strawberry and sweet lime well with 100ml water.
Add the cooled down and strained jeera water to this citrus punch mix.
Add honey for taste.
Cinnamon infused Barley water:
Ingredients
2tsp barley
1 stick cinnamon
Method
Boil 1 small stick of cinnamon in 300ml water and bring it down to 200ml. Leave this infusion overnight.
Next morning, boil 2 tsp of barley in 300 ml water for 6-8 mins, bring it down to 150ml and then strain this drink.
After cooling down the barley water, add the cinnamon infused water to it.
Add pinch of salt for taste if needed. Consume this on empty stomach for a better detox.
We thank Ranjani Raman for sharing her knowledge with Team Plattershare. Ranjani believes nourishment is the key for a happy life, and hence her approach is holistic focusing on healthy eating habits, balanced nutrition intake and lifestyle modification practices. She also spreads her knowledge in collaboration with various health oriented companies and works on providing safe, healthy and consumer friendly services.
Ranjani is Founder of Nutrilife, A Wellness and Nutrition consultation company which was established in 2013 and provides Nutrition consultation, personalized diet plans, corporate and school nutrition programmes, menu planning for health based companies, concept development for food start-ups, nutrition testing, nutrition blogging and wellness workshops. She is also a Certified Paediatric Nutritionist and works closely with children as she believes nutrition education should begin during the foundation years. For any Dietary consultation, please reach out to Ranjani on her website Nutrilife. You can also interact and like her Facebook page or connect with her on Linkedin.