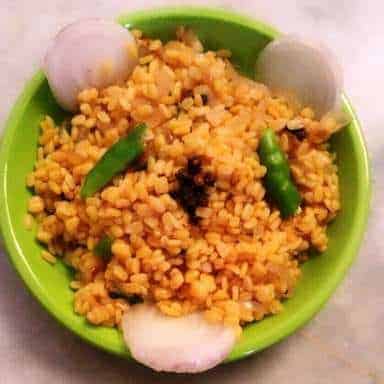 Pesarapappu Kura/ Yellow Moong Dal Dry Curry
3 June, 2017
Pesarapappu kura is a kids- friendly dry curry that tastes yummy when served hot with Chapati and Rice. Yellow Moong dal is easily digestible.
Ingredients
Soaked Moong dal - 1 cup

Pure Ghee - 2 tablespoon

Clove

- 3

Chopped Green chillies - 2

Cumin seeds - 1/4 teaspoon

Thin sliced onions - 2 tablespoon

Turmeric powder - A pinch

Water - 2 cups

Salt to taste
Instructions
Take a cup of washed moong dal and soak it for 1 hour.

Now parboil the soaked moong dal with 2 cups of water, turmeric powder and salt. Once its parboiled, mix it well and remove it from the heat.

Then take a saucepan, add ghee and thinly sliced onions, cloves, cumin seeds, chopped green chillies. Add salt if required.

Cover the lid and keep it on low flame for 5 minutes. Once cooked, transfer it to a bowl.

Serve it hot with Chapati or Rice.
Notes
1. Note that the color of the sliced onions should not change to brown or dark brown.
2. This curry is to be served hot.