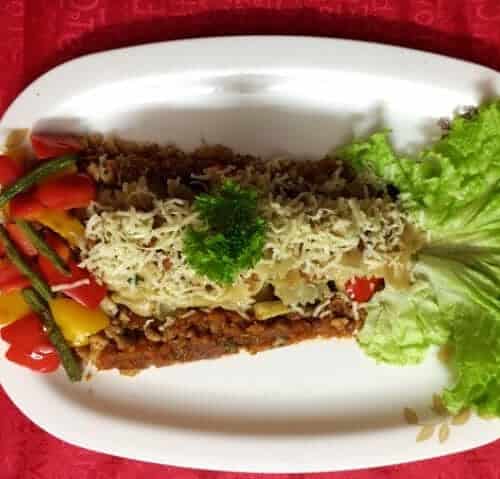 Il Pasta Giardino ( The Pasta Garden )
17 October, 2015
Prepared with authentic Italian Gourmet pasta, this platter is a complete package of farm fresh vegetables, healthy olive oil, flavorful black pitted olives and rich mozzarella cheese. The best part about this Pasta recipe is innovation in presentation and taste.
When I visualized my pasta recipe, I fantasized of a red soiled (Arabiatta sauce) garden, bordered by tiny pebbles (Granuled Nutrela Chunks , Black olives ), full of fresh greens ( Lettuce, Parsley), colorful vegetables (Red & Yellow capsicums, french beans and baby corns), beautiful butterflies (Del Monte Farfalle Pasta) and white mist ( Cheese ). Yes. This is my garden. This is my il Pasta Giardino 🙂
Ingredients
For Pasta
1

Pack Del Monte Farfalle Pasta

1

cup

red and yellow capsicums

diced

1/2

cup

black pitted olives

1/2

cup

baby corns

diced

5

French beans

sliced

1/4

tsp

Black pepper

1 tbsp

Garlic

Finely chopped

Salt

According to taste

Mixed dried herbs

for seasoning

2

tbsp

Olive oil
For Arabiatta Sauce
For Garnishing
1

cup

Mozzarella Cheese

Grated

1/2

cup

Nutrela chunks

Half Grinded

1/2

cup

red & yellow capsicums

diced

4

French beans

sliced

Lettuce leaf

Parsley
Instructions
Since we have many elements to cook for Pasta, we have to be very clearly focus on each and every part. As time is the key factor and we have to finish everything within time.

Take a pan and pour 1 ltr of water in it. Let it boil and add Del Monte Farfalle Pasta . Add 1 tsp of salt and 2 tsp of olive oil. (Note: Olive oil keeps the pasta non-sticky and add flavor to it). This will take 10-12 mins to cook.)

Simultaneously, for Arabiatta sauce, take another pan and put 1/2 lts water in it. Once it starts boiling, add fresh tomatoes into it. Let it simmer for 5-7 mins.

While the pasta is getting boiled, lets keep the electric grill on at medium. Once it is warm, put ( from the list of items for garnishing) diced capsicums and French beans on it for grilling. Brush some olive oil and let it grill for 10 mins.

Also take a fresh lettuce leaf and dip it in chilled water. ( Note: This will give the leaf the necessary crispness.)

In the meanwhile, start working on the Arabiatta sauce recipe. Heat a wok and put olive oil into it. Put chopped garlic and let it release it's flavors. Add onions.

Check the tomatoes, they must be boiled by now. Drain the water into a bowl and peel the skin of tomatoes. Mash it lightly and pour it over the garlic onion mixture which is already in pan. Keep stirring. Add black pepper, salt and sugar.

Let it simmer for 5 minutes. Add 2 tbsp of tomato ketchup to give it a miraculous taste. Once it is done, sprinkle finely chopped parsley and Arabiatta sauce is ready.

Meanwhile, Pasta must be cooked by now and vegetables are grilled. Drain the pasta. Keep vegetables aside for garnishing.

So almost 15 minutes gone and we are ready with: Pasta, boiled Arabiatta Sauce, Grilled vegetables for garnishing. Yes. We are on the right track!

Now, lets start preparing the Nutrela chunks which will act as pebbles of the garden! Simply grind the nutrela big chunks. ( not very finely ) Melt some butter in a wok. Add 1 tsp finely minced garlic. Put nutrela and fry it for 3-4 mins.

Heat olive oil in a wok. Put garlic and let it fry for few seconds. Add baby corns, beans, capsicums and stir fry for 1 minute. Add black pitted olives.

Now put boiled pasta into it and stir fry all the ingredients together. Add mixed dried herbs, salt, black pepper. Pasta is ready!
Art of Plating
Take a serving dish. ( I took white because my il pasta gardiano is all colorful 🙂 and colors shine gracefully on white base)

Put a huge dollop of Arabiatta sauce ( Red soil ) on one corner of the plate. Take a brush and spread it across in one go. A fine rectangular layer of Arabiatta sauce is made. Arrange the lettuce leaf ( fresh greens) on the corner of Arabiatta sauce.

Now spread a layer of Del Monte Farfalle Pasta (Butterflies) over the base. Do it alternately 2 times with the Arabiatta sauce. Top layer must be that of Pasta.

Take Nutrela mixture (Pebbles) and arrange it on the sides of the Arabiatta Sauce ( Red Soil).

Take the grilled veggies (Fresh greens ) and arrange it on the other corner ( away from lettuce leaf) of the serving dish. Grate cheese (White mist) over the pasta and give the final touches with the help of Parsley!

il Pasta Giardino is ready to be served! 🙂
Nutrition
Calories:
265
kcal
Carbohydrates:
30
g
Protein:
16
g
Fat:
11
g
Saturated Fat:
4
g
Polyunsaturated Fat:
1
g
Monounsaturated Fat:
5
g
Cholesterol:
22
mg
Sodium:
622
mg
Potassium:
709
mg
Fiber:
8
g
Sugar:
14
g
Vitamin A:
3605
IU
Vitamin C:
101
mg
Calcium:
234
mg
Iron:
3
mg