When we say black and white milk cookies, Oreo is the first name that comes to mind. In the modern day world, milk cookies are more or less synonymous with Oreo, thanks to its ever-growing market and even more loyal customer base. From a toddler to someone in their 80s, everyone loves Oreo cookies. And what's not to love? Chocolate and vanilla are a classic combination nailed perfectly by the brand. Eat an Oreo by dunking it in milk or by twisting one side off and licking the cream in the middle, it tastes good any way you eat it. Ever since its introduction in 1912, Oreo cookies are the best selling "Chocolate Sandwich cookies" (as marketed in 1974) in the US, having sold over 450 billion cookies ever since. Read on to find out everything that you need to know about Oreos – Oreo recipes, Oreo history, Oreo flavors and variants, Limited edition Oreos, Oreo nutrition, are Oreos vegan, are Ores gluten-free, and the Oreo Contest!
A little Oreo history lesson first
Nabisco (earlier known as National Biscuit Company) invented and launched Oreo in 1912 in a factory in Manhattan. Today, that very block where the factory is located is known as "Oreo Way."  The first trademark for the name "Oreo" was obtained on March 14, 1912, after which the name changed from "Oreo Biscuit" to "Oreo Sandwich." Later in 1948, it was changed to "Oreo Crème Sandwich" followed by "Oreo Chocolate Sandwich Cookie" in 1974.  
The actual origin of the name Oreo is unknown but according to the many theories present around it, it comes from the French word "Or" meaning gold. This comes from the fact that the original packaging was golden in color. Others go by the assumption that it has been derived from the Latin Oreodaphne, a genus of the laurel family because of the original design of the cookies which included a laurel wreath.
The design we see today on the cookies was developed by William A. Turnier and the filling was developed by Sam Porcello, Nabisco's main food scientist who retired in 1993. A line of Oreo cookies covered in dark chocolate and white chocolate was also created by him.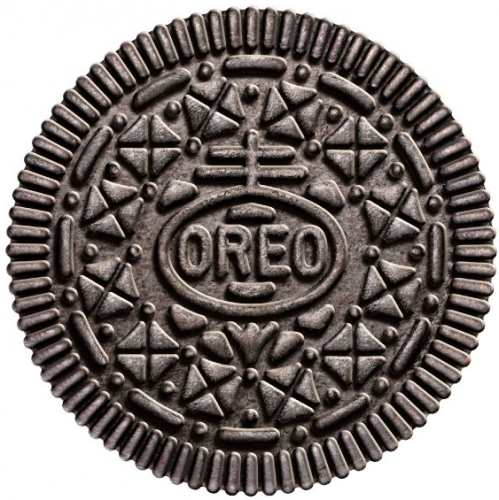 Oreo Flavors and Limited Edition Oreos
Oreo has time and again experimented and changed the way cookies were made by launching new variants over the years which were slightly different from the regular vanilla cream between two chocolate wafer biscuits. Not all variants were made available in all countries. Here's a list of some of the most noticeable variants seen over the years:
Double Stuf Oreo was introduced in 1974 and had almost twice the normal amount of white creme filling as compared to the original design and was made available in different flavors like peanut butter, original, cool mint, chocolate creme, and birthday cake.
Mega Stuf Oreo was introduced in February 2013, and was designed along the same lines as Double Stuf Oreo cookies, but with more white-cream filling than the latter and came in both chocolate and golden varieties.
Football Oreo which was introduced in 1976 are football-shaped Oreo cookies.
Oreo Mini which was originally released in 1991,[37] are small bite-sized versions of regular Oreo cookies. They were re-released in 2000 after being discontinued earlier. Apart from the regular chocolate and gold flavours available in this variant, a new flavor of the Oreo Mini, mint, was launched in 2015.
Oreo Thins were released in 2015 and are thinner versions of the original cookies available in chocolate, golden, mint, chocolate creme, and lemon flavors.
Chocolate Oreo, a rather famous and much-loved flavor come with chocolate filling between the biscuits instead of the original vanilla creme.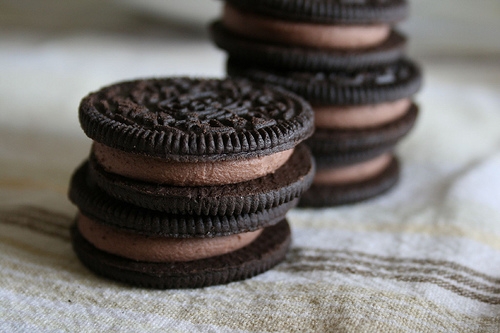 Are Oreo Cookies Vegan?
NO! Oreo cookies can be consumed by vegetarians but sadly not by pure vegans. Although milk does not appear on the list of ingredients, the cookies contain milk as cross contact which means that small amount of milk could've come in contact with the cookies during their production or the equipment used to produce them which makes it impractical to think that any guarantee would be given that milk hasn't touched the product during its production.
Are Oreos Gluten Free?
NO! As wheat is one of the ingredients used to make the cookies. However, Oreos are nut-free and can be consumed by people with nut allergies
Limited Edition Oreos
As a promotional run, during the early 2010s, Oreo began to launch various limited edition variants of cookies which had comparatively more exotic flavors. The point to these is that they generally appear in stores only once when they're launched or might just be made available to selected retailers and are then discontinued but a few of these varieties have resurfaced over the time. Some of the most notable "Limited Edition Oreos" are listed below: 
Birthday Cake Oreo cookies were released in February–July 2012 to mark Oreo's 100th birthday. It consisted of two chocolate Oreo cookies with a birthday-cake flavored filling and sprinkles in the middle. The flavor was later reintroduced in a "double stuff" variant with double the amount of cream filling, in both chocolate and golden varieties.
Gingerbread Oreo cookies had two golden Oreo cookies with a mild gingerbread flavored filling in the middle.
Lemon Twist Oreo cookies were launched in 2012 which later made a return in 2013. It had two golden Oreo cookies with a lemon flavored filling in the middle.
SpongeBob Oreo was released in 2014, it had two chocolate cookies with a yellow crème in the middle with SpongeBob SquarePants character design o one side of each cookie.
Fruit Punch Oreo was release in 2014 which two vanilla cookies with fruit punch flavored crème in the middle.
Cookie Dough Oreo, one of the most widely loved variant was launched in March 2014. It featured chocolate cookies with cookie dough flavored crème in the middle.
Pumpkin Spice Oreo was launched in September 2014 and had two golden Oreo cookies with pumpkin spice flavored filling in the middle.
Red Velvet Oreo cookies were released in February 2015 which had red Oreo cookies with cream cheese flavored filling in the center. This flavor was later been reintroduced because of high demand.
Key Lime Pie Oreo was launched July 2015 and was made with two graham flavored Oreo cookies with key lime crème in the middle.
S'mores Oreo was launched in 2016 and is made of a Graham flavored cookie with chocolate and marshmallow flavored frosting. This takes inspiration from the campfire snack.
Blueberry Pie Oreo was launched in summer 2016 and had a pie crust cookie with a blueberry filling in the middle.
Mississippi Mud Pie Oreo was announced in June 2017 and sold only at Dollar General stores for as long as the supplies lasted. The filling it had in the middle was that of half whipped cream and half chocolate cream.
The New Oreo Contest
Recently in May 2017, Oreo launched a new flavor called "Firework Oreo" which, as defined by the Cosmopolitan magazine, is "an Oreo with Pop Rocks in the creme." It's made of the regular two chocolate biscuits and crème filling in the middle but the filling has rainbow colored specks in it. It's crunchier as compared to regular Oreo cookies.
Following the launch of this, Oreo announced a contest which would reward the person who guessed the next "Mystery" Oreo flavor. The prize was set at $500,000. The submissions were taken through Twitter and Instagram using #MyOreoCreation and #Contest hashtags.

The competition being held at the moment started on Oct. 9 and will end on Nov. 30. Contestants are limited to take one guess per person per day.
A Few Oreo Recipes
Experimenting with Oreo cookies is always a good idea and you can barely go wrong with it. Even the simplest of recipes come out to be extremely tasty and are loved by most. Here a few ways in which you can revamp the regular Oreo cookies.
Double Stuff Oreo Brownie Chocolate Mousse Trifle
This is my personal favorite. It has multiple layers and textures and would compliment a large dinner party, making you a star host. 
A little time consuming but the result is worth every minute of it. It's a must try!
People love Oreo. People love ice cream. This combination of flavors and textures can never go wrong. After all, a little crunch in the ice cream is always welcome.
Oreo Ice Cream Sandwich Cake
An easy, no-bake, 2 ingredient recipe!
You love Oreo, we love Oreo, everyone loves Oreo. It's more or less a universal fact. Very rarely would you come across someone who isn't in love with these cookies that have changed the biscuit market of the 20th century and have made a place for themselves in every modern household. There was a study in 2013, from Connecticut College which suggested that Oreos might be "just as addictive as cocaine." Don't we all agree?
Buy Oreos on Amazon