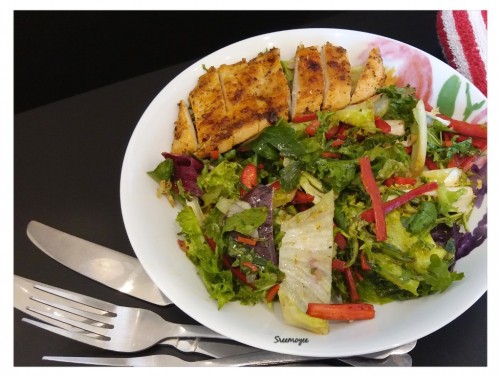 Leafy Salad With Grilled Chicken
Now this is really a delicious bowl of salad which is filling and perfect for people on low carb diet. "LEAFY SALAD with GRILLED CHICKEN".. This is mixed leaf salad comprising of rocket leaves, baby spinach, lettuce , carrots, peppers mixed with a balsamic vinaigrette, served with grilled chicken on the side.
Ingredients
Ingredients :

Mixed salad leaves - 1 cup

Shredded lettuce - 1/4 th cup

Shredded carrots - 1

For the vinaigrette:

Olive oil - 4 tbsp

Balsamic vinegar - 2 tsp

Minced garlic - 2

Freshly ground pepper - 1/2 tsp

Chopped red chilly peppers - 1 tsp

Salt

For the grilled chicken :

Chicken breast - 200 gm

Garlic powder - 1 tsp

Onion powder - 1 tsp

Cayenne pepper powder - 1/2 tsp

Pepper powder - 1/2 tsp

Salt

Olive oil
Instructions
Marinate the chicken with the rest of the ingredients mentioned. Let this marinate for 30 minutes.

Now take the vinaigrette ingredients in a bowl and whisk to mix them well.

Put all the salad leaves in a mixing bowl and mix the vinaigrette into them, give it a good mix.

Heat a griddle pan with little oil and grill the marinated chicken. Cook until both sides are done.

Rest them for 10 minutes and cut them into slices. Place them along with the salad and serve.