He's as "cool as a cucumber",
A phrase often used to describe a person having a soothing and cooling nature, a property that cucumbers are best known for when bitten into. These fruits are grown mainly to be eaten fresh, and in India, you can easily spot some on a rather sunny afternoon being sold by roadside car pullers. Usually cylindrical in shape, cucumbers can vary in length from about six to nine inches
Cucumbers have been grown in India since time immemorial for medicinal purposes and also form a vital part of the Mediterranean diet.
Since the time they originated in ancient India almost 10,000 years ago cucumbers have caught the fancy of the entire world. Widely cultivated through Greece, Rome, the New World, Europe and China, the cucumber is the fourth most widely cultivated vegetable the world over.
In addition to eating, cucumbers are used widely the world over for their numerous medicinal properties as well.
In 2010 the recorded worldwide production of cucumbers was 57.5 million tonnes, with a majority (40+ million tonne) been grown and exported by China alone.
So what is a Cucumber?
Find out as Plattershare's Content Partner Parinaaz Marolia takes you on an informatively cooling ride.
The cucumber is a fruit from the Cucurbitaceae family. Cucumbers belong to the same family as zucchini, watermelon, pumpkin, and other types of summer squash. The plant where cucumber grows is a creeping vine that develop cylindrical, edible fruits throughout the year.
The skin of a cucumber can vary in colour from white to deep green and may be ridged or smooth depending on the variety. Inside the cucumber, you will find pale green flesh that is thick yet aqueous and crispy at the same time. The interior core of cucumber has numerous edible fleshy seeds.
Cucumbers are primarily available in two categories:-
For slicing and
For pickling.
Cucumbers grown for slicing are grown through out the year, however the ones available in the month of May and June are known to be the juiciest and tastiest.
Now, though this humble plant has numerous health benefits, not many are well known to people.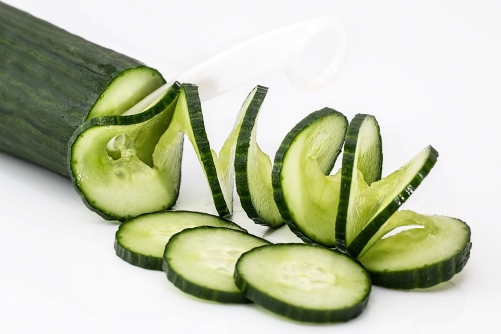 Ayurveda, the ancient Indian system of holistic medicine and overall health speaks at large of how the Cucumber plant is beneficial to ones body.
Let's take a look,
Cucumbers are often recommended by doctors for their silica content, silica helps in giving you a brighter and healthier skin. Since cucumbers are made up on 96% water (that is naturally purified), they help to hydrate the skin, thus making it look young and fresh.
Aid in preventing kidney stones and constipation:
As cucumbers are a perfect balance of both water and fiber they help in avoiding constipation as well as kidney stones by eliminating waste and flushing off toxins from the kidneys.
Controlling blood pressure:
A diet naturally high in magnesium, potassium and fiber helps control, maintain and also lower ones blood pressure. Since cucumbers are rich in all these nutrients, they therefore regulate blood pressure and contribute to the proper structure of connective tissues in the body.
Since cucumbers are high in fiber and water and low in calories, they keep you fuller for longer and help with unnecessary snacking between meals.
Cucumbers are high in three lignans,lariciresinol, pinoresinol and secoisolariciresinol which helps in prevention of prostrate, breat, uterus and ovarian cancers.
A powerhouse of minerals, cucumbers are high in potassium, magnesium and silicon, all vital for the functioning and general good health of all vitals organs in our body.
Fight diabetes and lower cholesterol:
Cucumber juice is a rich source of hormones that is required by pancreatic cell to produce insulin.
Loaded with vitamins, A, C and B, they help in boosting immunity and energizing the body.
Silicon available in cucumbers, it strengthens the joints and connective tissues and mixed with carrots it treats gout and arthritis pain by reducing uric acid in the body.
Cucumbers have high alkaline levels, thus regulating the body's blood pH and neutralizing acidity. People with gastric issues should consume cucumbers frequently.
Cucumbers help regularize the body temperature during summer.
With so many advantages to the body, do not forget to munch on atleast one cucumber everyday.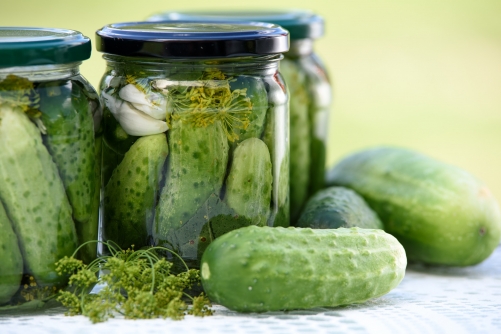 Some cucumber FAQ's
How do you buy the perfect cucumber?
Look for firm cucumbers, their colour should be bright medium to deep green. Avoid yellow cucumbers with a wrinkled or withered appearance. A thinner fruit will have fewer seeds viz a viz its fatter cousin.
How to cut and eat cucumbers?
Cucumbers can be enjoyed both with or without their skin and seeds and really depends on one's personal preference. Cut into slices, cubed or in strips.
Some delicious cucumber recipes for you to try are:
Cucumber Pinwheels: These adorable bite-sized appetizers are stuffed with Avocado and sun dried tomato spread. Very easy to make and tasty too for the weight watchers who are trying to shed weight.
Cucumber Salad: This is light and refreshing cucumber salad is ideal for hot summer days. It is   also a great side for anything you have on your grill.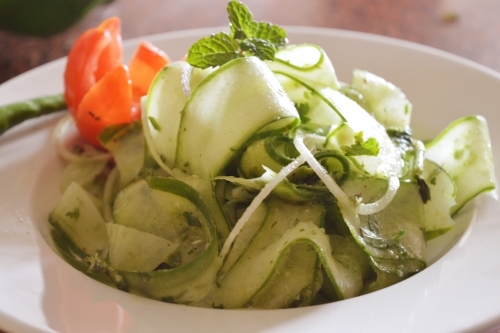 Cucumber Mint Granita: Cucumber Mint Granita is sweet, sour and fragrant and makes a perfect summer refresher. Pickled cucumbers give an extra crunch and taste. Must try!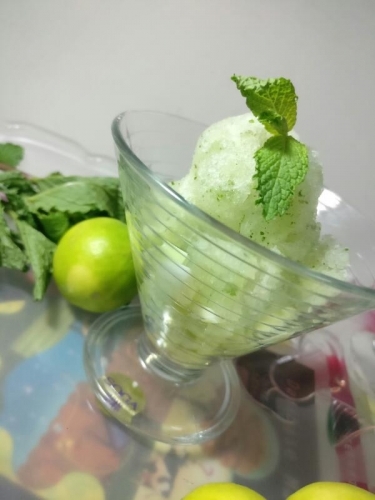 Cucumber Corn Bites: These deliciously healthy bite sized appetisers are so cute, they are sure to be a hit at your next party.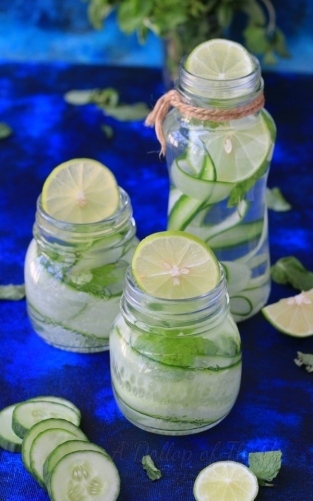 How to store cucumbers?
Cucumbers are best stored in the refrigerator, in case you don't end up using the entire vegetable, cover it well in plastic wrap or an airtight jar before refrigeration, in order to prevent them from drying out.
Cucumbers are best consumed within two days of cutting and within seven days if stored whole.
No matter how you consume them, you are sure to get a whole lot of nutrients from your cool friends.
If you liked this article and would like us to create more of such articles, don't forget to like this post, share it with friends and comment below.
About the Author: Parinaaz is an MBA Finance by profession and writer by passion. She blogs at  "A Dollop of That!", her food blog, that was the outcome of her passion for writing, which surfaced often but never overflowed and since she loves to experiment with ingredients, a recipe blog was her natural choice.
When Parinaaz is not blogging, she doubles up as a content partner for Plattershare, practices Iyengar yoga, mimics all and sundry or is out and about photographing pretty flowers all depending on what time of the day it is. You can be in touch with Parinaaz on her blog – A Dollop of That, or like her Facebook page, or follow her on Instagram, Twitter and Google+