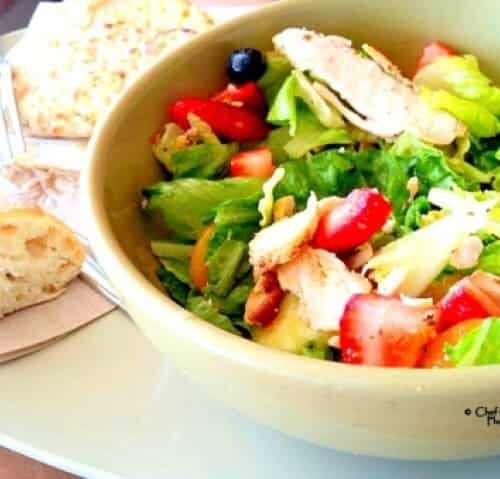 Grilled Chicken, Strawberry And Baby Spinach Salad With Roasted Poppy Seed Dressing
Mind-boggling flavourful salad, Grilled and filled with lots of freshness. For those who are health conscious and not to forget the workaholics who usually skip their meals. Stay Healthy !
Ingredients
Grilled chicken breast

sliced-01 no.

Romaine lettuce-04 cups

Strawberry

fresh, sliced-01 cup

Baby Spinach

fresh and crisp- 01 bunch

Blueberries

fresh-01 cup

Mandarin oranges- 01 cup

Pineapple chunks

fresh, stewed in sugar- 02 slices

Pecans

toasted and cut into Halves- ½ cup

For the dressing: Light mayonnaise- ½ cup

For the dressing: Skimmed milk- ¼ th cup

For the dressing: Dijon Mustard-01 tsp.

For the dressing: Orange juice- ¼ th cup

For the dressing: Red Muscato grape juice- 30 ml.

For the dressing: Apple cider vinegar- 08 ml.

For the dressing: Poppy seed

lightly roasted- ½ tbsp.

For the dressing: Sugar- 30 gm.

For the dressing: Salt- to taste
Instructions
In a glass bowl toss the salad ingredients together that is from sliced Grilled chicken breast to toasted Pecan halves.

Whisk together the ingredients for the salad dressing i.e. from Light Mayonnaise to salt.

Drizzle the dressing on to the salad ingredients and toss gently.

Serve chilled.
Notes
Wash and keep the lettuce and baby spinach in chilled water, in order to keep it fresh and crispy
Add the dressing to the salad just before service, in order to prevent it from becoming soggy.
You may marinate the chicken with extra virgin olive oil and dried herbs before grilling and then slice.