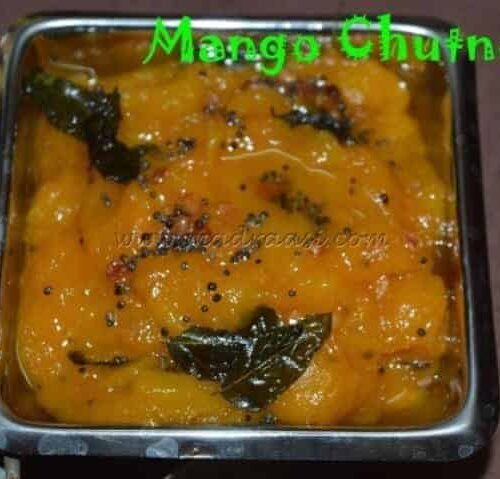 Mango Chutney
11 May, 2016
Mango chutney is one of my favorite chutney with mild sweet, spicy and a bit of tanginess in it. This chutney goes out well with any Indian flat breads, pulav, and can be used in sandwich. Let us move on to the recipe…
Ingredients
Ripe Mangoes – 3 nos

Chili powder – 1 ¼ tsp

Garam Masala – 1 tsp

Cinnamon – 1 "inch stick – 1 no

Clove

– 2 nos

Tamarind – a grape size

Sugar – 4 tsp

Mustard seeds – ¼ tsp

Split Black gram – ¼ tsp

Curry leaves – a sprig

Asafoetida – ¼ tsp

Salt to taste

Oil – 3 tsp
Instructions
Peel and roughly chop the mangoes.

Heat a cup of water in a kadai, add in the chopped mangoes when it begins to boil.

Take a white cloth, add in the chili powder, garam masala, cinnamon, cloves and tamarind to it and tie it all together.

Gently drop the cloth to the mangoes, cover and cook for 7 to 10 mins.

Remove the lid, take out the cloth, and mash the mangoes with a spoon.

Sprinkle salt, add in the sugar, mix well and cook until the mangoes thicken.

Heat oil in a kadai, add in the mustard seeds, split black gram and curry leaves, wait until they crackle.

Sprinkle the asafoetida, give a stir and pour it to the mango chutney.

Serve hot.