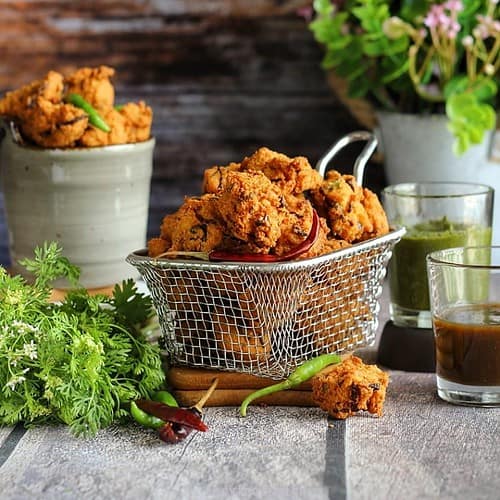 KACHRI (Chana Dal Mini Fritters)
These fritters are called kachri because of the sound of kachar kachar (कचर कचर) i.e. the crunchy noise that they make when you eat them. They are super crunchy! Perfect to enjoy in monsoon and winters
Ingredients
1

cup

Chana Dal

1

tsp

finely chopped

Ginger

2

Green Chilies

finely chopped

2

Dry Red Chilies

de-seeded and finely chopped

½

– ¾ C sliced

Onion (optional but recommended)

½

cup

finely chopped

fresh Coriander (cilantro)

¼

tsp

Ajwain

Carom Seeds, crush slightly between palms

¾

tsp

Jeera

Cumin Seeds

½

– ¾ tsp Red Chili Powder

adjust amount to taste

½

tsp

Turmeric Powder

1½

tsp

crushed

Coriander Seeds

Salt to taste

I used half a teaspoon

Oil for deep frying
Instructions
Wash the chana dal, two to three times, and soak in sufficient water for five hours. Drain the water and coarsely grind (or even better, pulse it) the dal using approximately four to five tablespoons of water.

It is pertinent that the dal is ground coarsely because it is this texture which will lead to it becoming super crunchy, when fried.

Decant the batter in a mixing bowl and using your hands, whisk the dal for approximately a minute.

Now add the rest of the ingredients (except the oil) to the ground dal and mix them into the batter.

Set the batter aside for ten minutes. Meanwhile, pour sufficient oil in a wok or a frying pot.

Bring the oil to medium high heat. Take small amounts of batter and drop them gently into the oil, ensuring not to over crowd.

Fry the fritters till they become reddish brown in colour. Remove them over an absorbent sheet or tissue and serve them hot with chutney of your choice. Enjoy!
Notes
Note – I prefer using my hands to drop the batter into oil instead of using a spoon because I find it easier to handle the batter this way
Note – The amount of water, used for grinding, will depend on the soaking time of the dal.
Note – It is best to serve them hot with your favourite cuppa along with chutney of your choice.
Note – Do not be tempted to add baking soda or any other raising agent to these fritters. Simply ensure to whisk the batter as advised in the recipe.