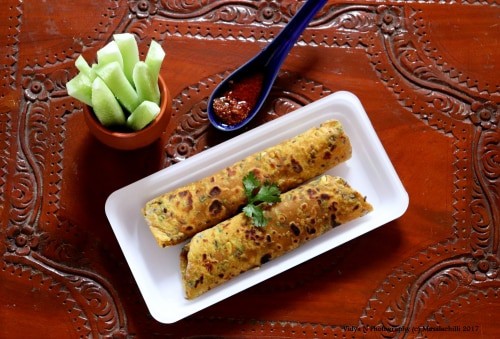 Garlic Chives And Flaxseeds Thepla Or Indian Flatbreads
10 January, 2018
Theplas are a type of Indian Flatbreads belonging to the Gujarati cuisine and are usually made with Methi leaves (Fenugreek leaves) which is also a winter delicacy and are also considered one of the best travel food. However, these flatbreads are made using Garlic Chives, also being a winter season delicacy and flaxseeds to up the health quotient. The herb is rich in Vitamin C which prevents cold and fever (ideal for winters), rich in Riboflavin, Potassium, Vitamin A, Iron, Thiamin and Beta Carotene they help increasing blood count, maintain blood pressure and increase immunity. Garlic Chives have high content of dietary fiber and protein that helps balance metabolism. An ideal recipe to include flax seeds in your diet and make it tasty too.
Ingredients  
A small bunch of Green Garlic Chives finely chopped

Whole wheat Flour – 1 ¼ cup + some flour for dusting while making theplas

Flax seeds – 1 ¼ tblsp

Turmeric Powder or Haldi – ½ tsp

Red chilli powder or Lal Mirch – ½ tsp

Oil – 1 tsp to be incorporated in the dough + few drops as required for cooking the flatbreads

Water as required to knead the flour to a smooth dough

Hing – a pinch

Salt as per taste
Instructions 
In a medium sized bowl, add the flour, turmeric powder, flax seeds, hing, salt, red chilli powder and the green garlic chives finely chopped and mix everything well before incorporating water slowly to form a smooth dough.

Add a tsp of oil to this dough and knead it atleast for 5 minutes before keeping it aside for resting atleast for 20 minutes or so.

Now, heat a griddle or a Roti Tawa (non-stick pan) on a low flame. Meanwhile, prepare the flatbreads or theplas by making equal sized balls from the dough.

Dust the surface with some flour and press the dough balls slightly into some flour (dust off the excess) and then flatten them slightly with your fingers before using the rolling pin to roll them out into smooth flatbreads.

Since there are pieces of finely chopped garlic in the flatbread dough, chances are your flatbreads when being rolled would tend to tear. Just ensure you keep lifting the flatbreads and then dusting the surface to ensure it stays dry.

Once the flatbreads are rolled out, place them on the hot griddle or roti tawa and allow it to cook from one side before turning or flipping them and cooking on the other side as well.

While doing so, drizzle few drops of oil on the edges or on the surface.

You may also use clarified butter or ghee for the same. Tastes wonderful

Once the flatbreads are cooked on both sides, remove them from the griddle or roti tawa and serve them piping hot with some pickle and salad or curd.
Notes
Recipe Notes and Ways to include Garlic Chives in your cooking:-
Since this was my first attempt for a chives thepla, I tried to only use whole wheat flour but look forward to incorporating some multigrain flour next time to up the health quotient.
If your kids don't prefer spice, you may skip the addition of red chilli powder.
Garlic chives can be used to flavor your dals, soups & leafy vegetables too.
Try adding them to your regular dal khichdi and see the magic of flavours.
Ideal to add them in parathas along with the filling for kids tiffin / lunch box.
If your family doesn't consume flax seeds, you can add carom seeds (ajwain) or til (sesame seeds) to make it tasty, healthy and interesting.