Celebrity Chef Shazia Khan – A name which has made a place in hearts of many home cooks across the world due to her simplicity. Her Culinary journey which begins as a home chef reached the pinnacle when she became MasterChef India Session2 Runner-up. This ever smiling Chef has inspired and motivated the world with her easy to make recipes which are cooked with full love and passion.
Team Plattershare, got a chance to meet this wonderful, down- to earth person during the "Lifestyle and cookery session at Phoenix market city, Bangalore" and here is what she has to say about her whole culinary journey which has to reach many more milestones.
Please share your experience on MasterChef India Session 2?
MasterChef has been a life alternating experience, I was a home cook and I landed up in a show, learned so much under the expert guidance of the great chefs. Being there itself is an experience. You get to meet so many people and learn so much from them. It was a learning experience for life.
"What's on the menu" – Tell us something about your recently launched book?
It is very close to my heart. It has a beautiful collection of recipes which are easy to do with easily available ingredients as I believe in using lot of local ingredients. It caters to beginner who has just begin to cook to someone who is a professional. There is a good range of recipes and it's divided beautifully into sections which makes it easy for the reader to read and enjoy his her cooking. If you want to cook chicken then just open the Chicken section, and you are ready to cook. Buy book on Amazon
Other than cooking what keeps you busy?
I am into education and part of management for Delhi Public School and that keeps me always busy.
Tell us something about your Culinary School which you plan to open soon?
Yes, I do plan to open a culinary school, hopefully it will be by end of this year. This school would provide professional culinary education to underprivileged girls who do not have money to get a complete degree. We would help them to do crash courses which would help them to find a respectable job and honour and earn a livelihood for themselves.
What's your favourite recipe?
Actually it's very difficult to answer. I have many but yes if you ask for the comfort food which I can eat any day is Rice with Ghee and Dal, Papad and Kabab. I am not too must into pasta and Italian food. Love Indian and simple Food.
Message to Plattershare Home Chefs because you inspire them?
Follow your dreams, be passionate about what you are doing. Of course you need a formal degree if you are building a career in hospitality industry and want to be the executive chef but for a home chef – be innovative, try new things, cook food with lot of love as you never know where you will land up.  Innovate new things but don't forget your authentic and traditional recipes as that's where you belong.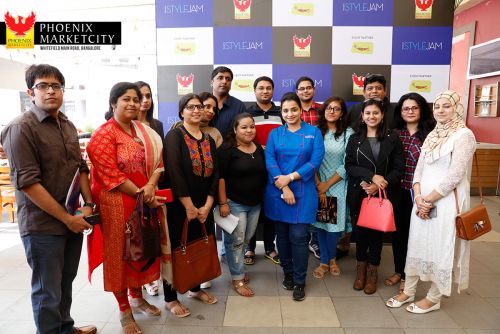 Talking to Shazia Khan was a true inspiration as she was a home cook and rest is history. Soon she is going to write a book on authentic recipes.
During the work shop she created simple yet magical dishes which you can serve to your kids or guests and they are going to love them – Here is a complete platter, shared by Chef Shazia.
Grilled Cottage Cheese Peppers With Pineapple Cherry Tomato Relish: Cottage Cheese is all time kids favourite and making it is also an easy task but the twist comes with the Pineapple Cherry Tomato relish which is served with the grilled Paneer. Try it and you are going to love it.  Click for the recipe.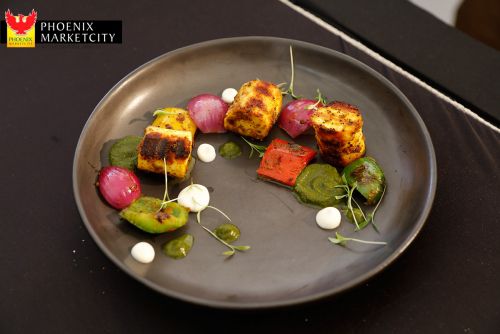 Lebanese Chicken Skewers: Now a days the taste pallets have changed and innovation and discovering new dishes is the key. Bring something new on the Dining table today with these chicken skewers which are truly Lebanese. Serve them with Yogurt Garlic dip. Click for the recipe.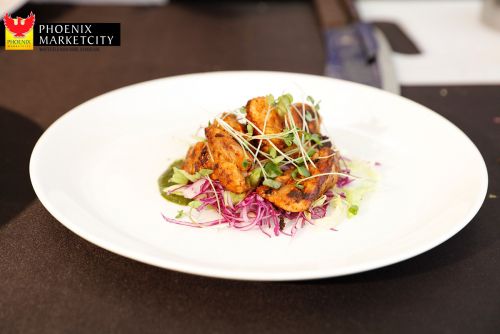 Lavash Crispy Pita Bread: No Platter would be complete, if bread is not served. But let the bread be crispy this time. Try the Lavash which is very easy to make once you master it as the whole game is about using and handling yeast. Once you master that you would rock the boat. Trying is the key here. Click for the recipe.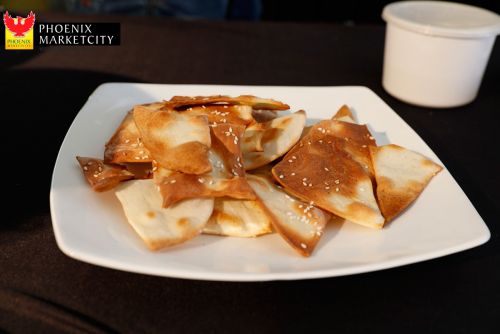 Smoked Subz Kabab Veg: Veg Kebabs are generally considered boring and taste more or less like aloo tikka but smoked Subz kabab is different has Potato has been replaced by healthy Yam. You will find the big difference in taste once you try making it. Click for the recipe.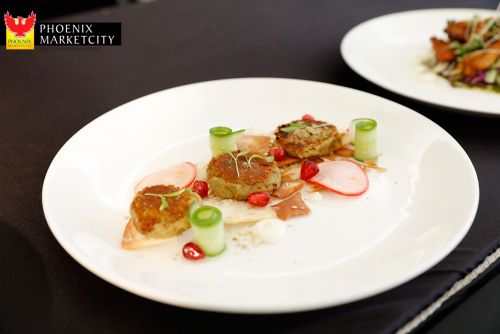 Molten Lava Cake with Almond Crumble and Strawberry Coulis: This dessert is very easy to make don't go by the name and feel that it's difficult. Almond crumble and strawberry coulis when served with Molten Lava cake would be a new and innovative dish which would be surely loved by all.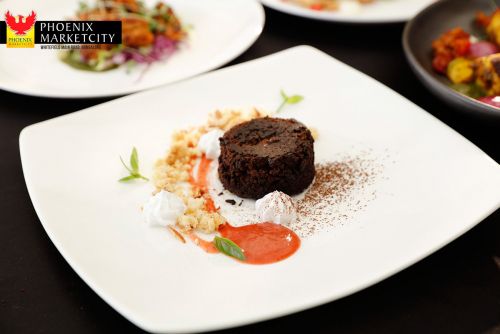 Interviewing and meeting her was a real inspiration. Just follow your dreams and be passionate about it and that's what Plattershare is for  – facilitating all the Home Chefs, Food Bloggers and Food Enthusiasts to share their passion. Stay tuned we will bring you many more inspiring stories.
We thank Phoenix Market City Bangalore, for inviting us to be part of the event and sharing all the event pictures.  You can follow FB page of Phoenix Market City Bangalore to get more updates on interesting food events.
This Story is covered by Kirti Yadav (Co-founder – Plattershare).