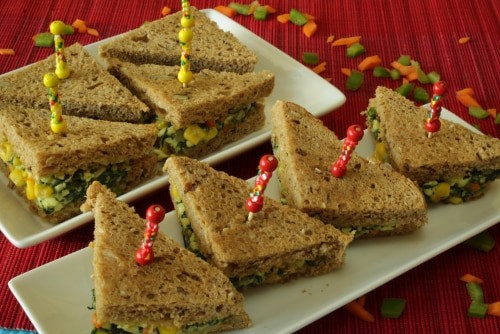 Brown Bread Spinach Corn Paneer Sandwich
Spinach Corn Paneer Sandwich is a healthy snack option for children as well as adults. This snack is a powerhouse since spinach contains minerals, paneer provides protein and minerals such as calcium and phosphorus and corn is rich in antioxidants and the wholewheat bread provides the dietary fiber-thus fulfilling the requirements of growing children. Spinach Corn Paneer Sandwich does not require much time. It can be toasted or grilled or can be eaten just like that.
Ingredients
Spinach 2 bunches washed and chopped finely

Corn kernels blanched 1/2 cup

Paneer 100grams shredded

Garlic 2 cloves chopped finely

Green chillies 1 small finely chopped

Oil 1 tablespoon

Salt to taste

Lemon juice 1 to 2 teaspoon

Carrot 1/4 cup finely chopped

8

whole wheat or multi grain bread slices

Butter around 50 gram or as needed
Instructions
Heat oil in a pan and saute garlic

To the sauted garlic add spinach and saute for a minute

Then add the chopped carrot, shredded paneer, corn kernels, chili and salt. Sauté nicely till water evaporates.

Once all water has dried, add the lime juice. Put off flame.

Spread butter on one side of each slice

Place stuffing on the buttered side of 4 slices.

Place the buttered side of the other slices on the stuffing. Thus there will be 4 sandwiches now.

Lightly grill or toast the sandwiches. This is an optional step.

Cut each sandwich into 4 triangles. Serve with chutney or ketchup.