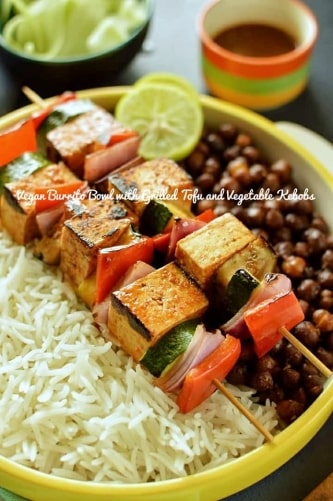 Vegan Burrito Bowl With Grilled Tofu And Vegetable Kebobs, Rice And Spicy Chickpeas
4 April, 2018
Planning for a wholesome and super easy vegan meal tonight ? Well, a burrito bowl is one of the best solutions to your meal woes. It provides the right balance of carbs, protein, fiber and nutrients. And this particular version is all about an amalgamation of Asian flavors with a riot of colors to boost !
Ingredients
For the Tofu and Vegatable Kebabs - 100 gms Tofu

1

small red pepper

1

small red onion

1/2

of a zucchini

1

small eggplant

For the marinade - 1 tbsp Sriracha sauce

1

tsp

soy sauce

1/2

tsp

rice vinegar

1/2

tsp

sesame oil

1/2

tsp

sugar

1/4

tsp

salt

For the Spicy Chickpeas - 1 cup boiled/canned brown Chickpes

1/2

tsp

smoked paprika

1/2

tsp

cumin powder

1

tbsp

tomato puree / 1/2 lemon juice

1

tsp

vegetable oil

salt to taste

1

cup

long grained rice
Instructions
Take all the ingredients for the marinade in a flat bowl.

Squeeze the tofu cubes gently to remove excess water and add to the marinade. Coat each cube and let it sit for 15 mins.

Cut the remaining vegetables into squares that are just a little bit smaller than the tofu. We want the sides of the tofu cubes to touch the hot pan and develop a nice crust.

Put the Tofu and the vegetables on the skewer sticks. Brush some of the remaining marinade over them.

Heat a tempered iron pan to a high temperature. Smear a little bit of cooking oil and place the skewers on it.

Cook for just enough time to develop a crisp layer on the tofu without burning it.

Turn and repeat on all sides till the veggies are also done. Remove and keep aside.

For the spicy chickpeas, heat 1 tsp oil in a wok.

Add the paprika and cumin powder. Wait for 15-20 seconds for it to release it's flavor.

Add the chickpeas and tomato puree. Stir fry on high for 3-4 mins. Remove from the flame.

Prepare the rice as per your usual cooking method.