Fish Egg Curry With Gravy
Yield / Serves
4 Servings
Fish egg has nutritional value low cholesterol and more protein. It should be always fresh and easy to cook.
1/2 tsp red chilli powder
1 tsp garam masala powder
Wash the fish eggs then marinate with turmeric powder, salt and lemon juice. Shallow fry the eggs with little oil and keep aside.
Then add tomato, turmeric powder, red chilli, coriander powder, onion paste, ginger garlic paste and garam masala. Stir fry all the spices.
Then add the fried fish eggs, salt and little water. Close the lid for a few minutes.
Then open the lid add green chillies and fresh coriander leaves. Serve with rice/ chapati.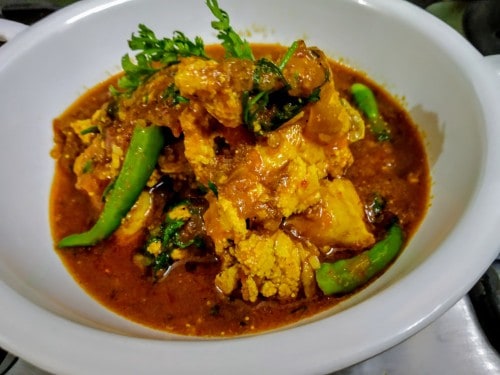 Click this link to see the recipe in my YouTube channel #nananswadegeeta
How useful was this post?
Click on a star to rate it!
Rated 4.5 based on 2 votes
Be the first to rate this post.