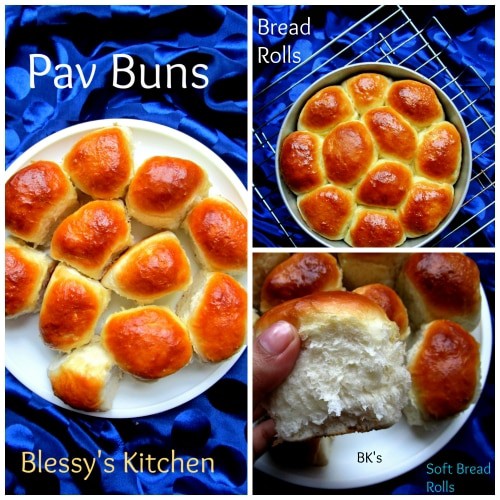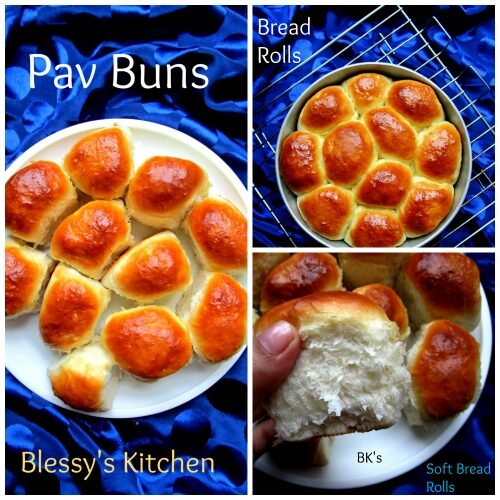 Bread Rolls/ Fresh Bread Rolls/Eggless Bread Rolls/ Soft Bread Rolls/ Dinner Rolls/ Pav Buns
18 June, 2017
There truly is an indescribable satisfaction from making soft bread rolls using your very own hands!! Breads are easy to have when you're in a hurry, they are easy to pack, they blend well with Indian sides too and can make a good meal! Making bread is easy, it's not fiddly, only few ingredients and patience are needed. So let's get to work..
Ingredients
All purpose flour/ Maida 500 grams

Luke warm water 1 + 3/4th cups

Instant yeast 1 Tablespoon

Sugar 2 Tablespoons

Butter 2 Tablespoons + for topping

Salt 1 Teaspoon

Oil 1 Tablespoon

Milk As required for topping before baking
Instructions
Add instant active dry yeast to the lukewarm water. Add sugar and butter, mix well and let it rest aside for about 10 minutes for the yeast to proof.

Now, add the salt to the flour, mix well and keep it aside. Once the yeast it proofed, add the yeast mixture to the flour and form a dough.

Knead this dough for 10 mins or follow the windowpane test (See notes, I worked my dough for 10 mins) Place the dough in a greased bowl and layer the dough with a splash of oil and cover with a damp cloth. Let the dough rest until it gets doubled.

Once it's doubled, punch down the dough, make equal portions of dough and start rolling the dough into balls and place them in a lightly greased baking tin. Cover the bread rolls with damp cloth and rest it until they double in size for the 2nd time.

Once they are doubled, brush them gently with the milk and place them in the pre-heated oven 200 degrees C for 12 minutes. (each oven works differently, so keep an eye on your bread rolls ).

Once they are done, tap on the bread with a spoon and they should sound hollow. Brush them with butter generously and serve them warm.
Notes
1. Use luke warm water for your yeast.
2. Knead the dough properly, how much pressure to use or when to stop kneading simply takes practice. If dough seems to be sticky, it's okay to lightly dust it with flour but don't get tempted to add more. In many cases, sticky dough is a happy dough! The more you knead, the more the less sticky your dough becomes.
3. You can also follow windowpane test method to know whether the kneading is enough or needed further.
Cut of a small piece of dough, rest it for 5 minutes for the gluten to relax, flour your fingers and gently stretch the small piece of dough . If it tears easily, then gluten network has not been developed well enough. So continue to knead the dough.
After few minutes, test the dough again. Cut of a small piece of dough, rest it for 5 minutes, stretch it gently.Once the dough forms like a window, where you can see the network of gluten and it's almost like a see through it like a window, then you are done with kneading.