Air Fryer, is it a revolution in cooking or just another kitchen gadget, which you would buy after reading few reviews and seeing ads and finally never use it. When the Air fryer came in the market, these were the claims which the marketing team made – it claimed zero-oil cooking which was 100 times healthier than traditional deep frying as there is no nutrient loss when food is cooked in Air fryer. "A mess-free, low Maintenance kitchen appliance." So the aware and alert customer said – Ok Gotcha, but as a pakka Indian, the most important question which we ask is how much does the air fryer cost? Is it value for money? (you know – like the kitna deti hai ad, every Indian is obsessed with ROI) And then when our online research is complete the quest for where can I buy the Airfyer from? When is the next sale? Where can I get best price for airfryer?  starts.
We read thousands of Air fryer reviews on google or for that matter any gadget but feel lost when we get mixed reactions (Some fake, some paid, some just very soporifically boring) and finally become clueless to take the decision about which brand to buy and is it really worth it. So Team Plattershare decided to ask the expert – meet Richa gupta popularly known as Suhan Mahajan, one of the winners for YouTube Next Up 2016 for her Youtube Channel "Healthy Kadai" which is basically all about healthy cooking, simple yet interesting recipes, appliance based cooking with a goal to move towards a healthier lifestyle.
She has been using an Airfryer extensively for quite a few years and has literally made hundreds of recipes with it. She says this is the most important gadget in her Kitchen. We are sure you would not find a review better than this because she is a genuine customer who has used an airfryer for a long period of time and also a responsible and conscious Food blogger who always works to create Healthy recipes for her family and her followers. Read on to find out if the Air Fryer is worthy of a place in your kitchen
How does an Air Fryer work?
An airfryer cooks food by circulating superheated air. It basically works on Rapid air technology where hot air is circulated inside the food which cooks from inside, so that is why it cooks any type of food which is otherwise dunk in deep fat.  The video below illustrates the Rapid air technology concept:
Which Food/ Dishes have shown the best results in Air fryer as compared to traditional cooking in terms of texture, taste and health benefits?
Food cooked in air fryer is really crunchy form outside and is soft from inside. As very little oil is used to fry the food stuff, so the food cooked is definitely healthy. So far I have made 90 recipes in air fryer and each one of these have come out far better as compared to traditional cooking method.
For instance, Air fried Potato chips are absolutely crisp and are comparable to deep dried ones. 
Air fried Bread Pakoda, mirchi vada, idli tikka are healthier as compared to deep fried variants. As I use very little oil in the batter itself to give shine and glazing to the pakodas.
Semolina cake baked in airfryer has a nice brown crust and tastes even better than oven baked cake. The texture of air baked items is simply perfect. Similarly, cookies, muffins, lasagne tastes just like the readymade ones. Paneer grills really well in air fryer. 
Which Food/Dishes have never come out well?
Puris and naans, I have tried many times to make these 2 breads in air fryer but it just doesn't puff up. It just come out like mathri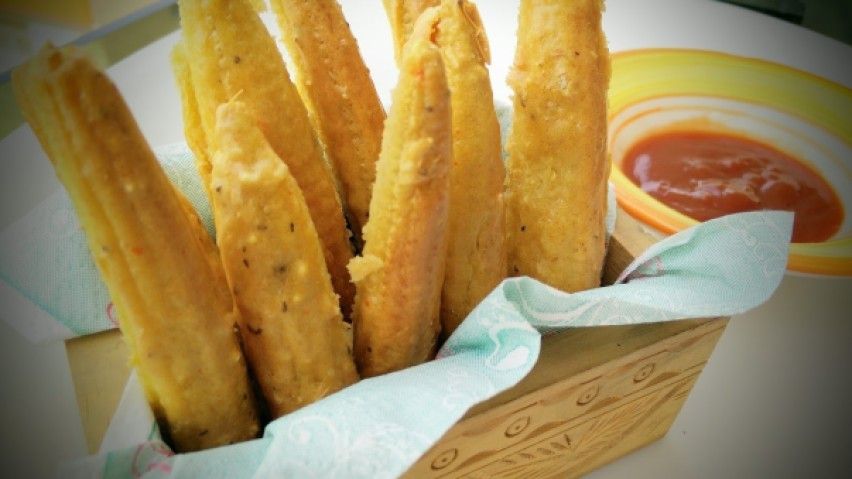 Why do you use Air fryer so extensively? It is the most important gadget of your Kitchen?
I simply love air frying. That's the healthiest option for me in all my cooking. Best part is this gadget is a single solution to all my needs in the kitchen, it can fry, roast, bake and grill. So you do not need separate gadgets to do all these stuff. This is certainly THE most important gadget for me in my kitchen, without which I feel handicapped. Avoid Deep Frying, Try Air frying!!!
Which is the best Air fryer that you would recommend to your friends and family?
I would seriously and genuinely recommend the Philips Air fryer to everyone as this has the best performance. Though little expensive as compared to other airfryers available in market these days. But Philips Airfryer can be trusted for long. The quality of the appliance, the material used, the finish of the gadget, durability and lastly the performance is the best. Also, Philips Airfryer is easy to maintain as the food basket is made of non-stick material, all the attachments are 100% dishwasher safe. The most economical one would be Philips Air Fryer HD9220/20,Viva Collection Airfryer (You can buy it from Here) and later I switched to Philips Digital Quickclean Airfryer HD9238, (You can buy from here) but one can also check Philips Air Fryer HD9240/90 (Avance Collection Airfryer XL) Here is the Comparison Guide for the two.  Basically Philips were the pioneers to make this gadget and know the patented technology best.
You can check the video:
Is it a standalone gadget or do you need accessories to support cooking in it?
For air frying, no particular accessory is required. In case one need to air fry pakoras or anything with batter, then one can simply place foil paper in the base of air fryer basket to avoid dripping and poke holes in it for proper air circulation. Also for air frying papad (Papadum) the basket can be covered with foil paper from top to prevent the papad from flying off as it is light in weight.
However, for baking and grilling few accessories are required like Double layer grill along with skewers and a grilling pan are needed for grilling. For baking we can use any aluminium box or there is a special non-stick baking dish available. 
Is maintaining Airfryer a cumbersome task?
No, not at all! Here are a few tips on how you can clean and maintain your  Airfryer, Its actually a low maintenance gadget.
After using the airfryer, let it cool down completely. Then simply wipe the outer surface with a damp cloth.
All the removable parts can be cleaned with dishwashing soap and water. If the base of the basket is removable then one can easily remove the food stuck to it. Otherwise soak the basket in soapy luke warm water and wash off the food particles using brush. In my Philips Digital Airfryer HD9238, there is a non-stick coating on the base of the basket and is removable too, so cleaning is really very easy. 
Heating element above the food basket can also be cleaned using brush.
Is Zero-oil cooking a real claim or just a marketing gimmick?
I would say YES, for me Airfryer is able to eliminate the oil which we use in deep frying. I just use 2-3 tsp of oil in batter/ mixture for all fried stuff. So airfryer is able to reduce that much oil which to me is equivalent to Zero Oil cooking.
And here are a few Air fryer recipes made by Suhan Mahajan
Semolina Heart Shaped Cutlet and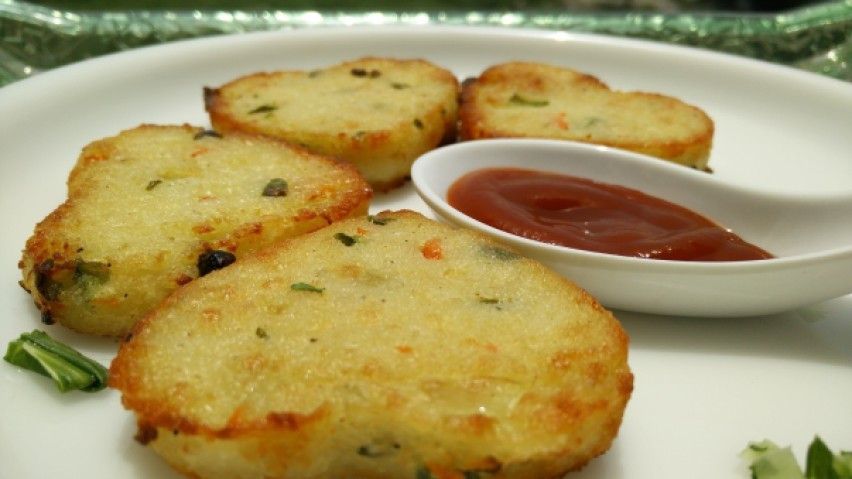 About Richa gupta popularly known as Suhan Mahajan
I am a foodie who loves to experiment with food a lot to make it a little healthier at "Healthy Kadai", a food recipe YouTube Channel. Healthy Kadai  is basically all about healthy cooking, simple yet interesting recipes, appliance based cooking with a goal to move towards a healthier lifestyle. It is purely a food recipes channel where recipes are spread across various domains like Indian Delicacies, Pickles Recipes, and Innovation in cooking, healthy Airfryer recipes, baking recipes, Punjabi recipes, and many others. We make the common, not so common and innovative recipes which have a mass appeal.
You can follow Suhan Mahajan on Plattershare, Subscribe to her Youtube Channel – Healthy Kadai, Follow her on her Blog, Facebook Page, Twitter Handle and Instagram.
One more Video If you are not yet convinced 
If you are looking to buy one, please click here