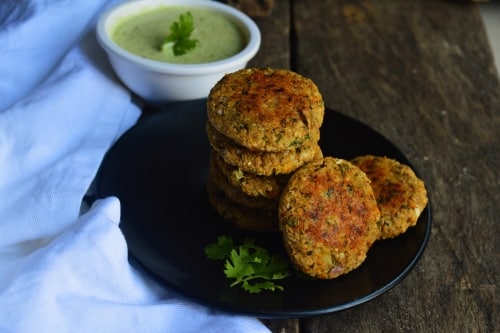 Healthy Quinoa Patties
These baked quinoa patties are super healthy and delicious too. They are perfect to be had with a cup of hot tea. You may have it totally guilt free as they are oil-free and baked. Quinoa is a super food and hence the benefits are many. It is rich in proteins, and contains all nine essential amino acids. The Organic Farmers Co. Quinoa flakes are of superior quality and came with excellent packing. So learn how to bake these healthy quinoa patties and try it for yourself!!
Ingredients
Organic Farmers Co. Quinoa Flakes 1/2 cup

Boiled potato

medium sized 1

Finely chopped onion 2 tbsp

Finely chopped Coriander leaves 1 tbsp

Grated carrot 2 tbsp

Ginger garlic paste 1/2 tsp

Salt to taste

Fresh ground black pepper as required
Instructions
Take a bowl and mash the potato well.

Then mix together all the other ingredients well.

Make a soft dough with it. Keep it aside.

Preheat the oven to 200 degree centigrade.

Line a baking tray with parchment paper and grease it.

Now make small lemon sized balls out of the prepared dough.

Press the balls between the palms and flatten them to form small discs.

Place them on the prepared baking tray.

Bake for 20 minutes.

Then flip the sides, and bake for another 5 minutes.

Serve hot with coconut mint chutney.