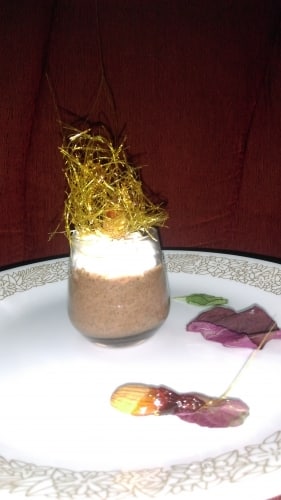 Red Amarnath Mousse
29 March, 2017
Mousse is one of the preferred deserts for all after dinner. Try out mousse of a different kind. Red Amaranth is something we all take as a side dish and vegetable supplement. Try this fusion of Red Amaranth and prepare a delicious mousse full of different taste and healthy dietary supplement. Surprise all with Red mousse from Amaranth!!
Ingredients
Red Amarnath leaves

lal Sag-Â 1 bunch

Amul milk powder- 4 tbsp

Ghee- 1 tbsp

Sugar powder- 3 tbsp

Naren gud- 3 tbsp

Cinnamon powder- 2 pinch

Almond paste- 20 nos paste

Amul fresh Cream- 4 tbsp

Whipped cream for decoration - 1/2 cup

Sugar candy for decoration
Instructions
Method: Heat a karai, add ghee put Amarnath leaves in it and cook for 7 minutes and make puree out of it. Stain the mixture properly and Red Amanath puree is ready. Heat a karai pour the puree stirring constantly until it comes to a boil, and then

add milk powder, sugar, Naren gud, Almond paste mix properly. After 5 minutes it turns into thick halwas. Then sprinkle cinnamom powder. Then keep it aside and let it cool. Then add Amul fresh cream and mix it thoroughly,

FOR SERVING: Take a short glass fill it half with the mixture and decorate with Amul whipped cream and sugar candy.