Oats have been the most preferred breakfast ingredient for decades. They are satisfying enough to fill your heart and stomach. Be it your mom or your grandmom, this superfood is a staple for all the health conscious people.
Rich in fibers, low fat and enriched with protein, they are filling and an instant savor for everyone trying to lose weight.
Oats are harvested from Avena Sativa, a cereal plant and further used in cosmetics, food and animal products. The edible form is flakes, oatmeal and flour which are processed in a kiln wherein they undergo a number of processes like milling, heating, cooling and cutting.
They are versatile and capable of changing the dimensions of a dish by adding flavour and texture. Oats are a perfect win-win for those trying to lose weight, but can't sacrifice taste. While most of you out there had a misconception that oatmeal and oats are practically the same, let's take a look at the real difference.
What are oats?
Oats are very much similar to wheat. They are generally unprocessed, whole or steel cut. They are typically fed to livestock. They can be fed to humans but take way longer to cook than oatmeal and are chewier. They must be soaked before cooking.
What is oatmeal?
Oatmeal is processed form of oats. It is mushier, fine and takes less time to cook making it more preferable. Often, oatmeal is referred to as rolled oats that are thinly sliced.
If you still aren't convinced as to why you should eat oats, let's take a look at some of the health benefits they have to offer
Oatmeal Nutrition and Benefits
The beta-glucan found in oats as the soluble fibres help with the cholesterol levels. It acts like a sponge which binds with the cholesterol so it can be excreted out from the intestine. The fibres also improve bowel movement, relieving you from constipation. Since they are packed with fibres, they take up ample amount of time to digest and so keeps one full for a longer period of time. It also lowers your sugar levels.

Oatmeal is enriched with silicon which increases bone health and helps in the treatment of postmenopausal osteoporosis. Increased consumption of fibre rich foods also reduces irritability during menopause.

Oats are rich in carbohydrates, boosting you with energy for the day when eaten as breakfast. They are light and reduce drowsiness. They increase WBCs, increasing your immunity and healing process of infections.

Oats can soak up excess oils and sebum, aiding in acne control. They are often used to prepare scrubs and exfoliators due to antioxidant properties. They also soothe irritated skin and hydrate the dry skin cells. They prove to be an excellent key ingredient in most of the cosmetic products.

Oat flour has been used for thousands of years to treat itchiness caused by poison ivy and chicken pox. A pouch made from cheesecloth and stuffed with oat flour should be rubbed on the problem areas.

Masks made of oatmeal help fight hair loss. They improve the overall texture of hair, giving them shine, smoothness and bounce. They also reduce dandruff and prevent excess sebum and oil formation.
Now that we have taken a look at how oats are beneficial, let's look at some of its types and how they vary.
Difference between steel-cut oats rolled oats and instant oats
The unbroken or unprocessed form of oats is known as groats. Before being processed, they are roasted at low temperature to give them a roasted colour and kill the enzyme that makes them rancid and increase its shelf life.
The difference generally lies in the texture and cooking time.  They vary as per how much the groat has been processed. Some varieties keep our tummy full for a prolonged period of time and some don't. Each variety has a different purpose and can be used accordingly in the recipe you're making.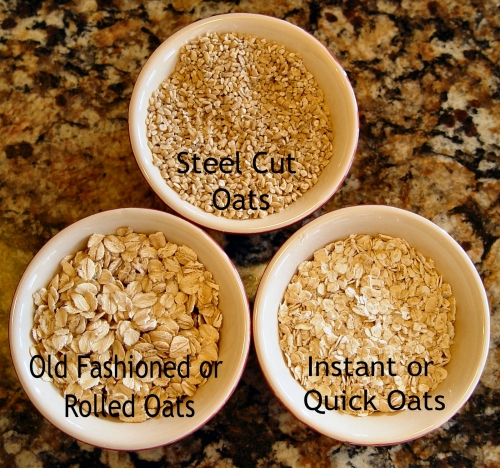 Steel Cut Oats:
Often known as a pin head, Irish or Scottish oats, they are the purest form of groats. They resemble very close to the raw form and are processed by coarsely chopping groats using a steel blade into tiny grains. Hence, they are least processed and possess nutty flavour and chewy texture.
Steel cut oats are considered to be healthier than other forms as they have a lower glycemic index. Although, the difference is negligible and the nutritional value is almost same.
They take good 20-30 minutes to cook. They can be used for making porridge, meatloaf and also in stews and soaps. The most convenient way to have them for breakfast when you're in a rush is by boiling one part oats with three parts liquid and letting it sit overnight. The goodness of yogurt and honey help repair skin and oats increase immunity. Check out the recipe for Overnight Oats with Yogurt and Honey
Chocolate and oats mixed together is a heaven and when it's no bake it is even more easy to make and keep for the kids tiffin box.
Check out the recipe of No bake chocolate squares 
Rolled Oats:
They are whole oats that are steamed to make them tender and pliable. They are pressed to flatten up to a certain thickness and then they are rolled.
This additional processing that they undergo reduces their cooking time (generally 2-5 minutes). They have good absorbing power due to the soft texture and retain the shape after being cooked.
Upon furthermore processing, they turn into thick broth when cooked. The finer oatmeal powder can be used as baby food.
They are enriched with thiamine, iron and dietary fibre. They are the only source of antioxidants that protect the circulatory system from arteriosclerosis.
Rolled oats are often the main ingredient in granola, muesli, muffins and similar products.
Check out the recipe for classic crisp oat cookies.Check out the recipe for this healthy snacks for the kids its called Anzac biscuits and it is rich in fibres and has less sugar.   Kids and adults would surely relish peanut butter and oat flax squares with chocolate chips. They are no bake and easy to make.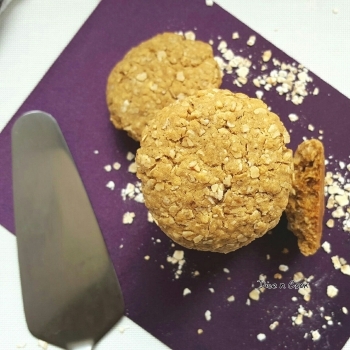 Instant Oats
They are the most processed out of the three. They are first partially cooked before rolling into thinner form than rolled oats. They cook faster than steel cut and rolled oats but are like liquid and mushy in texture. They comparatively retain less shape.
Often skimmed milk powder, emulsifiers and preservatives are added to increase the creamy texture.
Flapjacks are known for nutritional value and yummy taste. Check out the recipe for peanut and banana chocolate flapjacks. Who wouldn't enjoy dessert for breakfast?! This parfait will make sure you don't deviate from your weight loss journey as it has no added sugar.  These chocolate truffles make sure to fill your heart with goodness whilst they aren't too hard on your health.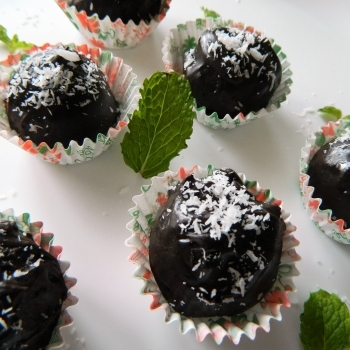 Although convenient, instant oats get a bad wrap often. Packed with preservatives, they might not be the best option for rescue when in short of time. But, if you must, then make sure to choose the non-flavoured ones as they are comparatively safe. They can be sweetened up with honey, maple syrup or brown sugar.
Also, buying rolled oats and storing them in huge quantities saves you a lot of money. Majority of the population prefer the texture of rolled oats over instant oats.
The bottom line over here is instant oats can be healthy and handy if the unsweetened ones are used. Almost equivalent nutrients are present in steel-cut, rolled and instant oats. The only difference lies in the texture and cooking time.
What oats do you prefer?
Main Pic Credit – Home Chef Pavitra M Agida,  Home Chef Richa Gupta, Home Chef Shobha Keshwani and Home Chef Vidya Lohith
About the Author – Khushboo Shah is a Plattershare associate who has a wide range of interests. Be it technology, social media, food or fashion, she believes in striving for the best by putting in her maximum effort.