Yield / Serves
6 Servings
Very easy and delicious yummy dessert with full of Strawberries in it.
Fresh Strawberries – 10 – 12 nos
Sugar – 3 tsp of Syrup & ½ Cup for Cheese Batter
Vanilla Cake – 7 inch round cake
Strawberry Pectin (Veg Gelatin) – ¼ Cup
Chop 5 – 6 Strawberries, add 3 tsp of Sugar and mix well until Sugar dissolves, and mash Strawberries with the help of spoon.
Take plate removable Sieve if you do not have spring cake tin and coat with foil paper and keep aside.
Take Vanilla Cake and keep into the pan as the first layer for Strawberry Mousse Cake.
In a mixing bowl take Cream Cheese and Sugar and beat until nice smooth and fluffy.
Then add Hung Curd, mashed Strawberries syrup and beat for few more mins.
Then add Whipped Cream and fold gently so that it remains light and fluffy.
Then apply Cream Mousse layer on Vanilla Cake and make it our second layer.
Spread Cream Cheese all over the cake, take sliced Strawberries, and place in circular border above mousse cake.
Allow it to rest for 1 Hr. in Refrigerator.
Take hot Water in a bowl add Strawberry Pectin and mix well until dissolves completely.
Add cold Water and mix again.
Pour jelly layer as our third and last layer and allow the Strawberry Mousse Cake to set for 8 -10 hrs. (Overnight) in fridge.
Strawberry Mousse Cake is ready to serve.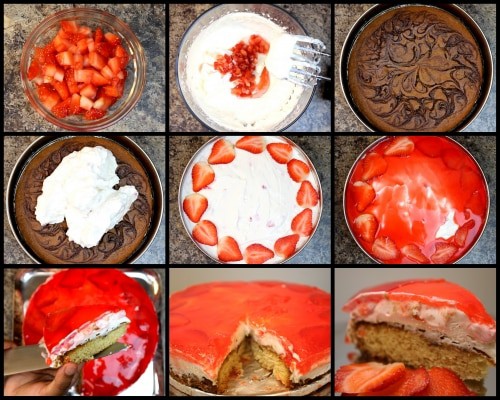 Curd should be hunged only to avoid adding the gelatin so that it is thick in form only.
Instead of fresh Strawberris you can also add Strawberry Crush in the Mousse layer.
Base cake can be your choice.
How useful was this post?
Click on a star to rate it!
Rated 4.5 based on 2 votes
Be the first to rate this post.