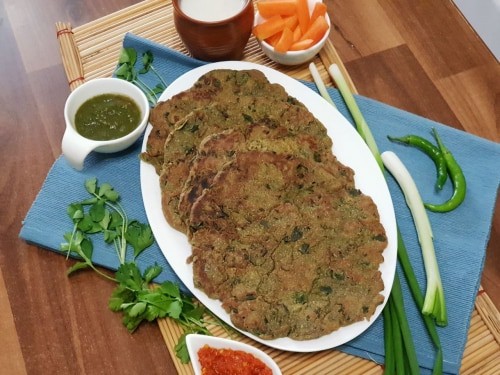 Millet Flour And Herbs Flatbread (Bajre Jo Dodo/ Bajre Ki Roti)
19 January, 2018
Millet Flour & Herbs Flatbread (Bajre Jo dodo/Bajri ki Roti) is typically a healthy Sindhi breakfast. Millet flour is protein rich and fibrous and a good source of calcium, iron and phosphorus. When this herb-flatbread is eaten with coriander chutney or lassi or yoghurt, its nutritive value is epitomized. what makes this flatbread different from other flatbreads or rotis is that it is not rolled to obtain its circular shape . Instead each flatbread is shaped by hand.
Ingredients
Millet flour

bajre ka atta 2 cups

Whole wheat flour 1/4 cup

Fenugreek

methi leaveschopped 1/2 cup

Coriander leaves chopped 1/4 cup

Spring onions chopped 1/4 cup

Fresh green garlic chopped

1/4 cup

Regular garlic 4-5 pods finely chopped

Turmeric powder 1/4 teaspoon

Salt to taste

Oil for the rotis

Water to knead dough
Instructions
In a wide vessel put the millet flour and wholewheat flour

To this add fenugreek leaves, spring onions, fresh green garlic, regular garlic, coriander leaves, chillies, salt and turmeric powder

Add the shortening to the above flour.

Knead the flour with water till soft mushy dough is formed.

Heat a griddle.

Grease your palms with oil.

Take a lump of the dough and gently flatten and shape into round discs.

Flip the flour disc/ roti onto the griddle and with wet hands flatten this roti/disc further till thin. Must work with quick hands in the step.

Let the roti cook on one side. Flip and cook on other side.. Spread a little oil on both sides. Remove from griddle when cooked.

Repeat for the remaining rotis/ flatbread.

Serve these flatbread/rotis hot with green chutney, chill pickle and lassi.
Notes
You can spread gee instead of oil if you do not have guilt feelings about consuming ghee.