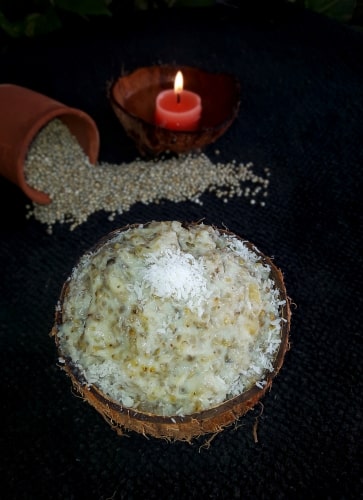 Dudhiyo Bajro (Bajre Ka Khichda)
Dudhiyo Bajro is a lesser-known traditional sweet dish. It can be called " Bajre ka Khichda" or " Bajra Kheer" also. Usually, my grandmother and mother make this healthy dessert during the winters. So, on this mother's day, I decided to learn this long-lost traditional recipe and made it for my grandmother and mother. Dudhiyo Bajro is made with highly nutritious bajra ( Pearl Millet), milk and sugar.
Ingredients
Bajra

Pearl Millet 250 grams

Milk 1.50 litres

Sugar 300 grams

Green Cardamom Powder 1 teaspoon

Nutmeg powder 1/4 teaspoon

Ghee 1 teaspoon

Coconut scraped for garnishing
Notes
1. It is necessary to remove the husk from bajra, if you skip that step then it will taste a little bitter. A removed skin of Bajra will have a mild sweet taste.
2. Whenever, you are making any Bajra dishes, use fresh bajra, don't store in a container for many days or can keep in the refrigerator for about 15 days.
3. Ideally, Dudhiyo Bajro is spread on a greased tray and garnished with scrapped coconut and then cut into desired shapes.