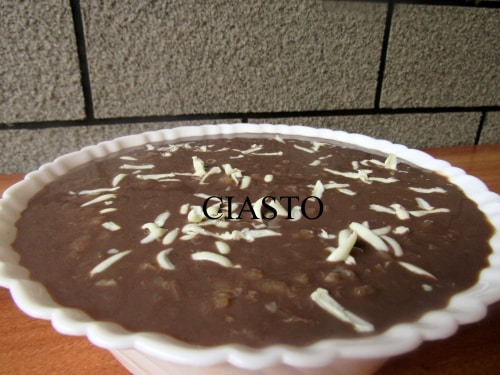 Butterscotch Chocolate Paalada Payasam
Payasam (Sweet Indian Pudding) "Payasam" (From Sanskrit 'peeyusham' : Nectar), Kheer (from Sanskrit 'Ksheera : Milk) are desserts cooked from milk, usually sweetened by sugar. . In Tamil, Telugu & Kannada, it is payasam. In Bengal, it is called payas or payesh. In Assam, it is Payoxh. In other parts of the country it is Kheer. Iin Kerala does the name differ, where it is called Pradhaman. If coconut milk and jiggery is used as base it is pradhaman, and if sugar and cow's milk is used it is called payasam. .Payasam is an ancient recipe, atleast 2000 years old.Ramayana records that king Dasratha, father of lord Rama, performed a large yagna (sacrificial ritual) seeking children. A deity rose from the altar and presented the king with a divine payasam. He distributed it equally to his four wives, who were then blessed with children. Payasams are mandatory in all Indian feasts. Another variety of payasams called phirni are cooked in the North India. These are nothing but thick payasams cooked with rice paste, milk and sugar. Though traditionally only cow / buffalo milk is used as the base, nowadays a variety ofmilks are available like. Almond milk, Rice milk or Cashew milk can used as a base for payasams. Payasams can be flavored by various sweet spices, or a combination of them. I have experimented my own variation with chocolate and butterscotch which is the favourite among kids and grownups too in paalada payasam for this Vishu. So try this Fusion Butterscotch Chocolate payasam for this vishu and seek chocolaty blessings from Lord Guruvayoorappan. Happy and prosperopus Vishu to all my friends.
Ingredients
Paalada – 1/4 cup

Boiled Milk – 1/2 litre

Brown Sugar or white sugar – ½ cup

Dark chocolates - 100 grams

Water - ¼ cup

Butter - 1 tbsp

Cream - 4 tbsps

FOR GARNISHING

Grated white chocolates - 2 tbsps
Instructions
Boil milk and ADD ¼ cup of paalada in medium flame till soft.

Chop the chocolate and keep aside.

In a pressure cooker or in a heavy based pan heat sugar in medium flame for 5 minutes stirring continuously till the sugar completely melts without burning the sugar.

Remove from flame and add water slowly and carefully, because the sugar will splutter.

Again keep this sugar water mixture on the flame and cook in slow flame till water and sugar gets mixed.

Finally add butter and cream and incorporate it well, and cook for 2 more minutes in simmer flame.

Add the chopped chocolates and mix well till all the chocolate melt completely and till it gets mixed with butterscotch sauce.

Remove from flame. Our butter scotch chocolate mix is readyfor butterscotch chocolate palada payasam

Add this butterscotch chocolate mixture to the cooked palada and mix well.

Cook the butterscotch chocolate palada payasam for 5 minutes in medium flame, stirring gently.

Remove the butterscotch chocolate paalada payasam from flame and allow to cool down.

our chocolaty butterscotch chocolate paalada payasam is ready to serve.

Serve this butterscotch chocolate paalada payasam with grated white chocolate garnishing.