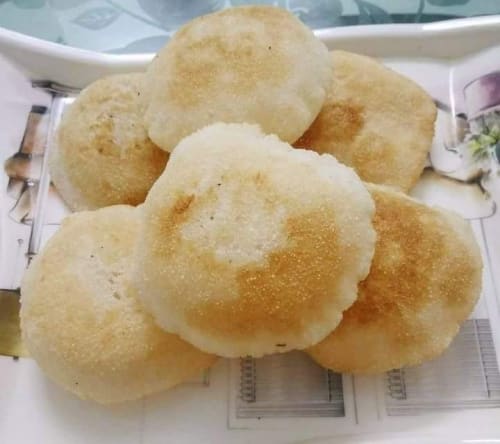 Ghum Chawal Roti / Sticky Rice Roti
4 January, 2018
Sticky rice roti is the only traditional bread of Nagaland made with sticky rice flour. This roti is eaten not as a main meal like other parts of India since the main meal/food of Nagaland is rice. But it is eaten as a tea time snacks. Sticky rice roti is a very popular and favourite tea time snacks of Nagaland. It is made of sticky rice flour. It is puri like roti with a grainy texture but at the same time very soft and chewy.
Ingredients  
1

cup

Sticky Rice Flour

2

tsp

Sugar

¼ cup hot water

Oil for deep frying
Instructions 
Take the hot water and add the sugar. Let the sugar dissolve completely.

Please note that it doesn't require much water to make the dough so be careful. The dough should not be soft but a little stiff and tight.

Take the balls and flatten them into small circles using your wet palms and fingers. You can grease your hands with oil or water.

Heat oil in a deep frying pan. When the oil is hot, reduce the heat and add the roti one at a time and fry on medium heat. It will puffed up gently turn them over and fry till golden brown on both sides.

Remove and drain in absorbent paper and serve with tea, coffee or can have just as it is.
Notes
**You can substitute sugar with salt as per taste.
*If you don't have sticky rice flour you can follow this process. Soak the sticky rice in water for 20-30 mins. Drain off the water and dry the rice in the sun for sometime (not required to dry off completely). Now ground the rice in a grinder. It will be little grainy. Or if you have a rice mill near your area you can get the rice powdered from the rice mill.
*Make sure the thickness is medium or else it won't puff up. You can use ghee for frying it which is also very tasty as well.