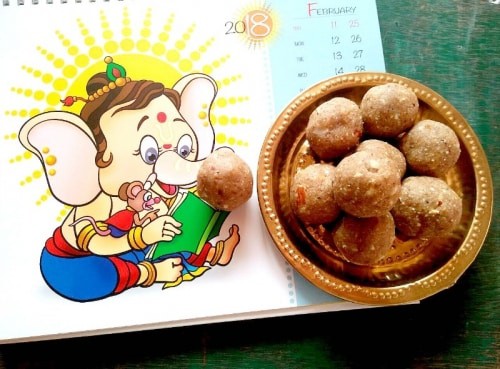 Healthy, Sugar Free, Energy Boosting, Oats, Nuts And Dry Fruit Laddoos (Roundlets)
21 March, 2018
Do you need instant energy? Yes, for sure, we all need it. Okay – then you will need to eat. Eat what? Healthy food. Which is calorie rich and guilt - free? Yes, this is definitely possible with these healthy dry fruit laddoos! Energy balls, protein supplements, memory boosters, healthy roundlets….there various names for these cute treats – sugar free, dry fruit laddoos! Moreover the favorite Indian sweet, laddoo (read dessert) is here in a new avatar. Even, Lord Ganesha loves it! I had made these on a trial basis. And all my family members loved it including my daughter! All my friends on seeing the picture of these laddoos were drooling. When their heard about the high health quotient of these laddoos, they were eager to know the recipe. So here I am sharing the simple and easy method to make these laddoos, with just 4 ingredients.
Ingredients
1

cup

dates

soaked in water

½ cup of mixed nuts

almonds and cashew nuts

¾ cup oats
Instructions
Soak the dates in water (just enough to dip the dates) for 20-30 minutes. Remove the seeds and grind it to a fine paste using minimal water. You may use the water in which the dates were soaked. Ensure the paste is not runny. It has to be thick.

Dry roast the oats in a heated pan for a minute. Mix it well in between. Put off the flame. Grind the oats to a fine powder.

Dry roast the nuts in a heated pan for a for a few seconds (around 10 seconds) Powder these to a fine powder in a blender. Some coarse pieces of the nuts may remain – this is fine as it lends an endearing crunch to the laddoos.

Transfer the powdered oats and nuts to a wide pan. When these are warm, add half of the date's paste, slowly, to bind the mixture. Mix well. Check the consistency of the mixture. You may need to add more of the paste, to form a granular mixture.

When granules start forming, it indicates that the amount of date's paste is just enough. Start making small balls of this mixture with your palm and place it in a tray or plate. I made 10 laddoos.

Based on the cup size, the quantity of laddoos may vary. In case, some amount of the date's paste remains – don't worry. Just savor, some spoonful's of this deliciously sweet paste as a pudding.

Store the laddoos, in an airtight tin. These remain fresh for up to, two days. If you would like to store it for more than 2 days, keep it in the refrigerator. Savor these healthy energy bites to boost your mornings, or anytime during the day!
Notes
Do not over heat the dates in the pan.