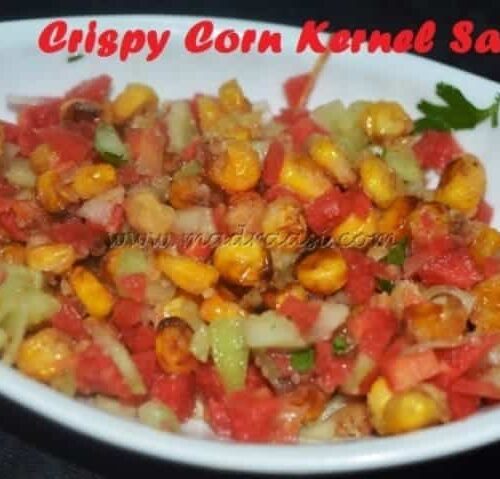 Crispy Corn Kernel Salad
Crispy Corn Kernel Salad is the most healthy snack for kids. Also this is kids-friendly, as most of the kids love to have corn as snack, here I have fried the corn kernels and combined with veggies. This is my long wait dish, after I got to try it in Soho St. I am not going to say it's the same, as usual when I love to see or try some dishes and then give out with a small twist may be based on a ingredients, cuisine or the presentation. Whenever I get sweet corn, my kids never allow to try any dish, they love to have it steamed with butter and salt or with chat masala or with any spice masala or they just roast in the hob rubbed with salt and butter. But this time, it was totally different, my daughter wanted to take a healthy snack with corn as the core ingredient. But happy for me, as I thought of trying out this Crispy Corn, when as a healthy snack, I thought to present it as a salad with veggies
Ingredients
Whole Sweet corn – 2 nos

fresh, canned or frozen

Corn flour – 4 tbsp

Carrot – 2 nos

Cucumber – 1 no

Coriander leaves – 2 stalks

Pepper powder – ½ tsp

Olive oil 1 tsp

Salt to taste

Oil for deep frying
Instructions
Steam or pressure-cook corn for 2 whistles. Remove the lid when the pressure subsides, drain the water, and separate the corn kernels from the whole corn.

Gently roll the corn kernels in a cloth, to absorb the excess water.

Take the corn kernels in a bowl, add in 2 tbsp of corn flour with little salt and mix them well.

Be sure that each and every kernel should be coated well with corn flour, else add few more tbsp. of corn flour and roll the corn. Keep it aside for 15 mins.

Peel and finely chop the carrots, cucumber and coriander leaves.

Sprinkle pepper powder, little salt and olive oil over the veggies and mix them well. Spread them in a plate for 15 mins.

Heat oil in a kadai, add in the corn kernels and fry them in batches.

Remove from fire, once they turn golden brown and crispy to a tissue paper (to drain the excess oil).

Just before serving mix the crispy corn kernels to the salad, else the corn would become soggy.