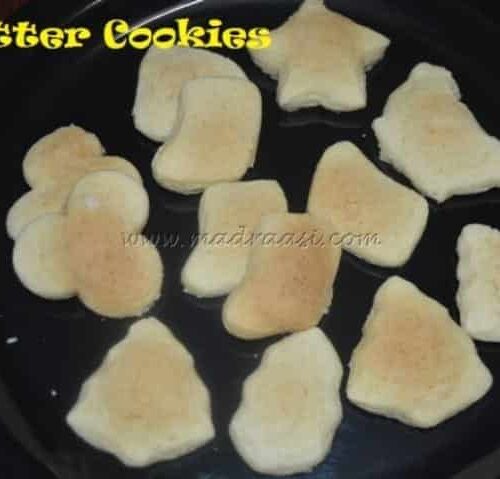 Butter Cookies
4 January, 2016
As of 2015 is about to over in few hours, here is the special from me – Butter Cookies. Not only the Butter Cookies, but it was prepared by my daughter and so introducing my "LITTLE CHEF" to the world."Wish you all a very Happy and Prosperous New Year" Enjoy your New Year with this Butter Cookies which melts in mouth. It is a basic recipe with few ingredients, very simple, less time consuming but very delicious. My daughter baked out these cookies for us and was over in minutes. Let us move on to the recipe…
Ingredients  
All-purpose flour – 2 ¾ cups

Baking Soda – 1 ½ tsp

Butter – 1 cup

Sugar – 1 ½ cups

Egg – 1 no

Vanilla extract – 1 tsp
Instructions 
Softened the butter or bring it to room temperature.

In a bowl, break the egg, add in the sugar and vanilla extract. Blend it well until it becomes fluffy and the sugar dissolves completely.

Sieve the flour and keep it aside.

Preheat the oven to 180 degree C. Grease the tray for baking.

Add in the flour little by little and fold it gently to the egg mixture.

Roll them into a large ball, divide it to small balls.

Dust the rolling platform with all-purpose flour and flatten the balls

Cut them to your desired shape using cookie cutter. Gently place them over the greased tray by leaving plenty of space between each other.

Bake it for 5 mins at 180 degree or until it starts turning golden brown.

Bring it to room temperature and store it in an air-tight container.