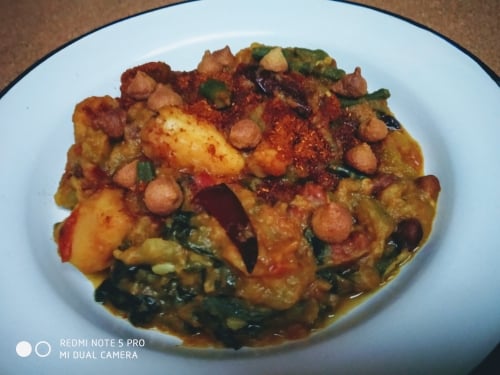 Malabar Spinach Curry
Malabar spinach is a climber plant. It is family of spinach and taste also similar to spinach. For 100 grams malabar spinach Sodium 24 mg, potassium 510 mg, protein 1.8 g, low fat and zero cholesterol. Vitamin - A 160 % Vitamin - C 170 % Vitamin - B-6 10% Magnesium - 16% Calcium -10 % I used seeds of malabar spinach which gives a natural reddish colour that is the beauty of the recipe. In my childhood I love the recipe because of the colour. It can be cooked in so many ways. Here this is without onion and garlic totally vegetarian recipe.
Ingredients
250

gm malabar spinach

2

bowl mixed vegetables

1

tsp

turmeric powder

1

tsp

cumin powder

1

tsp

coriander powder

1

red chilli powder

1

tsp

ginger paste

1

tsp

panch phoran

2

tbsp

mustard oil

A few moong badi

Salt to taste
Instructions
Make a masala paste with adding turmeric powder, cumin powder, coriander powder and chilli powder. Mix with little water and keep aside.

Heat oil in a pan, add panch phoran and whole red chilli. Let splatter then add poi shak and mixed masala. Saute for a minute then add green vegetables and salt.