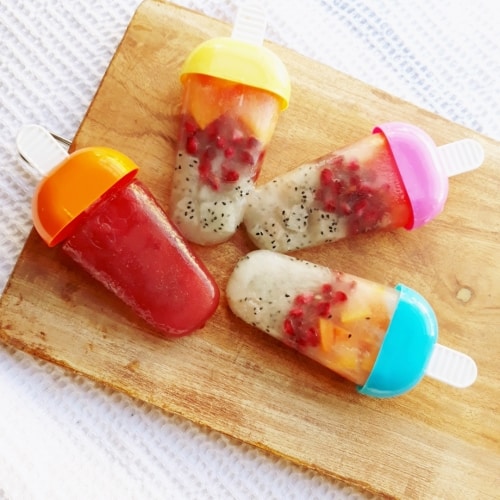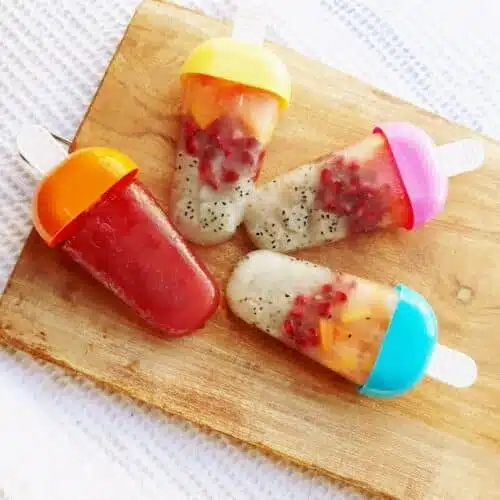 Fruit Jello Popsicles
25 March, 2018
Fruit Jello Popsicles is a healthy dessert, easy to make and is very attractive to kids of all age (including me). This Fruit Jello Popsicles are very helpful for moms who have fussy eating kids who trouble in eating fruits. Just add some fruits in moulds pour Jello of your choice keep in fridge for 3-4 hours and Fruit Jello Popsicles are ready. You can also make in fruit flavours using fruit juices.
Ingredients
For fruit Jello popsicle; cold water 1 cup

Sugar 1 tbsp

Agar agar 3/4 tsp

Popsicle moulds

Cubed mix fruits of your choice 1 cup

For Juice Jello Popsicles

Any fruit juice 1 cup

Sugar 1/2 tbspn

Agar agar 1 tsp
Notes
While removing Jello from moulds; dip mould (not fully) in warm water for 15 seconds. Then you will be able to remove them successfully with their sticks.
Can be made with gelatin(1/8 tsp extra).