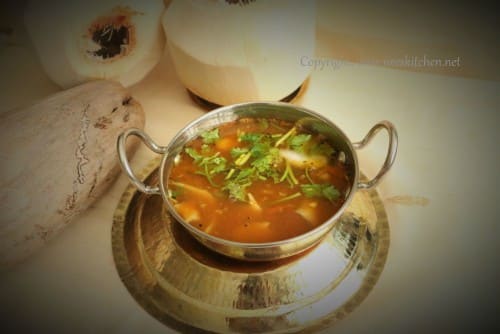 Tender Coconut Rasam
28 September, 2016
Though it is supposed to be rainy season here, at times it is very hot. We get thai coconut in abundance in almost all grocery shops. Tender Coconut water, pulp, tomato & tamarind are combined and cooked with rasam powder. The rasam's flavor is enhanced when the tempering of mustard,mint leaves & cumin seeds is mixed with it and garnished with coriander leaves.
Ingredients  
Tomato 1 medium size

Tender Coconut water- 1 cup

Tender Coconut pulp- 3 tsp

Tamarind - small size

Curry leaves - few

Asafoetida Cake - 1 piece

Turmeric powder - 1/3 tsp

Rasam Powder - 1 tsp

Salt – to taste

Water -1/2 a cup

Coriander - Few for garnishing

Ghee - 1 tsp

Musturd - 1 tsp

Cumin Seeds - 1 Tsp

Mint leaves - 6 leaves
Notes
The measurement for coconut water and tomato mix juice are same in my above dish.
Make sure the tender coconut is sweet and not salty as it would alter the tastes.
I used Kalchatti (Soap stone) to get a good flavor and has various health benefits. It retains the heat for a long time hence we need not reheat. You may use any regular rasam pots.
Any regular rasam powder will do. If you want the rasam to be more spicy you may increase the quantity but the measurements given above are just fine.
Do not add too much tender coconut pulp as it might turn the rasam to be too sweeter.