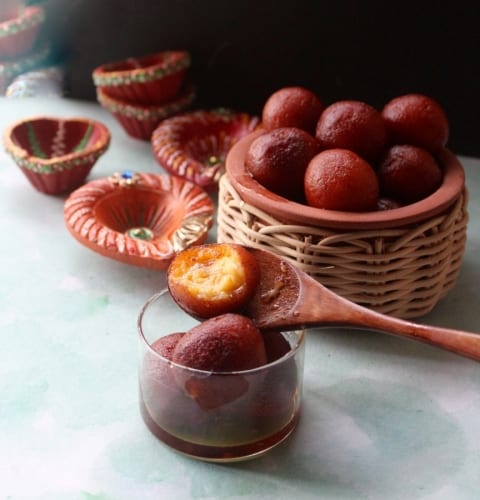 Pineapple Jamun (Gulab Jamun With A Fruity Twist)
Everyone makes the quintessential Gulab Jamun during Diwali!This recipe is given a fruity twist when I combine the Pineapple fruit with these delicious fried balls of dough,dunk them in again Pineapple flavoured syrup and serve them for a great experience!For a change I did not sprinkle the top with nuts as they would interfere with the taste of the Pineapple! You can use either fresh or Preserved Pineapple in the recipe.If you use fresh fruit then ensure that the Jamuns are kept refrigerated and consumed within 3 – 4 days.However there is no problem with Preserved Pineapple and the sweets can be kept for a week or even a fortnight if kept refrigerated!
Ingredients
For the Jamuns :

3/4

cup

Khoya/Mawa – crumbled

1/2

cup

Paneer – crumbled

3

tbsp

plain flour

Maida

3

tbsp

Cornflour

1

tbsp

hot water

2

drops Pineapple essence

2

drops edible yellow colour

Oil to fry

The Pineapple filling :

4

tbsp

Pineapple

ground to a paste

If using fresh Pineapple

stew 50 gms with 2 tbsp sugar,cool and grind to a paste.If using Preserved Pineapple grind one slice as it is

The syrup :

300

gms sugar

1

cup

water

2

– 3 Saffron strands

2

drops Pineapple essence

2

drops edible yellow colour
Instructions
Make the syrup : Heat sugar and water on medium heat till the mixture thickens a little.Do not wait for it to form threads but taste a drop of it.It should neither be too thick nor watery.

Take off heat and add saffron,essence and colour.Keep warm.

Make the Jamuns : In a bowl mix the Khoya/mawa,paneer,flour,cornflour,essence and colour.Mix well.The khoya and paneer should enable you to bind the flour and cornflour to a soft dough.

If the dough is too hard,add the hot water.Roll into mini Jamuns (or any shape you like) and flatten them.Put a pinch of the pureed Pineapple and roll them into smooth balls again taking care that the Pineapple filling does not come out.

Arrange the balls on a plate. Heat oil and reduce to medium heat.Test one Jamun to see if it fries well.If it disintegrates,then either the oil is too hot or the dough has more than needed moisture.

If you feel the latter applies then add 2 tsp flour and mix well.Fry all the Jamuns till they are a dark brown.