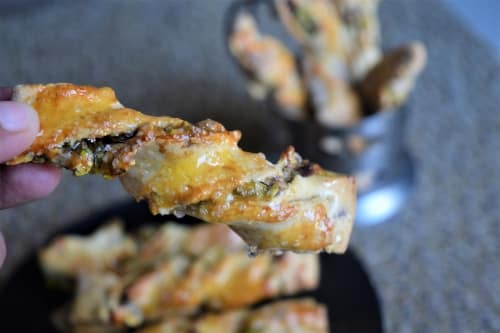 Gulab Jamun Twist Cookies
Gulab Jamun twist cookies are fun to bake and delicious too. Gulab Jamun is one of the most popular desserts in India, that is prepared by people all over, irrespective of the region. It is part of the feast for all major occassions. Here is presenting the 'no deep fry' gulab jamuns, as the famous Italian twist cookies or Nonna's twist cookies. The cookies with pistachio fillings are baked to perfection. You may enjoy as is, or allow them to get drenched in sugar syrup. Have it crunchy or soft, either ways they taste delicious. So here is prepsenting the fusion recipe of Gulab Jamun twist cookies.
Ingredients
For the Cookies:

Gulab Jamun Mix 1 cup

Wholewheat flour 1/4 cup

Water 1/4 cup

Egg yolk 1

optional, for the glaze

For the filling:

Pistachios

crushed 3/4 cup

Powdered sugar 1/2 cup

Egg white 1

For the sugar syrup:

Sugar 1 cup

Water 1 cup
Instructions
Take the Gulab jamun mix (I used MTR Gulab Jamun mix), and wholewheat flour in a bowl.

Add water little by little and mix.

To this, add the powdered sugar and beat again.

Keep the filling mixture aside.

Dust the work surface with flour.

Divide the dough into two equal halves.

Divide the filling mixture into two and spread a layer of the filling on the entire surface of the rolled out dough.

Now the filling is sealed inside the dough.

Twist each piece to form the shape of twist cookies.

Repeat the same process for the second half of the dough.

Preheat the oven to 180 degree centigrade.

Sprinkle sugar on top.

Allow the cookies to cool.

Prepare the sugar syrup by boiling water and sugar for 5 minutes.

Allow to cool.