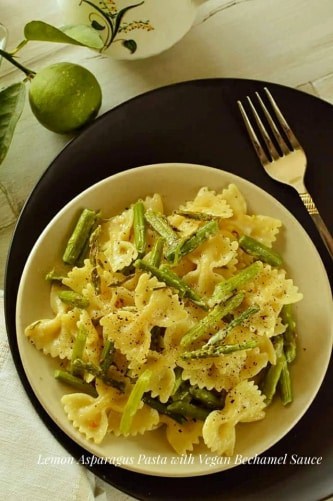 Lemon Asparagus Pasta With Vegan Bechamel Sauce
Going vegan comes with it's fair share of challenges. But thankfully giving up my favorite white sauce pasta did not feature anywhere on that intimidating list. Vegan cooking does call for a bit of tweaking if you want to keep enjoying your favorite dishes . However, it is worth every effort when you weigh the benefits of switching to a plant based diet !
Ingredients
100

gm Farfalle pasta

10

Asparagus stems

Freshly ground pepper

1

garlic clove

1

lemon

salt to taste

1

tsp

olive oil

For the Vegan Bechamel sauce -

1

tbsp

Olive oil

2

tbsp

all purpose flour

1 1/2

cup

cashew milk / almond milk / soy milk
Instructions
Bring a large pot of water to a boil.

Once it start bubbling, add enough salt ( To be more precise, it should taste like seawater ).

As the water gets to a rolling boil, add the pasta.

Cook it till al-dente. The time would be mentioned on the packet.

Keep aside a cupful of the pasta water before draining the pasta. Give it a good shake to prevent the strands from sticking to each other.

Cut the asparagus into 1 1/2 inch long pieces. Discard the woody end of the stems.

Finely mince the garlic .

Heat the olive oil in a skillet.

Add the minced garlic and once it gets fragrant, add the asparagus and saute on medium high till it turns a bright green.

Next add the pasta, 2 tsp white sauce and 1/4 cup pasta water.

Toss gently till most of the liquid evaporates and the sauce forms a thin even layer over the pasta.

Sprinkle the freshly ground pepper and grate the lemon zest over the pasta. Toss once again before removing from the flame.

For making the white (Bechamel) sauce - Heat 1 tbsp oil in a skillet.

Stir in the all purpose flour and cook for 1 minute on low flame.

Remove skillet from flame and add the milk substitute gradually while stirring the contents continuously.

Return to the flame, add a little salt and cook for 4-5 minutes with constant stirring .

This sauce stays good for upto a week when refrigerated in clean airtight jars.