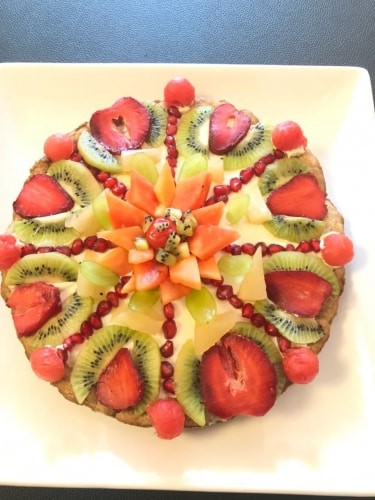 Healthy Fruit Pizza
30 March, 2018
This is a healthy and beautiful fruit pizza. The base is made of wheat flour and the icing too is healthy using cottage cheese and yogurt. It has only brown sugar and honey, no white sugar is used. It stands out as a dessert or in the breakfast or as an evening snack. A wonderful way of serving fruits to children as well adults. It vanishes in a jiffy as no one can stop after having one slice of it. Very light and extremely yummy.
Ingredients
1

Cup

130 g Wheat flour

1/2

teaspoon

Baking Soda

1/4

Cup

Brown Sugar

40

gm

Butter

If using salted butter then it is fine. Otherwise add pinch of salt also

2

teaspoon

Oil

1

tablespoon

Honey

1/4

Cup

Milk

100

gm

Cottage Cheese

2

Tablespoon

Hung Curd

1

Tablespoon

Heavy Cream

Optional

1/2

teaspoon

Vanilla Essence

2

Tablespoon

Honey

1

Cup

Fruits

chopped (Mango, kiwi, grapes, berries etc)
Instructions
Grease the baking tray. I used an 8" pie dish for this. You can also take any plate or cake tin. Or make in 2 or 3 smaller trays. In that case, keep the remaining dough in the refrigerator till the first one is getting baked.

No need to refrigerate the dough. Just tear it into small pieces and keep all over the all over the baking tray. This is done as it is not easy to roll therefore it is done like this.

Press each piece forming a pizza base. Do not bother about being neat. Just press all the pieces so that they are joined properly and looks like a base. Just see that the thickness is equal from all the sides.

Bake in the preheated oven at 150 degrees C for 10 to 12 minutes. This crust is neither very crisp nor soft. Appropriate like a cookie. If you want a crisp crust then bake for some more time.

Till the base is getting baked, prepare cream cheese. For this, put cottage cheese and hung curd in the blender and make a smooth paste.

Once baked, take out the base. After 5 to 7 minutes, run a knife around it and invert it on a wire rack. Let it cool completely.

You may brush glaze over the fruits.You require fruit glaze if you are using fruits like apple, pears, banana etc. However, I didnt use it.

To make the glaze, take 2 to 3 tablespoon of any fruit juice. Add 1 teaspoon cornflour in it and heat it. When cool, brush fruits with this.
Notes
If you are using salted butter then no need to add salt. Otherwise, add a pinch of salt. I used Amul butter so didn't add salt.
Do not knead the dough, just gather it into a ball. Kneading will develop gluten which will make the base chewy.
Add milk little at a time. The quantity of milk used may vary depending upon the flour.
After gathering the dough you can straight away bake it. However, if not possible then wrap it in cling film and keep in the refrigerator.
If you want the base to be crispy then bake it for 3 to 4 minutes more.
Whether cottage cheese or hung curd, ensure there is no water in it. Otherwise, cream cheese will be liquidy.