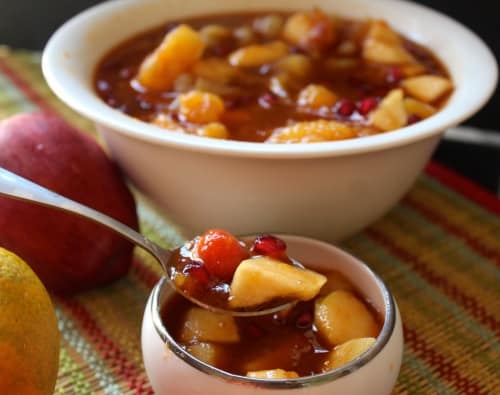 Sweet Mixed Fruit Pachadi (A South Indian Delicious Mixed Fruit Accompaniment)
A "Pachadi" in South India means an accompaniment for the main course.There are numerous kinds of Pachadi,most of them Yogurt based,some of them Tamarind based and others like this which allow the ingredients to soak in their own juices.This is a rare Pachadi made with only fruits as the ingredient whereas the others either have only vegetables or a mixture of fruits and vegetables which are also uber delicious! This Pachadi goes down well with kids and I have devised various ways in which we can use it : With a cup of low fat Yogurt for a low calorie pudding (do not add extra sugar) Blended with low fat milk for an excellent mixed fruit milkshake (do not add extra sugar) Topped over a sponge or pound cake and baked at 150°C for 10 minutes makes and excellent fruit topping Served with plain vanilla ice cream or international desserts like Pavlova,Gelato or Cream Anglaise Spooned into a pie crust as a pie filling,topped with pastry and baked for a delicious fruit pie! Served as a dessert rather than an accompaniment on its own.
Ingredients
The fruits :

1

large/2 small Banana

1

large/2 small Apples

100

gms Grapes

red/green/black

1

Pear

optional

2

tbsp

Pomegranate seeds

1

cup

chopped Pineapple/preserved Pineapple

1

Orange – peeled and seeds removed from each segment and then each segment halved

2

tbsp

maraschino cherries

2

tbsp

golden raisins

1

tbsp

chopped Walnuts

Other ingredients :

1

large/2 small fresh Tomatoes

1

cup

sugar

1/2

cup

water

2

– 3 drops rose essence

optional

2

– 3 drops edible red colour

optional
Instructions
Chop all fruits – halve Grapes if they are big,peel and chop Bananas,peel and dice Apples and Pear.

Puree the Tomatoes with 1/4 cup water and keep aside.

Add the water and sugar in a pan and when sugar melts add the Tomato puree.Cook on medium heat for 7 – 9 minutes till the sugar gets mixed with the puree and the mixture thickens slightly.Do not make the mixture too thick.

Cool to room temperature and add the essence and colour if using.

Put all the fruits in a glass/ceramic/steel container.Pour over the Tomato mixture and mix well.Cover the lid.
Notes
Some pointers to be noted :
The Pachadi has a colour ingredient base – Tomato or Beetroot.If using beetroot,chop it in pieces and boil in water for 5- 6 minutes.Ideally Tomato is more preferable.
Normally fruits of the season are used – a combination of Apple,Orange,Grapes,Banana,Pineapple and Pear are common.However if you want to use exotic fruits you can!
If the colour is a little dull then a few drops of deep red edible colour is used.However its purely optional and its best to have the Pachadi attain its own colour from the fruits and Tomato.
On a general people love Pineapple essence so in weddings a few drops of essence are added to the Pachadi.Again this is purely optional as I personally love the taste of mixed fruits rather than tasting the concentrated flavour of one fruit over the multiple fruits added to the Pachadi.
Store and serve the Pachadi preferably in glass,ceramic or stainless steel containers for a longer shelf life.Always keep it refrigerated.
Its important to note that there is a minimal cooking time in this recipe.The Pachadi forms the "liquid" as the fruits continue to steep in the Tomato mixture.