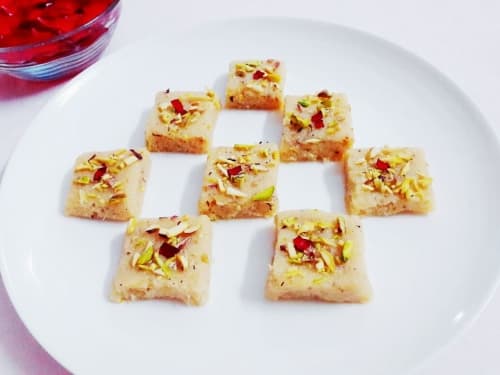 Coconut Barfi With Condensed Milk
20 June, 2017
Coconut Barfi with condensed milk, is literally the 2 ingredients quick recipe for Indian desserts which is be made during any Festivals or special occasion in India. Easy to make and made in few minutes, it can be prepared in a ziff when your guests are on the way. Also known as Thengai barfi, kopra pak its simplest sweet recipe. Give a personal touch by garnishing it by rose petals, pistachios or saffron. Here is the recipe for Simple Coconut Barfi with condensed milk.
Ingredients  
Desiccated Coconut - 2.5 cup

Sweetened condensed milk - 400gm

Cardamom powder -1 teaspoon

For Garnishing

Few finely chopped pistachios
Instructions 
In a heavy bottomed pan add sweetened condensed milk, Let it simmer for 1 minutes. Stir it continuously.

Add desiccated coconut and mix it well on a low flame. Always cook in low flame to avoid burning and thus spoiling the barfi completely. Stir till the mixture is lump-free.

Cook till the mixture thickens, add in cardamom powder and fold for few more times before the gas is switched off and let it cool down..

.Transfer the mixture on a greased tray lined with aluminium foil and spread it evenly with the help of spatula.

Garnish with finely chopped pistachios and fresh rose petal to give the vibrant color to the dish which is completely white in color, so that it looks more tempting and visually pleasing.

Keep in the refrigerator for 1 hour to set. Cut it in desired shape and serve.
Notes
About the Author: This Recipe has been shared by Prabhleen Kaur, who loves to cook in her kitchen and make good food and makes food look good. A Punjabi by heart, who loves spicy food and her aim is to be a Pastry Chef. We, thank Prabhleen for sharing this recipe with us.