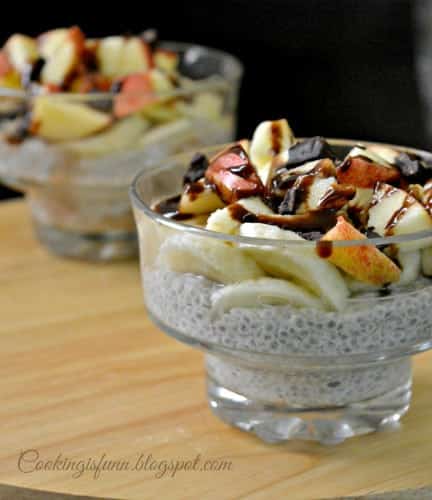 Chia Seeds Yogurt Pudding
13 September, 2016
A perfect Breakfast is very important in healthy life, But a healthy breakfast is must in this busy life. This Chia seeds pudding with yogurt is very easy and healthy to enjoy. Addition of Fruits are more healthy to enjoy this parfait. You can add your choice of fruits and nuts in it. Even you can add some granolas, and berries too. The choice is yours how to enjoy the perfect healthy breakfast. check out the simple and easy recipe for your breakfast and try this Raw Chia seed product at home which is the source of Omega -3.
Ingredients
1

Cup

Yogurt

1/4

cup

Chia seeds

2

Tbsp

Honey

1

tsp.

Vanilla extract

pinch

of salt

1/2

Cup

chopped bananas

Apples and some nuts
Instructions
1. Add all ingredients except chia seeds to a medium bowl and whisk vigorously to combine. Add chia seeds and whisk to combine.

2. Cover the bowl with plastic wrap and refrigerate overnight. You want pudding-like consistency in the morning.

3. In the morning, give the pudding a good whisk to evenly distribute chia seeds that have settled on the bottom. Spoon into individual serving dish and enjoy chilled with desired toppings. You can put leftover in fridge for 2-3 days.
Notes
you can use Chia seeds as an egg replacere, To make the egg replacement, mix 1 tablespoon of chia seeds with 3 tablespoons of water and let sit for 15 minutes.