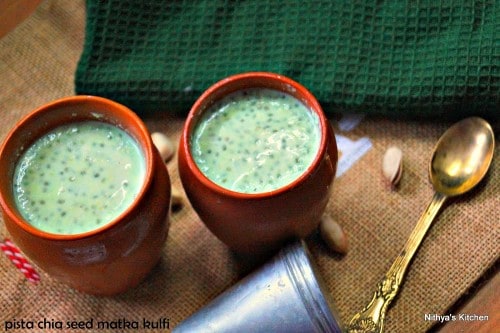 Pista Chia Seeds Matka Kulfi
Ingredients
Milk - 3 cups

Pista - 10

Pista Essence - 4 drops

Chia Seeds - 2 tsp

Corn Flour - 2 tsp

Sugar-1/4 cup

Cardamom Powder-1/4 tsp
Instructions
Soak Chia Seeds in water for half an hour.

Boil water and add pistas.Peel the skin.

Grind the pistas in a blender.

Boil milk.Add sugar and cardamom powder.

Mix corn flour in water.Add this to boiling milk.

Mix well.Add pista paste.Add pista essence too.

Strain chia seeds soaked in water.Add this to the milk.

Put it in kulfi moulds or matkas.Cover the matkas with alluminium foil and kulfi mouds with their lids.

Freeze for 6 hours or until set.

Wash the matkas or moulds in running water to demould.

Serve immediately.
Notes
You can add almonds also along with pistas.
Add fruits and make frity kulfis with chia seeds.
Add full cream milk for more creaminess.