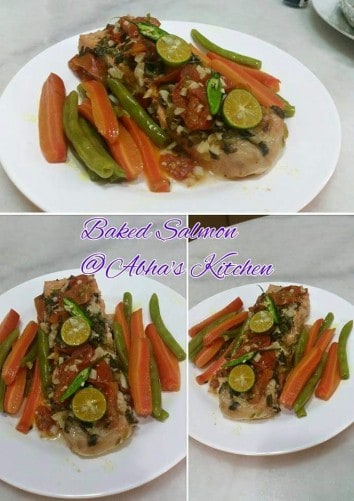 Baked Salmon
7 September, 2018
This is one of my favorite dieting dish .. very colourful ,healthy and fresh Easy to prepare and very yummy
Ingredients
Salmon Fish-360 g

3 pcs

Garlic -5 to 6 cloves

Chillies- as much as u can bear 😈

Coriender-1 bunch

Tomatos-2 medium

Fresh lemon juice-1/4 cup

Olive oil or Refine oil-1 tbsp

Besil leaf-3 to 4
Instructions
Finely chopped all the ingredient above and marinate the fish for around 1or 2 hr.(more is better)

Pre-heat the oven at 190°C (374°F) for 10 mins

Now there r 2 procedures for baking : 1.Wrap the pcs in a aluminium foil properly Sealed and baked it in the oven for 10 to 15 mins 2.Arrange the fish pcs in a aluminium foil disposible box which is available in the market (normally used by resta

Boil carrots and beans with salt for garnish .

Sprinkle some salt n pepper & SERVE IT HOT ...!!
Notes
Use less salt for salmon as it is a salty fish
Check in between if required while baking the fish.